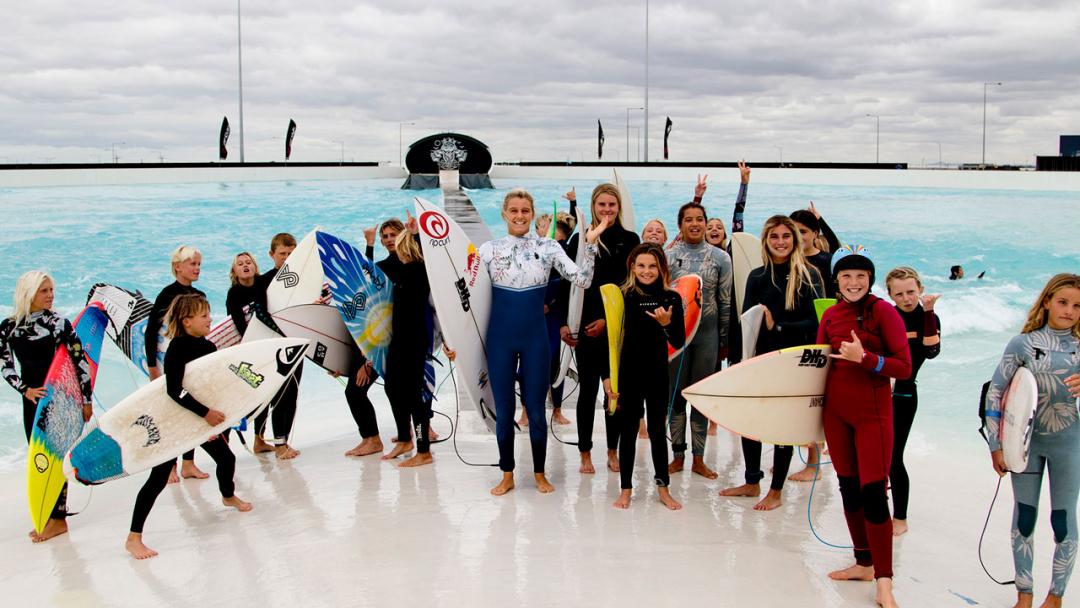 21/03/2021
Rip Curl National GromSearch Champions Crowned at URBNSURF Melbourne.
Ellie Harrison (Barwon Heads, VIC) and Lennix Smith (Wollongong, NSW) have been crowned 16 & Under Rip Curl GromSearch National Champions on Monday at URBNSURF Melbourne in the 20th Year of the prestigious grom event.
2021 is the first time the Rip Curl GromSearch National Final has been run at URBNSURF and showcased an innovative format testing competitors in turn and barrel waves to crown the most well rounded surfers.
The event also ran an exclusive high-performance GromSearch wave setting which is currently unavailable to the public.
Local surfer Ellie Harrison was dominant across the event having spent countless hours in the facility over the last 12 months.
In the final, she consistently scored excellent scoring rides with the exception of her left barrel wave finishing on a heat total of 29.07 (out of a possible 40).
"I'm super happy to win the Rip Curl GromSearch at URBNSURF," said Harrison. "We had perfect waves all day and got to surf with all my friends. It was epic."
"I've been lucky to spend lots of time here. It's such a fun wave. Competing in the pool is super different to the ocean, there is a lot of pressure on you to make the waves count. I'm just happy to get a few good scores and win."
Finishing in second was Holly Wishart (Gerringong, NSW) on 22.47 Points. Placing in third and fourth respectively was Charlotte Mulley (Miami, QLD – 20.80 Points) and Mia Huppatz (Jan Juc, VIC – 19.29 Points).
Top age surfer Lennix Smith looked right at home at URBNSURF locking in a heat total of 33.07 (out of a possible 40) including an incredible tube ride on his final wave to earn a 10 point ride and the 16 & Under Boys Title.
"I'm so stoked. It was so much fun being in the wave pool and I'm so happy to be the National Champ."
"It's awesome to hang out with the boys and get to surf mechanical waves. I don't think I've ever been so nervous in my life in the final. Sitting there waiting for the wave is super nerve-wracking."
"I've been mate's with all the guys in the final forever. We have been surfing against each other since we were little and it's always fun to go against them."
Marlon Harrison (Coolangatta, QLD) was equally impressive throughout the day however fell short of Smiths total heat score in the final, finishing with 26.50 points.
Taj Simon (Port Kembla, NSW – 23.10 Points) and Koda Killorn (Maroubra, NSW – 17.41 Points) finished in third and fourth place.
Other event champions include Willow Hardy (Gnarabup, WA – 14 & Under Girls), Fletcher Kelleher (North Steyne, NSW – 14 & Under Boys), Quincy Symonds (Yamba, NSW – 12 & Under Girls) and Kash Brown (Cronulla, NSW – 12 & Under Boys).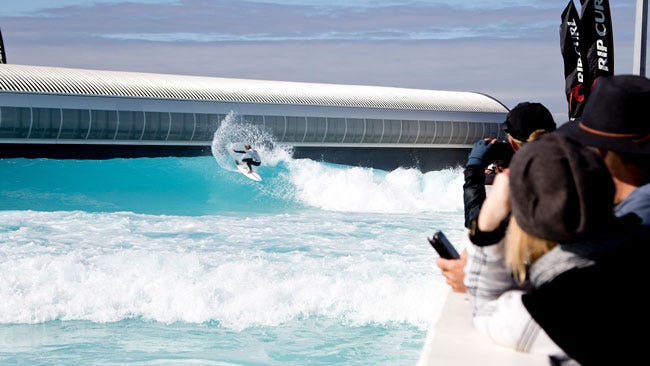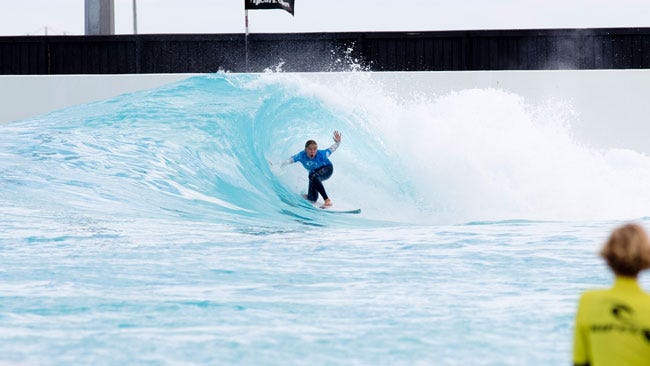 National Final Event Results:
16 & Under Girls
1st Ellie Harrison (Barwon Heads, VIC) – 29.07 Points
2nd Holly Wishart (Gerringong, NSW) – 22.47 Points
3rd Charlotte Mulley (Miami, QLD) – 20.80 Points
4th Mia Huppatz (Jan Juc, VIC) – 19.29 Points
14 & Under Girls
1st Willow Hardy (Gnarabup, WA) – 24.00 Points
2nd Zahlia Short (Wollongong, NSW) – 21.96 Points
3rd Shyla Short (Wollongong, NSW) – 17.40 Points
4th Jahly Stokes (Buddina, QLD) – 17.04 Points
12 & Under Girls
1st Quincy Symonds (Yamba, NSW) – 33.59 Points
2nd Ruby Trew (Curl Curl, NSW) – 27.80 Points
3rd Sara Hickson (Rye, VIC) – 21.97 Points
4th Stella Green (Buddina, QLD) – 21.19 Points
16 & Under Boys
1st Lennix Smith (Barrack Point, NSW) – 32.67 Points
2nd Marlon Harrison (Coolangatta, QLD) – 26.50 Points
3rd Taj Simon (Port Kembla, NSW) – 23.10 Points
4th Koda Killorn (Maroubra, NSW) – 17.41 Points
14 & Under Boys
1st Fletcher Kelleher (North Steyne, NSW) – 30.33 Points
2nd Willis Droomer (Jan Juc, VIC) – 26.34 Points
3rd Eden Hasson (Boat Harbour, NSW) – 23.70 Points
4th Lucas Hickson (Rye, VIC) – 22.01 Points
12 & Under Boys
1st Kash Brown (Cronulla, NSW) – 24.73 Points
2nd Ocean Lancaster (Newcastle, NSW) – 21.60 Points
3rd Caden Francis (Palm Beach, QLD) – 18.67 Points
4th Hunter Anderson (Moffat Beach, QLD) – 18.00 Points
Full results can be found via www.surfingvic.com/live