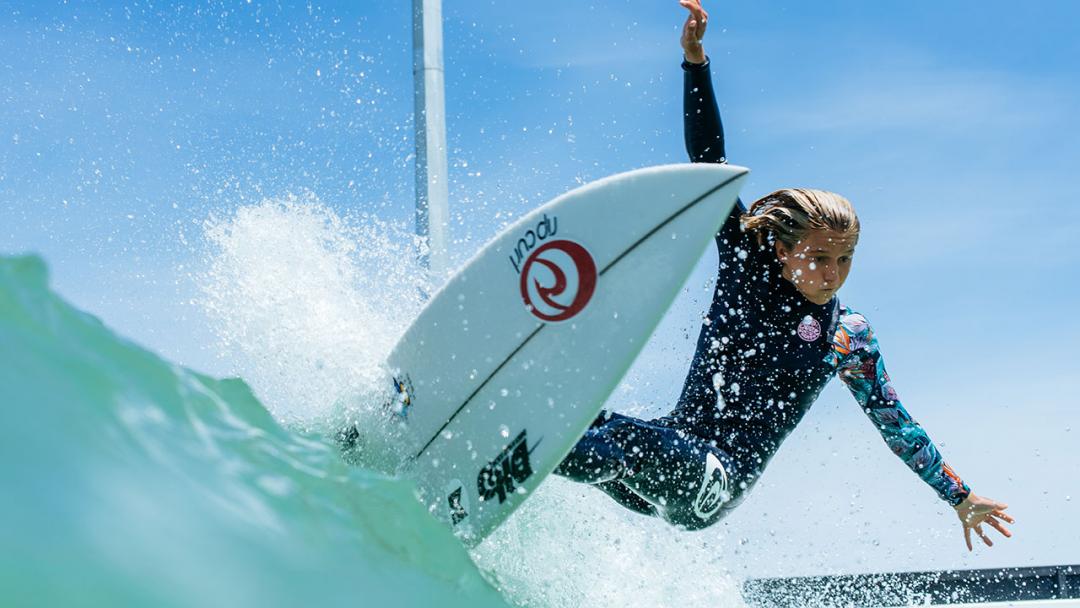 12/03/2021
Rip Curl takes GromSearch Online ahead of the National Final held at URBNSURF.
72 of the finest junior surfers from around Australia will descend on the country's first ever wave park to battle it out for the title of GromSearch National Champion.
Qualifying athletes from the Rip Curl GromSearch series will enjoy a day of surfing non-stop perfect waves in the 2-hectare lagoon.
Before some of Australia's top grommets flood the pool at URBNSURF, Rip Curl will be awarding 18 lucky surfers the chance to score a Wildcard entry to the National Final on March 15th.
You may be asking, how do I score a Wildcard spot? Well, we have taken this GromSearch digital! For the first time this online only event will allow you to submit your greatest surf clips via Instagram where a panel of former GromSearch finalists, now professional Rip Curl athletes, will judge and decide on winners based off their favourite clips. With six wildcards to fill in each age division, there are plenty of opportunities.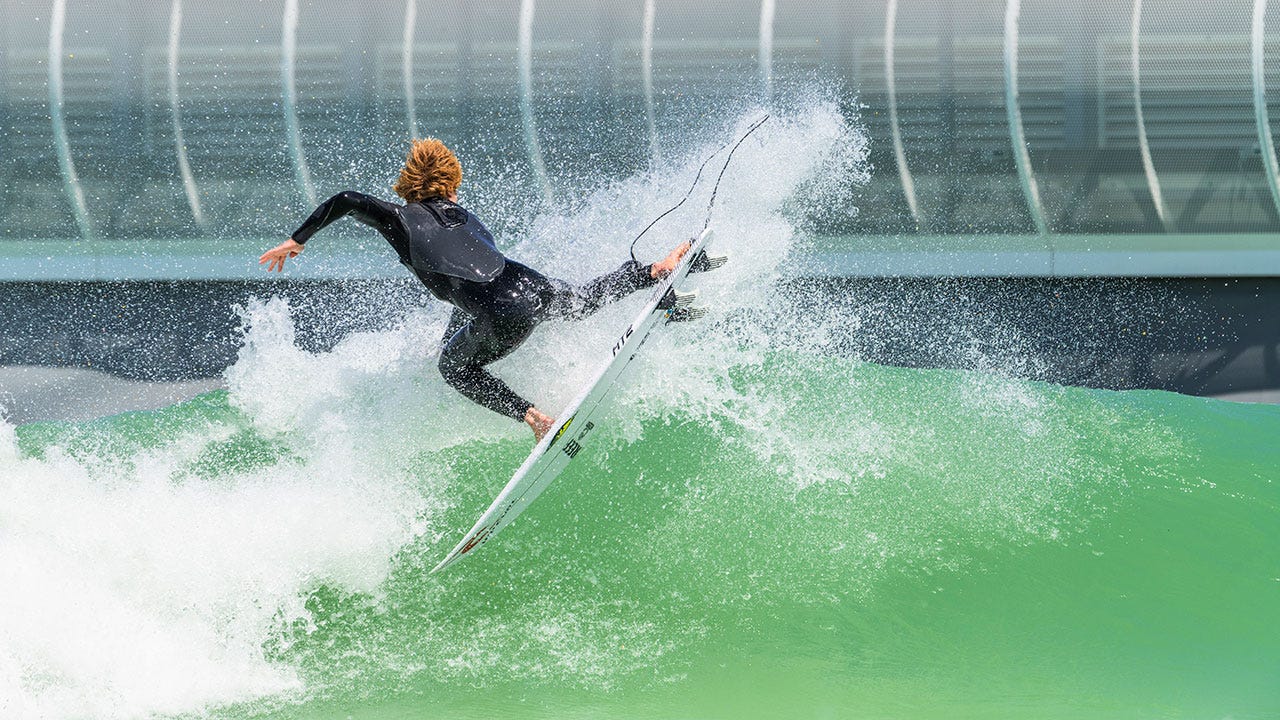 Your wildcard selectors are…
Former GromSearch Finalists, now Rip Curl professional athletes, Tyler Wright, Morgan Cibilic, Molly Picklum and Jacob Willcox. Each athlete will pick multiple wildcards based off their favourite clips.
DIVISIONS
16 and Under - Girls & Boys
14 and Under - Girls & Boys
12 and Under - Girls & Boys
Event director Mark Flanagan commented, "The Rip Curl GromSearch National Final in Melbourne is going to be insane. The crew at URBNSURF are cooking up a special new wave for the competitors and we've got team riders selecting #GromSearchOnline wildcards. We're looking forward to putting on an awesome event."
Here's what you need to do to enter!
Entry: Post your best surf clips on Instragram with the hashtag #GromSearchOnline. Tag @ripcurl_aus with your name, age division and location. (Enter as many times as you like!)
Example Caption:
"Jamie Jamieson,
16 and Under Girls,
Gerroa, New South Wales, Australia,
#GromSearchOnline
@ripcurl_aus "
Date: 8th February – 28th February.
Wildcards: 18 total wildcards to be chosen by Professional Athletes and Rip Curl. Six wildcards per age division.
Entry Rules:
Cost: Free to enter
Division: You can only enter one age division, ages cut-off is the same as the GromSearch event series - entrants must be of correct age at 20th December, 2020.
Video Clips: To increase your chances be sure to enter each clip separately, and in regular motion (no slow motion). We suggest that you aim to include the full completion in any clip entered, we don't want the wildcard selectors to be guessing if you made it or not. Full waves, multiple turns or single turns will all be considered.
Labelling Your Entry:
• Name
• Age Division
• Location
• #GromSearchOnline
• @ripcurl_aus
Competition Clips: Clips entered from previously surfed competitions from 2020, or something you've already posted will be accepted.
Video Quality: Any camera quality is allowed; home video camcorder, iPhone, Surfline Camera Rewind, etc. However, clear quality is preferred.
Video Clip Deadline: Must be submitted on or before Feb 28th 11:59pm AEST
Video Clip Usage: By entering the #GromSearchOnline competition your video may be used across Rip Curl's social media accounts.
GOOD LUCK, GROMS!
#GromSearchOnline Winners:
Molly Picklum: @willo.hardyy - Under 14 Girls Wildcard Winner.

@dane_henry06 - Under 16 Boys Wildcard Winner.

Morgan Cibilic: @harlywalters - Under 14 Boys Wildcard Winner.

@maiataite - Under 12 Girls Wildcard Winner.

Jacob Wilcox: @olive_hardy_ - Under 12 Girls Wildcard Winner.

@maverickwilson_ - Under 12 Boys Wildcard Winner.

Tyler Wright: @hollywishart_ - Under 16 Girls Wildcard Winner.

@charlize.everitt - Under 16 Girls Wildcard Winner.

Strapper Surf: @brad101073 – Under 16 Boys Wildcard Winner.

Coopers Surf: @will.j.martin – Under 12 Boys Wildcard Winner.

Saltwater Wine: @leilasaltt – Under 14 Girls Wildcard Winner.

Aquatique: @lani.cairncross – Under 12 Girls Winner.

Rip Curl Newcastle & Sandbah Surf: @dom_thomo – Under 16 Boys Wildcard Winner.

"We are stoked to be welcoming some of the best junior surfers from around the country to Victoria," said Surfing Victoria CEO Adam Robertson. "There is some incredible talent in the field and no doubt many of these surfers will go on to be World Tour athletes in the years to come."

Former Rip Curl GromSearch National champion and current Australasia WSL Qualifying Series leader Molly Picklum (Central Coast, NSW) will be joining the groms at the event.


"I can't wait to come and check out the groms ripping in the pool," said Picklum. "The Rip Curl GromSearch series is so much fun. It was the comp I most looked forward to when I was younger."
The event format will see all competitors get 4 waves in qualifying (2 Lefts and 2 Rights) where the top left and right wave will count to their total. The top 4 surfers from this opening round will go through to the Final where surfers will get 8 total waves (2x Left Turns, 2x Left Tube, 2x Right Turn, 2x Right Tube). Champions will be decided based off surfers best Left Turn, Left Tube, Right Turn and Right Tube.
National Final Event Qualifiers:
16 & Under Girls
Qualifiers
Emily McGettigan (Torquay, VIC)
Ellie Harrison (Barwon Heads, VIC)
Mia Huppatz (Jan Juc, VIC)
Milli Allport (Central Coast, NSW)
Cedar Leigh-Jones (Avalon, NSW)
Lilliana Bowrey (Noosa, QLD)
Coco Cairns (Noosa, QLD)
Charlotte Mulley (Miami, QLD)
Wildcards
Bonnie Hills (Coffs Harbour, NSW)
Poppy Corbet (Phillip Island, Vic)
Charlize Everitt (Boomerang, NSW)
Holly Wishart (Gerringong, NSW)
16 & Under Boys
Qualifiers
Ethan Huxtable (Jan Juc, VIC)
Asher Lens (Jan Juc, VIC)
Winter Vincent (Queenscliff, NSW)
Lennix Smith (Barrack Point, NSW)
Taj Simon (Port Kembla, NSW)
Marlon Harrison (Coolangatta, QLD)
Tim Bain (Noosa, QLD)
Matt Boyle (Coolangatta, QLD)
Wildcards
Toby Lawrence (TAS)
Dom Thomas (Newcastle, NSW)
Joel Kerr (Torquay, VIC)
Koda Killorn (Maroubra, NSW)
14 & Under Girls
Qualifiers
Isla Huppatz (Jan Juc, VIC)
Sarsha Pancic (Blairgowrie, VIC)
Sonia Seuren (Inverloch, VIC)
Mila Brown (Newport, NSW)
Zahlia Short (Wollongong, NSW)
Shyla Short (Wollongong, NSW)
Jahly Stokes (Buddina, QLD)
Jordy Halford (Currumbin, QLD)
Riley Du Preez (Currumbin, QLD)
Wildcards
Willow Hardy (Gnarabup, NSW)
Leila Salt (Boomerang Beach, NSW) Bohdie Simon (Port Kembla, NSW)
14 & Under Boys
Qualifiers
Willis Droomer (Jan Juc, VIC)
Lucas Hickson (Rye, VIC)
Jack Bassett (Barwon Heads, VIC)
Fletcher Kelleher (North Steyne, NSW) Harry O'Brien (Lennox Head, NSW)
Eden Hasson (Boat Harbour, NSW)
Rico Haybittle (Burleigh Heads, QLD)
Landen Smales (Noosa, QLD)
Tom Whitpaine (Burleigh Heads, QLD)
Wildcards Dane Henry (Fingal, NSW)
Harley Walters (Angourie, NSW) Ashton
Pignat (Coolum, QLD)
12 & Under Girls
Qualifiers
Sophie Wilkinson (Rye, VIC)
Sara Hickson (Rye, VIC)
Maeve Wilkinson (Inverloch, VIC)
Quincy Symonds (Yamba, NSW)
Oceana Curtis (Lennox Head, NSW)
Ruby Trew (Curl Curl, NSW)
Stella Green (Buddina, QLD)
Oli Taylor (Peregian Beach, QLD)
Mila Du Preez (Currumbin, QLD)
Wildcards
Maia Tate (South Australia)
Lani Cairncross (Kiama, NSW)
Olive Hardy (Margaret River, WA)
12 & Under Boys
Qualifiers
Remy Filer (Jan Juc, VIC)
Jerry Kelly (Barwon Heads, VIC)
Taj McPhee (Torquay, VIC)
Ben Zanatta Creagh (Dee Why, NSW)
Ocean Lancaster (Newcastle, NSW)
Kash Brown (Cronulla, NSW)
Mitchell Peterson (Noosa, QLD)
Hunter Anderson (Moffat Beach, QLD)
Caden Francis (Palm Beach, QLD)
Wildcards King Cairns (South Australia)
Will Martin (Diggers Beach, QLD)
Maverick Wilson (Mandurah, WA)
Live scores can be followed via
www.surfingvic.com/live