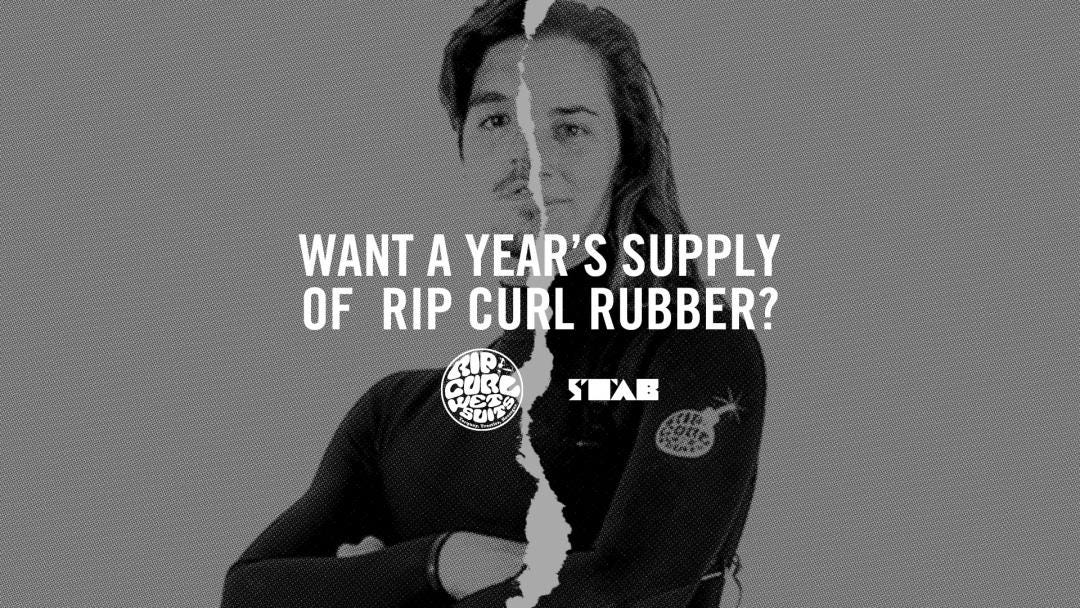 13/10/2020
Win! A Rip Curl Wetsuit For Every Damn Season
Together with Stab, we want to fuel your search for the entire year. Whether you wear a wetsuit year-round, or you'd rather a rotation of neoprene jackets to pair with your boardshorts or bikini bottoms – we got you.
So, what's on offer? There are 2 prize packs to be won – 1 Men's and 1 Women's. Each winner will score a Suit For Every Damn Season. Yep, a total value upwards of $2,000 USD. That's 4 wetsuit products per winner, one for each season; Winter, Spring, Summer and Fall. If you win, we'll work together to ensure your ultimate neoprene wardrobe is promptly sent your way.
Rip Curl has been leading the charge in wetsuit technology and innovation since the dawn of time. Well, at least for the last 51 years. Born out of some of the world's harshest waters, Bells Beach Australia, the need for high quality, reliable and durable rubber has been the priority since day dot.
Over the years Rip Curl's wetsuit technology has gone from strength the strength, ensuring massive stretch without compromising warmth. From the Flashbomb Heat Seeker, the suit that heats up as you move, to the E-Bomb E7, the latest innovation in super stretch neoprene.
Then there's Bombshell Series Spring Suits, designed by surfers, for surfers so that you can look and feel confident every time you paddle out. As well as the vast range of premium Men's E-Bomb spring suits and jackets.
All this could be yours…
Male prize pack:
$499.99 Flashbomb Heat Seeker 3/2mm or 4/3mm
$279.99 E-Bomb E6 3/2mm
$179.99 E-Bomb 2mm Short Arm Spring Suit
$99.99 E-Bomb 1.5mm Wetsuit Jacket 
Total RRP: $1,050+ USD
Female prize pack:
$479.99 Flashbomb Heat Seeker 3/2mm or 4/3mm
$299.99 G-Bomb 3/2mm
$109.99 G-Bomb Madison Long Sleeve Boyleg 1mm Spring Suit
$109.99 G-Bomb 1mm Long Sleeve 1mm Spring Suit
Total RRP: $996+ USD
Stab and Rip Curl want you to win. So much so, we've even given you a plethora of ways to score more entries! The more entries, the higher your chance of winning. So please, don't hold back. Tell your mates – if they win, maybe they'll go halves in the years supply of suits with you? Hopefully you've got nice mates…
Don't miss your chance to score a new suit for every damn season. Entries close 26th October 2020.
Good luck, Crew.