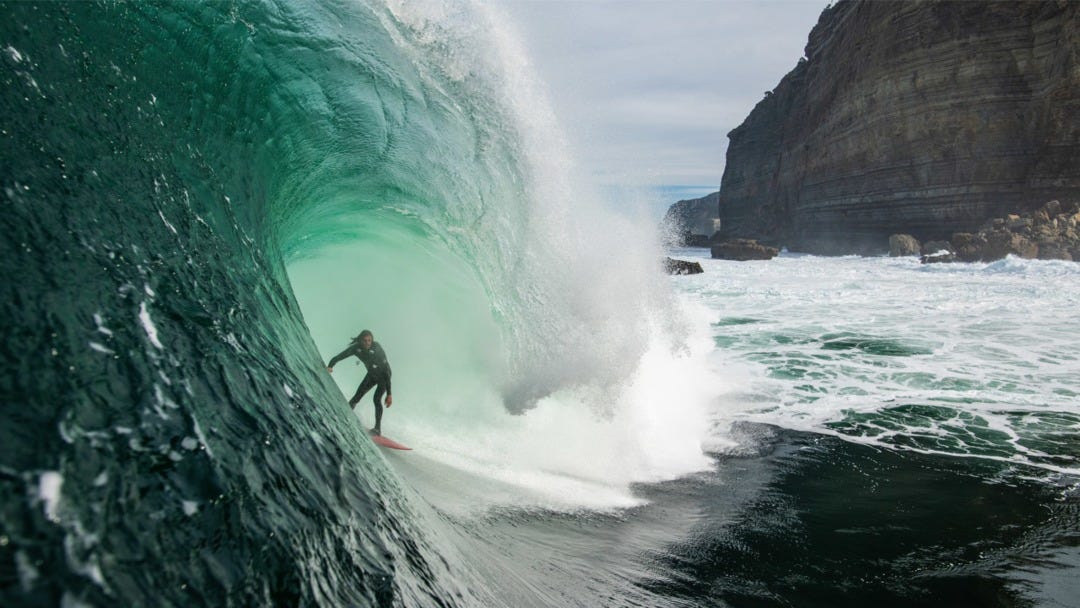 20/11/2019
Kipp Caddy Goes Inside the Bluff
Join Kipp Caddy as he ventures inside Shipstern Bluff, hiking, camping and surfing one of the biggest swells of the year.
Shipstern Bluff is one of the more mysterious waves in the world. Located at what feels like the bottom of the earth, just off the southeast coast of Tasmania, an uninterrupted lump of swell jumps out of the depths of the Southern Ocean and forms a mutant, heaving righthand barrel.
A very small percentage of the population ever makes it down to this part of the world, no less out on a boat to Shipstern Bluff. An even smaller percentage, however, experiences what it is like to hike into the bluff itself. As of this winter, Kipp Caddy makes up one portion of that percentage.
Chasing a swell coming up from Antarctica, Kipp decided that he was not just going to surf Shipstern Bluff, but he was also going to make the 9km trek through dense bush to camp in front of the wave itself. He was going to go inside the Bluff.
What you are watching here is the result of this strike mission. Heavy waves, cold water, remote camping and a view of Shipstern Bluff like you've never seen before.
After returning home we caught up with Kipp to ask him about his experience trekking inside The Bluff, and surfing one of the world's most rugged big waves on the swell of the 2019 winter.
Talk to us about the big swell.
The swell popped up on the charts and we knew it was worth the trip. When we arrived it was only six-to-eight-feet but it picked up through the day. Mark Mathews was straight out there, and it was epic to see him back into it after struggling with injuries. He is the OG slab dude. In the lineup it was the regular crew getting the bombs… Danny Griffiths, Mikey Brennan, the Holmer-Cross brothers (Tyler and James), plus a few more. Marti Paradisis couldn't make it for this swell, but I always love watching him surf it.
Shipstern is quite a technical wave. What's your technique out there, and how do you tackle the step?
It took me so many trips to figure that step out. I think I spent the majority of my first trips down there just going over the falls and getting flogged. I remember going down solo at 17 years old, and linking up with local legend Zeb Critchlow. He towed me into a bomb and I nose dived on the step. It ended up being a nomination for Wipeout of the Year, which isn't really an award you want to be nominated for! Ha.
But after years of trying to figure the wave out, I learnt you have to hold your nerve and wait for the step to come to you. You don't go to her. Instinct initially pulls you towards it, but if you hold back and wait for it to come to you it allows you to carry way more speed over the step which makes the transition so much easier. It's a full confidence thing, If you go into the wave thinking you're going to make it without no doubt, you definitely have a way better chance of sticking it.
Was this the biggest you've surfed Shippies? How does being inside a barrel that big, there, compare with any other big wave spots you've surfed?
It wasn't the biggest Shippies I have surfed but it definitely was consistent. Looking at the forecast I thought it was going to be maxing
When you get a big one at Shippies I feel like adrenaline takes over, and it feels like time slows right down. Shippies is one of the best slabs in the world, for me it's exciting. The step in the wave adds an extra element and keeps you on your toes. The beat downs aren't super long, like they are at a deep bombie, but it's pretty violent and also super shallow. The rocks are pretty sketchy as well, often referred to as the pinball machine because you can literally go through them like a pinball
And, you made the trek in rather than taking a boat. Talk to us about that experience
I was talking with Chris Bryan about the swell on the forecast and he thought that there could be two days of waves, and he suggested I camp. I rang up my mates Cameron and Sam and pitched the idea of camping under the bluff, and they were pumped on the idea. I don't think it fully sunk in what we were doing until the night before. We did a trial run to see if we could carry the gear and we all looked at each other thought, Woooooah. We weighed the gear and we were sitting on over 40kgs each, but we were there so it was happening!
We got up in the dark the next morning and drove to the start of the trail. On a good day the walk is on hour and thirty minutes, but the 9km walk through Tassie mountain range was definitely going to take longer with the amount of gear we were carrying. We took the old fire trail, which is kind of the underground route but the walk is also about 15 minutes quicker. It's pretty stunning. It's thick bush with ponds, little rivers and plenty of hills. We all agreed it was one of the most mentally and physically challenging things we had ever done. I'm going to release a behind the scenes video on my Instagram @kippcaddy1, and it will be a laugh. When we were about to arrive at the bluff there was a fork in the trail and workers were fixing it up, They looked at us and laughed, and then told us that they had just completely overhauled the main trail and that it was way quicker and easier now. Needless to say we walked that way home!
We had an esky full of all the essentials… fruit, protein bars, canned spaghetti, bread rolls and a pan to cook dinner on the fire. There were red frogs and plenty of Balter, we weren't going to leave the beers behind on this one was they were well earned!
How did the experience change, camping out front of Shippies versus just boating in and out in a day?
When you get the boat in it takes and one hour and thirty minutes, so you leave when it's light and return with enough time to get back before dark. Before dark though, that's the time when all the best waves come through! Because we camped, we got experience pumping Shippies with no one in sight. Sleeping there was insane because the place has so much energy. The swell peaked overnight and we all woke up wondering if we were about to be washed away.
Lastly, what makes that place so special?
It's just so raw and remote. It's full of energy. You're at the very bottom of Australia and the waves are literally coming up from Antarctica. I've seen killer whales in the lineup before… that's how raw this joint is!