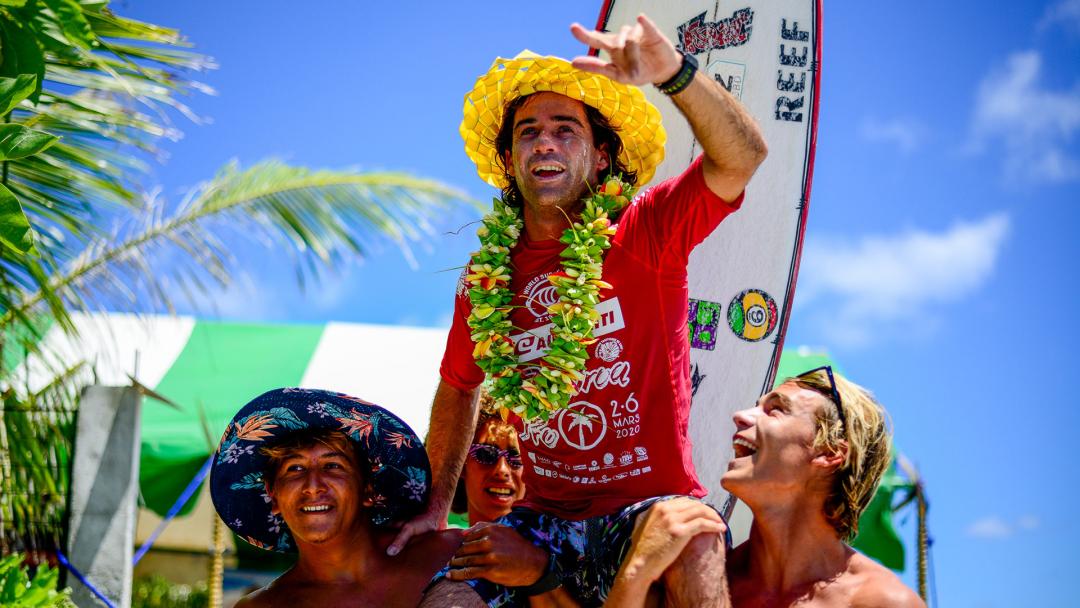 06/03/2020
Mason Ho Wins the Air Tahiti Rangiroa Pro 11th Edition
10-point rides and perfectly threaded barrels saw Mason Ho claim victory in Tahiti during the Air Tahiti Rangiroa Pro QS 1000.
With a 10-point ride and a series of perfectly threaded barrels, Hawaiian legend Mason Ho has surfed his way through to victory at the WSL Air Tahiti Rangiroa Pro, a men's QS 1000. This win marks a second QS win in Mason's career history, and also makes him the first surfer in recent history to win an event with the coveted Search sticker on the nose of his board.
"I'm so stoked, I did not expect to win any QS events this year," Mason said after the Final heat, a huge smile plastered on his face, shakkas being thrown left and right. "I mean it's always the plan, it's been a plan for life, but to actually do it is such a cool feeling. Just to travel to a special place like Tahiti and get a result, let alone win, has always been a dream of mine."
The Final heat saw Mason and fellow Hawaiian Eli Hanneman going wave for wave. The first few minutes started off slow but the heat quickly ramped up into a back-and-forth battle as barrels pitched off the pristine reef while Mason and Eli paddled against the current and exchanged rides. With a combined heat score of 16.83 Mason left no room for doubt in his win.
"Eli is such a good competitor," Mase continued. "When I was his age I wasn't nearly that good, but I remember always learning stuff. Now that I'm not so young I don't have to hold all my knowledge. It's cool when you can learn it and pass it on, but still do good."
Mason's win comes after a perfect 10-point ride earlier in the event, backed up by numerous other high scores in the eight-and-nine-point range. With the perfection of Rangiroa reef break and Mason's unstoppable skills in the barrel, it was a victory for the books.
Looking forward to later in the year, this win will help boost Mason into a qualifying seed for Hawaii's Triple Crown.
Congratulations on your win Mason, and we can't wait to see you compete throughout the year.
Air Tahiti Rangiroa Pro Final Results:
1 - Mason Ho (HAW) 16.83 - 1,000 points
2 - Eli Hanneman (HAW) 12.53 - 750 points
Air Tahiti Rangiroa Pro Semifinal Results:
SF 1: Mason Ho (HAW) 17.00 DEF. O'Neill Massin (PYF) 11.63
SF 2: Eli Hanneman (HAW) 15.10 DEF. Tereva David (PYF) 6.77
Air Tahiti Rangiroa Pro Quarterfinal Results:
QF 1: Mason Ho (HAW) 15.36 DEF. Ocean Macedo (HAW) 15.20
QF 2: O'Neill Massin (PYF) 16.60 DEF. Logan Bediamol (HAW) 13.34
QF 3: Tereva David (PYF) 15.87 DEF. Turo Ariitu (PYF) 14.83
QF 4: Eli Hanneman (HAW) 14.60 DEF. Heifara Tahutini Jr. (PYF) 14.00