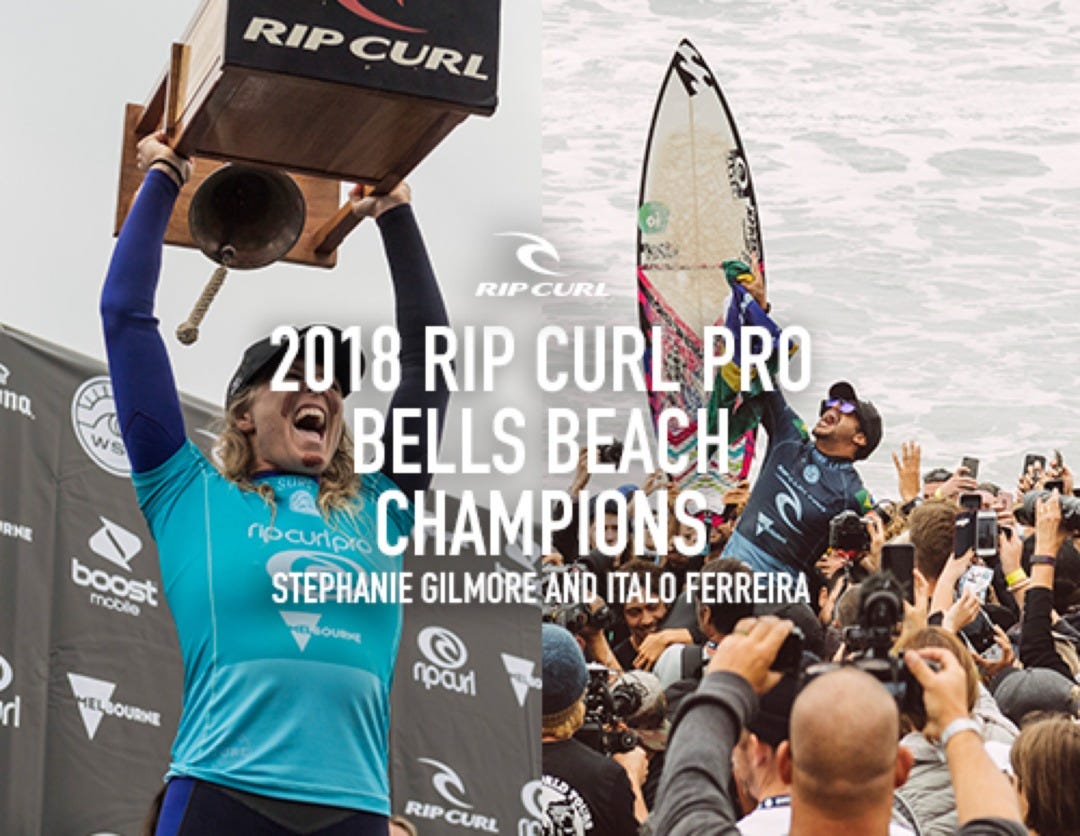 16/04/2018
Stephanie Gilmore And Italo Ferreira Win The Rip Curl Pro Bells Beach
BELLS BEACH, Victoria/AUS (Thursday, April 5, 2018) - Today, Stephanie Gilmore and Italo Ferreira won the Rip Curl Pro Bells Beach, Stop No. 2 of the World Tour. After an exciting week of competitive drama, upsets and emotion, the final day of competition ran in 4-to-6ft conditions at the world renowned Bells Beach… 2018 marks the Rip Curl Pro Bells Beach's 57th year around the sun.
And as Gilmore and Ferreira celebrated their wins, a whole other story was unfolding – three-time World Champion Mick Fanning celebrating the last Championship Tour event of his competitive career. The four-time Bells winner now says goodbye to elite competition after 17 years on Tour and 22 CT victories. The Australian hero's story comes full circle, as he ends his career in the Finals at the same event where he first won as a wildcard.
"I always said I wanted to finish the year up here at Bells. Thanks so much to everyone."- Mick Fanning
"Today was really special," Fanning said. "I always said I wanted to finish the year up here at Bells. Thanks so much to everyone. It has been incredible to see all the support in Torquay and the support of the fans. This is my 20th year of coming down to Bells Beach. I've been coming down to Bells since I was a little kid. I just want to thank my family for all the support you've shown over these years. Thank you to my friends that have flown down and making this so memorable. It's been an amazing career, and I want to thank everyone.
"It's been amazing," continued Fanning. "It was a very special moment with the crowd, best friends here, and then to just be in the Final with Italo (Ferreira) and to see how much it meant for him actually made me feel a lot better. To all the people surfing in this event, it was so much fun. Seabass (Sebastian Zietz), Paddy Gudang (Patrick Gudauskas), Wilko (Matt Wilkinson), Owen (Wright) -- every time I paddled out, I felt like I was going surfing with a mate, and that was really special. To see in that Final just how much it meant to Italo, that was one of greatest things I've seen at Bells, so well done Italo. I am really stoked for you."
Ferreira played spoiler today for Fanning's fairytale finish with the first CT event of his career. The 23-year-old was unstoppable throughout the entire event, taking down 2014 WSL Champion Gabriel Medina in the Semifinals, Ezekiel Lau in the Quarterfinals, and Filipe Toledo (BRA) in Round 3. Ferreira's breakthrough result now vaults him to World No. 1, where he will tie with Julian Wilson (AUS) and share the yellow Jeep Leader Jersey heading into the Margaret River Pro.
"I can't believe it," said Ferreira. "That was such a sick heat. I started slow, but after that it was amazing. Mick (Fanning) is one of my favorite surfers in the world. But wow, I can't believe it. That was unbelievable. I just want to say thank you God and my family and my girlfriend and every guy that has supported me. I'm just so happy that this is my job, that's what. I just wanted to make some sick heats, and Mick Fanning, he one of my favourites. He is the best competitor, and I just want to say thank you. It's my first win and I am so, so happy. I'm ready to keep working hard."
With today's win, Gilmore joins the likes of Kelly Slater, Mark Richards and Fanning as a four-time Rip Curl Pro Bells Beach event winner, a testament to her strength and style in the water. But her 27th CT win did not come easy, as Tatiana Weston-Webb battled until the last buzzer just coming short of the needed score. Gilmore, who in her 12 years of competing at Bells has never finished outside of the Quarterfinals, has now put herself in a great position as she hunts for her seventh World Title in the yellow Jeep Leader Jersey.
"It was such an emotional build-up to this moment and it is incredible," said Gilmore. "I feel like all the focus is on Mick (Fanning), and it didn't really matter what happened with the rest of the event – it was like I could sneak in and get a little ding ding and no one would even care! It took the pressure off. "The most stressful moments of my heats were right when Mick was paddling out for his heat, and it eased the pressure seeing how calm and relaxed he was despite all the pressure on him."
And with that, the 2018 Rip Curl Pro Bells Beach was rung and done… the world's best surfers will now prepare for the Stop No. 3 the 2018 WSL CT and the final event of the Australian leg, the Margaret River Pro, which holds a competitive window from April 11 - 22, 2018.
Rip Curl Pro Bells Beach Final Results:
1 - Italo Ferreira (BRA) 15.66
2 - Mick Fanning (AUS) 12.83
Rip Curl Pro Bells Beach Semifinal Results:
SF 1: Mick Fanning (AUS) 16.50 def. Patrick Gudauskas (USA) 9.67
SF 2: Italo Ferreira (BRA) 16.00 def. Gabriel Medina (BRA) 14.10
Rip Curl Pro Bells Beach Quarterfinal Results:
QF 1: Patrick Gudauskas (USA) 11.67 def. Michel Bourez (PYF) 11.44
QF 2: Mick Fanning (AUS) 13.77 def. Owen Wright (AUS) 9.33
QF 3: Italo Ferreira (BRA) 17.86 def. Ezekiel Lau (HAW) 11.50
QF 4: Gabriel Medina (BRA) 15.73 def. Frederico Morais (PRT) 15.00
Rip Curl Women's Pro Bells Beach Final Results:
1 - Stephanie Gilmore (AUS) 14.17
2 - Tatiana Weston-Webb (HAW) 13.94
Rip Curl Women's Pro Bells Beach Semifinal Results:
SF 1: Tatiana Weston-Webb (HAW) 13.00 def. Silvana Lima (BRA) 5.10
SF 2: Stephanie Gilmore (AUS) 17.00 def. Caroline Marks (USA) 15.44
2018 WSL Men's CT Jeep Leaderboard (After Rip Curl Pro Bells Beach):
1 - Julian Wilson (AUS) 11,665 pts 1 - Italo Ferreira (BRA) 11,665 pts
3 - Mick Fanning (AUS) 11,500 pts
4 - Owen Wright (AUS) 9,490 pts 4 - Michel Bourez (PYF) 9,940 pts
2018 WSL Women's CT Jeep Leaderboard (After Rip Curl Pro Bells Beach):
1 - Stephanie Gilmore (AUS) 14,745 pts
2 - Lakey Peterson (USA) 13,085 pts
3 - Caroline Marks (USA) 10,830 pts
4 - Carissa Moore (HAW) 9,490 pts
5 - Tatiana Weston-Webb (HAW) 9,190 pts 5 - Keely Andrew (AUS) 9,190 pts