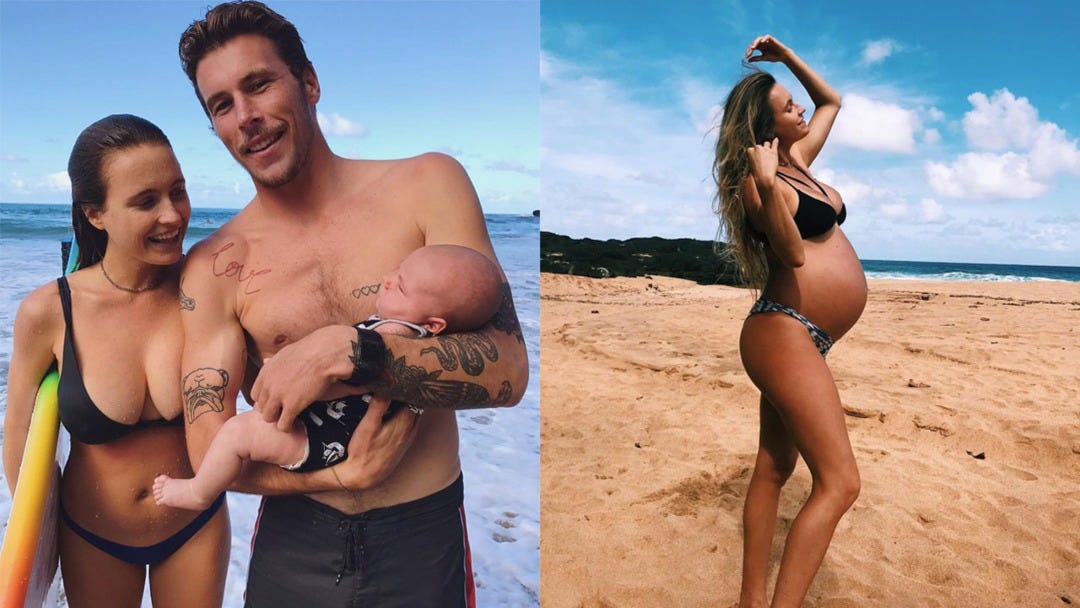 01/17/2018
Alana Blanchard Talks Motherhood And Baby Banks
On December 1st, at 7.29pm, at her home in Kauai, Hawaii, Alana Blanchard had her first child with her boyfriend, Jack Freestone. The world was introduced to Banks Harvey Freestone. It's been about six weeks since then, and we thought it was high time we gave Alana a call and asked how it's all been going.
Alana, congratulations! How has being a mother been so far?
It's so crazy. It's definitely the most amazing thing ever - totally indescribable - but it's also one of the hardest things ever. It was such a long wait - I ended up going to 42 weeks.
Well, Banks is here now and he's healthy, and that's so cool!
Completely. It's so funny, every day we're like, wow I still can't believe we have a baby!
Does it feel like you're a parent?
Not really, honestly. Sometimes I look at him and I'm like, wait, you're our baby - that is so weird!
Does he look more like you, or more like Jack?
Definitely Jack. He has Jack's eyes. I think he might have my mouth, but I'm not really sure. Everyone says he's a mini Jack.
Well we can't wait to meet him one day.
Yeah! We're going to be coming to Australia at the beginning of February, so we'll be around. It'll be the first time that Jack's family will have met Banks. It's so hard, doing this between two countries. Because when we're in Australia, then my parents won't see him for a while. And babies change so much, so quickly - he'll be a totally different baby by the time we get back to Kauai. He's six weeks now, and he just changed so much. Every day his little personality shines through.
Can you tell us a little bit about the birth?
Well, he was born at 7.29pm on December 1, 2017. It was a tough few days. Birth is definitely a super intense time. But all up, everything was really good - he was totally healthy and came out kicking, eyes wide open. It was definitely way more intense than I ever thought it would be, but, I did it! Haha.
Do you remember what it felt like when you first saw him?
When I was pushing, I was pushing for a while, and I literally said, "I don't think he's going to fit." That's what it feels like - there's no way, and you're just trying to push out a balloon ball. But I was like, well, I'll try! And when he came out they put him on my chest, and I looked down and he's just this slimy little alien thing. I look over at Jack he's crying. The first thing that I say is… "This is so weird!"
Like, our first night with him we had absolutely no idea what we were doing. We woke up and he was fussing a bit, and we thought he didn't like the diaper - so we had him sleep with no diaper, and we had him sleep on top of Jack. And then Jack woke up with poop all over him. Won't do that again!
And then straight after you guys had Banks, Jack had to go compete in the Pipe Masters?
Yeah. That was really hard. We only had four days together after he was born, and that was really hard. I had my parents, so that was good, and he would come back on lay days - but I think he was gone for close to a week, and that was really hard on me. It was all just so new. The first two weeks is such a learning curve; looking back on it now, I can totally see why having a second child is easier, because there are so many things that you just learn as you go. Stuff that you have no idea about before it happens.
Ha! Well, what's it been like from then until now? You've taken him to the beach; he's started becoming a part of your guys' lives. What's that like?
I'm definitely getting more and more used to everything, and since he's older he's starting to see better, so he's enjoying things. He likes to be outside, looking at things, going on little stroller rides and stuff. But we're still taking it pretty easy. I actually just got really sick the other night - it was super shitty. I got a really bad fever out of nowhere. I was so scared that Banks would get it, but I guess your breast milk creates antibodies or something like that. This period of time is really just a reminder how freaking incredible women's bodies are.
I was going to ask you about that. During your pregnancy you talked about how amazing it was to see your body change, and what it could do. Now I can only imagine that's been amplified?
Oh yeah. I mean, we obviously need a little help from the guys, but to be able to create a baby and then also feed them - that's amazing. And the fact that your body is equipped with these little things, like breast milk creating antibodies… it's insane!
And what about for your personal health and hobbies? Have you started surfing again?
I just went surfing for the first time! It was so great. But you know, it took longer than I thought. There is such a big stigma out there that you have to bounce back as fast as you can - and I was like that too, thinking that I couldn't wait to surf or work out again - but having gone through everything and realised what my body did and went through, I just really wanted to take time and let it heal.
For me personally, if I start working out or surfing too early then it would have made things harder for me. Because I went to 42 weeks Banks was a bit of a bigger baby, and I got a little bit of a separation in my abs during the pregnancy. It's called Diastasis, and a lot of women get it when they're pregnant, simply for the fact that your stomach is so big for so long.
I think most people get to go do stuff by six weeks, but I WAS totally fine with just waiting until I was fully ready.
For sure - but at the same time I haven't thought about it much. I am literally with Banks 24/7, and I can't imagine being away from him. From now on when I paddle out, I think 'll have to surf and then just run back in to see him. I know I'll get over that eventually, but right now I can't even imagine being apart from him. In the end I think Jack and I will do the switch-off with surfing. You go out for an hour, then I'll go out for an hour. I was thinking about that this morning - it's like, we are seriously never going to go surfing together again.

Do you feel like you guys are going to be ready to go to Australia?
Yeah! I mean, Jack definitely wanted to go sooner, because he's been gone for so long - but we are trying to wait until Banks is at least two months old. Right now, he's at six weeks. I think we're just going to hang in Australia. Jack has a few contests, all of that.
Will you and Banks travel with him a fair bit?
You know, I'm not really sure. I don't really know what this year brings, to be honest. I know I still want to do some travelling myself, but we'll have to work out what makes sense and what works. We definitely want to stay together as a family as much as possible, though.
Well good luck Alana! We can't wait to meet the little guy - and get him in the water one day!