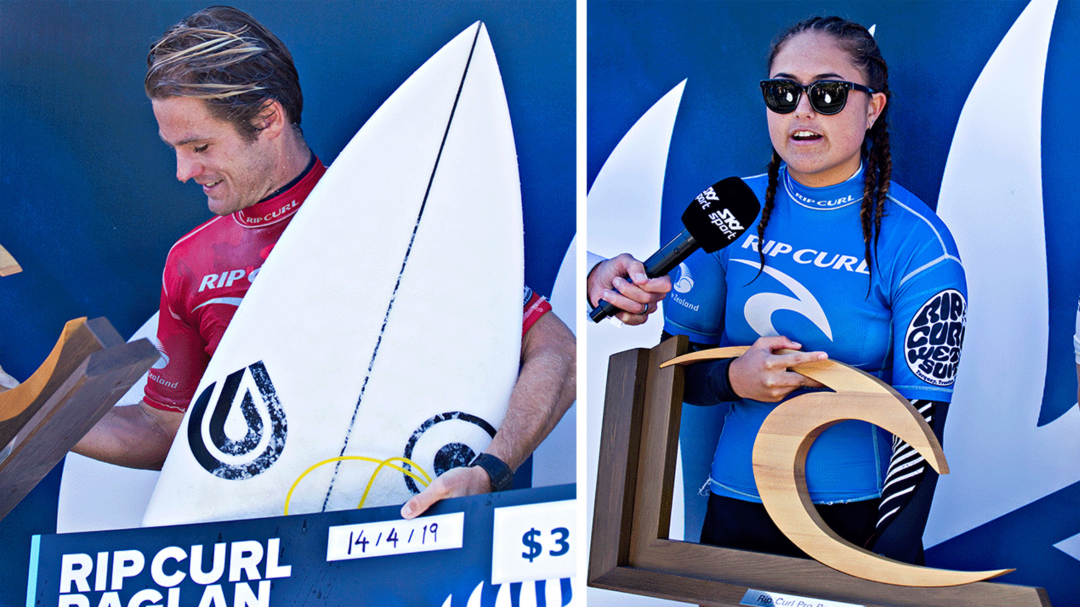 05/01/2019
Billy Stairmand and Raiha Ensor Claim Victory At The 2019 Rip Curl Pro Raglan
Local Billy Stairmand wins the 2019 Rip Curl Pro Raglan, marking his third consecutive victory at the grassroots New Zealand event, and Raiha Ensor places first in the women's division
It was a three-peat for Raglan's Billy Stairmand this Sunday, April 14th, after blowing away a strong field of domestic surfers at the Rip Curl Pro presented by Corona held at Manu Bay, Raglan, New Zealand.
Stairmand was joined by Mount Maunganui surfer Raiha Ensor who claimed the Open Women's Division. Both surfers now lead the New Zealand Surf Series rankings after three of seven events this year.
Stairmand looked unstoppable all weekend and his relentless performances continued into the final as he went on to post a 16.44 point heat total out of a possible 20 points, easily defeating fellow local Luke Cederman in the same one-two scenario as the 2018 event.
"Yeah, I mean I keep saying it but my equipment is so good at the moment and it just makes me comfortable when competing" exclaimed Stairmand
"I wanted to put on a show out there because there are heaps of people watching today and also live on Sky Sport" he added.
Stairmand held half of the top ten single-wave scores of the weekend showing his dominance but he was also quick to mention his strategic approach to his heats."I probably could have got better waves in the final but I was surfing strategically, particularly in that heat and that is all I wanted to do, everyone surfs a heat differently and I just wanted to stick to my game plan."
Stairmand now eyes up two international events in Indonesia and Australia as he hunts down more World Surf League qualification points. "I really want to try and get on tour with Ric (Christie) and Paige (Hareb) and also aim for the Olympics next year."
Cederman finished runner up on 13.93 points, unable to match the speed and flow of Stairmand who is the best part of 25kg lighter than the big goofy footer. However, Cederman managed to show glimpses of his brilliance and did enough to hold off Daniel Farr (Tara) who finished third in the final, one place better than 2018 and the third local surfer in the final, Luke Hughes who finished fourth.
The Open Women's Final was a much closer affair with Raiha Ensor getting the nod over Gisborne's Saffi Vette 13.9 vs 13.47, the win coming down to a fall from Vette as she pushed for the lead midway through the final with her progressive approach.
However, for Ensor, the win had been a while coming and she had been taking inspiration from Billy Stairmand in the build up to the event to help with her performances.
"I was feeling good going into this weekend. I have been working with Billy all this week sponging up his knowledge of the break here as well as focusing on how to construct a good heat strategically."
"The last comp Ella beat me and I only needed a mid-range score to win that event so I was pissed off with myself but I have been working on getting back-up waves and I am stoked that I got a seven and six early in the final this weekend which was a half decent heat total that I could defend instead of chasing down the win."
"These events are good practice for the World Qualifying Series events and especially this one because it always has the hardest field of surfers, getting to surf against the likes of Ella is awesome because she isn't always competing in New Zealand" added Ensor.
17-year-old Vette had to settle for runner up for the second time this year after she surfed to the same result at the National Championships held in Taranaki during January. After spending much of summer competing in Australia, it was a welcome return to the domestic scene and a good performance for the young surfer on her backhand. Vette held off four time defending champion Ella Williams (WGM) who finished third in the final ahead of Jessica Santorik (Rag) in fourth.
Congratulations to Billy Stairmand and Raiha Ensor, winners of the 2019 Rip Curl Pro Raglan!