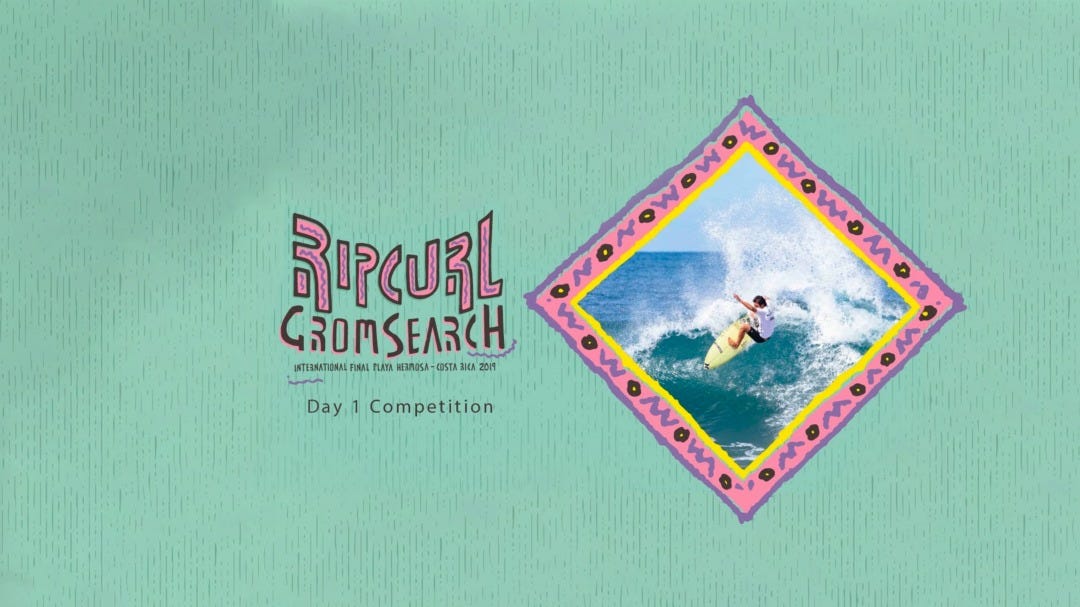 05/24/2019
Day 1: Rip Curl GromSearch International Final Playa Hermosa, Costa Rica
After two warm-up days enjoying the waves and beach life at stunning Playa Hermosa, Rip Curl GromSearch International finalists had a full day of competition surfing through qualifying and round one.
In quality, overhead (6-8 ft. faces) waves and beautiful sunshine the competitors relished the opportunity to let lose in the quest to secure a place straight into the quarter-finals.
Local surfers put on a show with Tao Rodriguez, Aarón Ramirez and Rubiana Brownell all having convincing wins against the International contingent, while skipping the dreaded round 2.
On the girl's side, Molly Picklum made up for a slow start in her qualifier heat, by finding her groove on her next opportunity in round 1. Molly attacked her way with a dramatic finish on the shorebreak. Other girl's standouts were Alyssa spencer, Mathea Olin, Juliette Lacome and Melania Suarez.
Competition will resume tomorrow with Round 2 of boys and girls, followed by girl's quarter finals. This will set up an exciting finish during Saturday's finals day where the 2019 Rip Curl GromSearch International champions will be crowned.
RESULTS:
Round 1 - Boys
Heat 1: 1st Tao Rodriguez 12.17, 2nd Taro Watanabe 11.74, 3rd Jack Lee 8.26.
Heat 2: 1st Finn Cox 12.27, 2nd Adur Amatrian 10.90, 3rd Will Masterman 3.84.
Heat 3: 1st Aarón Ramirez 13.57, 2nd Afonso Antunes 12.66, 3rd Manny Valentin 7.27.
Heat 4: 1st Ryuki Waida 13.10, 2nd Sam Reidy 13.03, 3rd Kyllian Guerin 9.66.
Round 1 - Girls
Heat 1: Molly Picklum 12.77, 2nd Melania Suarez 7.83, 3rd Alys Barton 4.27.
Heat 2: Rubiana Brownell 12.33, 2nd Caitlin Simmers 11.24, 3rd Sophia Medina 6.97.
Heat 3: Mathea Olin 11.73, 2nd Juliette Lacome 10.93, 3rd Valeria Ojeda 7.93.
Heat 4: 1st Alyssa Spencer 7.90, Concha Balsemao 5.84, Brie Bennett 3.07.
Round 2 – Boys
Heat 1: Taro Watanabe vs. Will Masterman.
Heat 2: Adur Amatrian vs. Jack Lee.
Heat 3: Afonso Antunes vs. Kyllian Guerin.
Heat 4: Sam Reidy vs. Manny Valentin.
Round 2 - Girls
Heat 1: Melania Suarez vs. Sophia Medina.
Heat 2: Caitlin Simmers vs. Alys Barton.
Heat 3: Juliette Lacome vs. Brie Bennett.
Heat 4: Concha Balsemao vs. Valeria Ojeda.
GromSearch International final - Locations.
The first GromSearch International final was held at Bells Beach, Australia as part of the 2005 Rip Curl Pro, WSL tour event. Since 2014 the International final has been on 'the Search', looking for new and exciting locations to run the event.
2019 – Playa Hermosa, Costa Rica.
2018 – Raglan, New Zealand.
2017 - Maresias Beach, Brazil.
2016 - Ala Moana Bowls, Waikiki, Hawaii, USA.
2015 - Maresias Beach, Sao Paulo Brazil.
2014 - Lakey Peak, Sumbawa Indonesia.
2005 - 2013 – Bells Beach, Victoria Australia.
About the GromSearch:
Since Rip Curl developed the concept for the GromSearch events in 1999, the series has spread throughout the surfing world and now culminates with an International final held at a different location each year. The worldwide series is held for male and female surfers aged 16 years and under, commonly referred to as "groms", with the aim of the GromSearch is to nurture and recruit the next generation of surfers at a grassroots level.
Former GromSearch champions include current WSL World Tour stars; Gabriel Medina, Owen Wright, Jordy Smith, Matt Wilkinson, Kanoa Igarashi, Kolohe Andino, Tyler Wright, Stephanie Gilmore, Brisa Hennessy, Caroline Marks, and Sally Fitzgibbons.