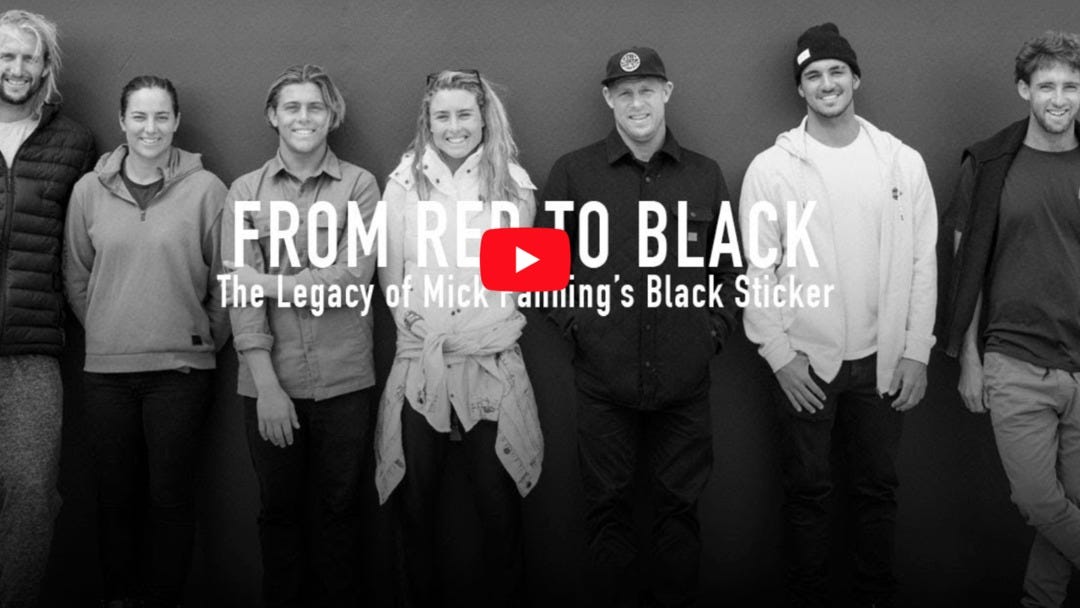 03/28/2018
From Red To Black: The Legacy Of Mick Fanning's Black Sticker
Rip Curl's World Tour surfers honour Mick Fanning's incredible career by stickering their boards with his famous "Black Sticker". They will keep it on as they surf through the 2018 Rip Curl Pro Bells, Mick's very last World Tour event.
In 2012, Mick Fanning earned the right to represent Rip Curl in a new kind of way… as the World Champion of the elite team. The Red Sticker was peeled off, and the Black Sticker was born. To this day, Mick is the only surfer who has had this privilege.
Now, as he surfs his final World Tour event in the famous natural amphitheatre of the 2018 Rip Curl Pro Bells Beach, that same elite team honours his career and his legacy.
Gabriel Medina, Matt Wilkinson, Owen Wright, Conner Coffin, Tyler Wright and Nikki van Dijk have peeled off their Red Stickers and replaced them with the Black Sticker – a sign of respect to the incredible time Mick has spent on the World Tour, not to mention the impact he's made on each of them as both surfers and humans.
We asked each of our elite surfers what they thought about the legacy of the Black Sticker… and what it means to them to be able to have it on the nose of their boards during the Rip Curl Pro Bells Beach.
#CheersMick
Featured Product
The Mick Fanning x Corey Wilson Book
The Mick Fanning x Corey Wilson Book is a beautiful, glossy, and very thick coffee table photo book. Made by photographer Corey Wilson, it's a piece of history, a unique look into Mick's mind and life.