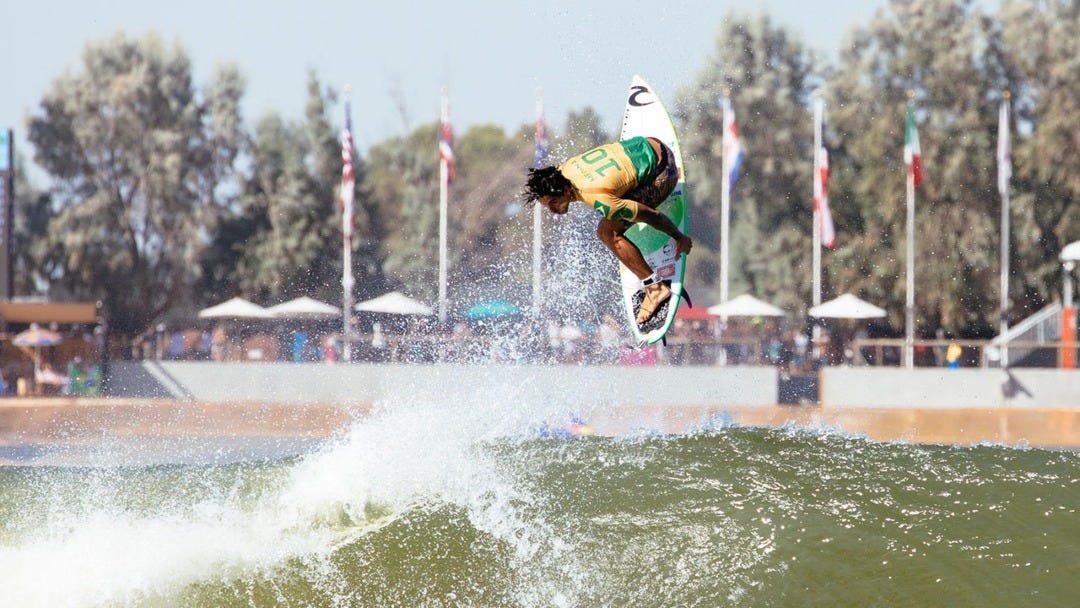 09/22/2019
Gabriel Medina Becomes Back-To-Back and Undefeated Champion at the Freshwater Pro, Skyrockets to World #1
Gabriel Medina has just gone back-to-back at the WSL Surf Ranch, winning the 2019 Freshwater Pro for the second year in a row and skyrocketing himself to the world #1 position.
After three consecutive days of huge scores and high intensity competition, 2x World Champion Gabriel Medina has become the back-to-back and undefeated champion at the Freshwater Pro.
Held at the WSL Surf Ranch in Leemore, California, Gabriel remained dominant throughout the entire event, with scores never once faltering from the excellent range. From day one he consistently locked in scores in the high eights and nines, culminating his performance in the Final where he surfed a near-perfect combined heat total of 18.86.
"This win feels amazing"Gabriel Medina
"This win feels amazing," Gabriel said, just moments after taking out the win. "I love this event because it is such a good wave, and everyone has the same opportunities. I was looking at the names I was up against in the Final – Felipe Toledo, Owen Wright, Griffin Colapinto, Julian Wilson – and I thought that it was a very big Final. At this wave it comes down to surfing your best, that is all you can do. And it feels so good to get the win against such amazing surfers."
With this win Gabriel has skyrocketed to World #1 on the Jeep Rankings Leaderboard. with a points total of 44,695. This puts himself in a prime position to fight for his third World Title over the last three events of the season.
"My goal coming here was to become World #1," said Gabriel. "And it feels so good to achieve that. Now I need to keep my results up and I hope I can do that."
The Freshwater Pro marks Gabriel's third Final in a row this year, a statistic that showcases his building momentum in 2019. Sitting at World #1, he will lead the World Title race coming into the last three events of the year.
A former champion at all three events – The Quiksilver Pro France, The Rip Curl Pro Portugal and the Billabong Pipeline Masters – Gabriel is poised to fight for a back-to-back World Title in 2019.
"I feel confident," he said. "I am ready."
Congratulations Gabriel Medina, back-to-back and undefeated Champion at the Freshwater Pro!