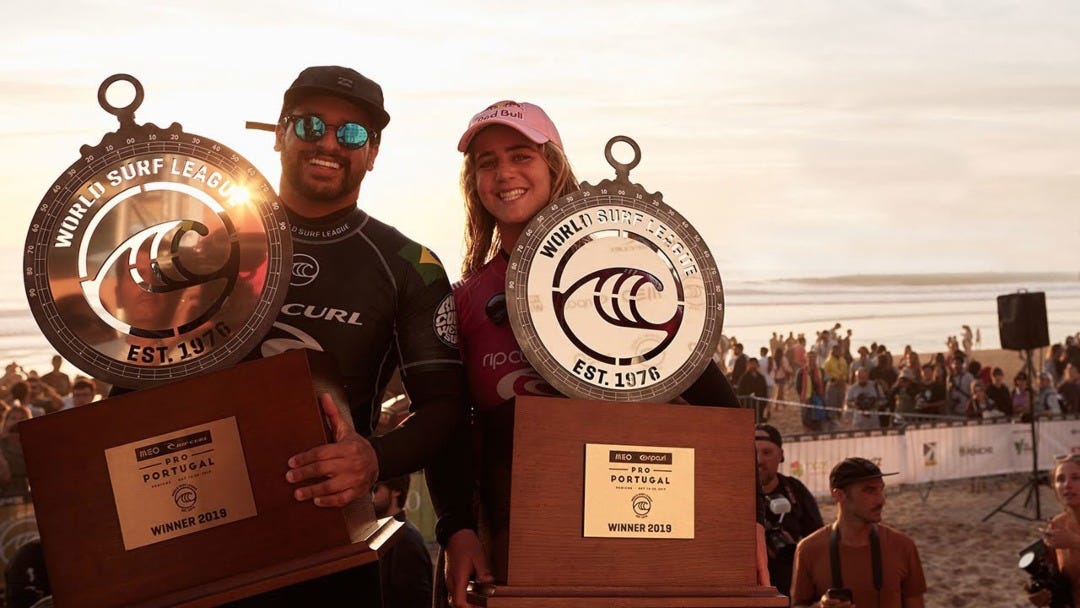 10/27/2019
Italo Ferreira and Caroline Marks Win the 2019 MEO Rip Curl Pro Portugal
Italo Ferreira grabs the Yellow Jersey and Caroline Marks closes in on her first World Title.
Italo Ferreira and Caroline Marks have just won the 2019 MEO Rip Curl Pro Portugal, the penultimate stop of the World Surf League Championship Tour. In six-to-eight-foot heaving Supertubos barrels, Italo and Caroline put on incredible performances throughout their quarterfinal and semifinal heats, ultimately taking victory over Jordy Smith and Lakey Peterson in their respective Finals.
The beach was packed from dawn until dusk as the world's best surfers put on a show to remember, and spectators were treated to insane surfing and World Title race drama throughout the day.
Italo Ferreira came into this year's MEO Rip Curl Pro Portugal as the defending event winner with a target on his back, but once again rose up through the rounds to culminate on Finals Day with a performance for the ages claiming back-to-back wins in Peniche. With a huge air that became the only 10-point ride of the event, he not only took the win but also the Yellow Jersey. Italo will be heading into the final event of the year at Pipeline as World Number 1 to battle it out for his maiden World Title.
"That was so sick, I'm so glad to go back-to-back and win again," Italo said.
"Congrats to everyone. I'm so happy, what an amazing event. It has been so special for me the last couple of months, I'm so happy with myself and my team, it's been amazing. - Italo
That air that I got 10 points on was unreal, and I'm so glad I landed it. It was a special heat for me against Jordy who's one of the best competitors."
Caroline Marks, the 17-year-old surfing phenomenon, showed once again that she is a major threat to the world's best surfers. After a ten-year hiatus from female competition in the heaving barrels of Supertubos, Caroline's win makes history in women's surfing.
Caroline not only clinched her second Championship Tour event win at Supertubos today, but has also given herself a shot at a maiden World Title in only her second year on the elite Tour. Carissa Moore was the only surfer who had the chance to clinch the Title today, but with her Semifinal loss against Lakey Peterson and Caroline's event win, the 2019 World Title race was pushed to the final event of the year in Maui.
"That was incredible. I've been dreaming of making a Final against Lakey (Peterson) and we've been talking about it since I started working with Mike (Parsons)," said Caroline.
"I just want to say thanks to her for pushing me so much, I wouldn't be here without her. That was super fun, I'm so stoked this is the best year of my life and I can't believe it!
"I'm just trying to live in the moment but staying in the Title Race is the goal," she added. "I want to go all the way for sure. I'm not going to change anything, I'm just going to surf all day and have fun."
Congratulations to the 2019 MEO Rip Curl Pro Champions Italo Ferreira and Caroline Marks!