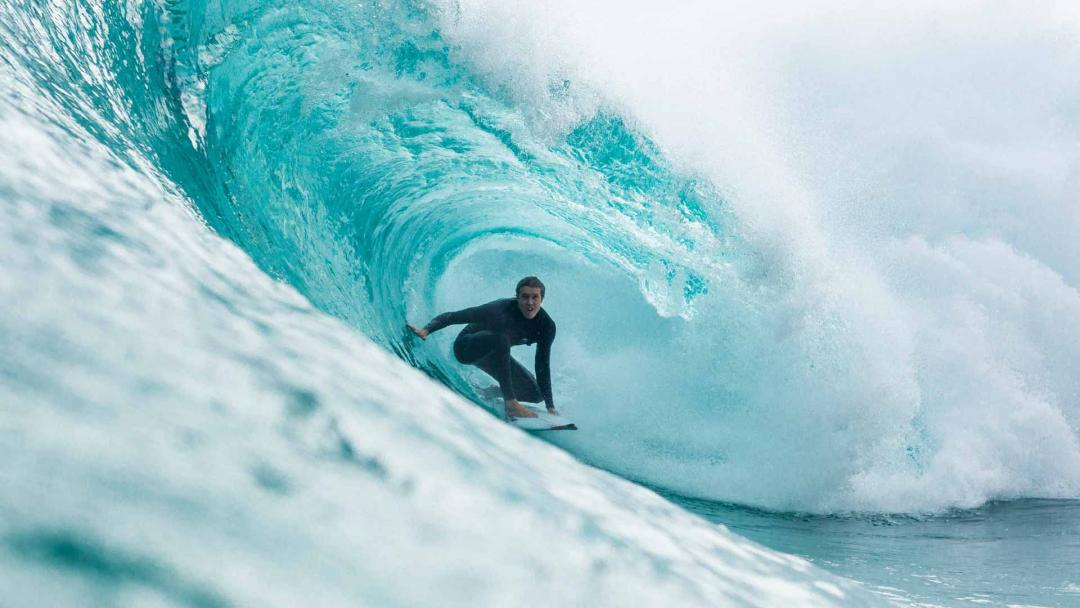 04/18/2023
Jacob Willcox Releases New Film 'Into Dust'.
Rip Curl team rider Jacob Willcox is back with a brand new film. 'Into Dust' showcases Jacob's latest array of insane barrels and crazy airs that were turning 'into dust' on his hard drive. We caught up with Jacob to chat on the film and the Challenger Series (CS) season ahead.
Hi Chippo, how have you been and what have you been up to?
"Howdy RC, I'm just getting back into the swing of things. I had some time off to debrief and switch off after the last CS event in Hawaii. I went home and spent some quality time with friends and family to recharge the batteries."
The clip looks sick, tell us a bit about how it came together:
"After we released "By Default" and the positive response it got. I was like I'm going to try to pump a few more of these out, but it was disrupted once all the comps got started up again, so I ended up not filming as much as I'd like to. I had a few good sessions that ended up just lying around, eventually turning Into Dust on a hard drive."
There's some epic waves in there, how do you have sick content like that just 'lying around'!?
"Cheers. I guess I just lost track of what I had. The comps and the preparation take up a lot of my focus and energy but I'd find myself going through the waves in the last section a fair bit. They'd get me through the grovel days and give me hope haha"
And you had a crack at some animation, tell us about what got you keen on that? How was the process?
"I'm not an overly artistic person but I enjoy learning new things. I had this idea of what I wanted the intro to look like and I'd say I achieved about 50% of the imagined idea with my skills. I asked a couple of people if they'd be able to do it but my time frame was tight so I decided it was going to be Me, YouTube and about 18 hours on the iPad."
What's the most important thing for you when putting out a clip?
"Quality over quantity."
So you've had another strong year on the WSL Challenger Series, but came up just short of qualification. With your spot on the CS guaranteed for next year, what have you done with the extra time off?
"I'm trying to use this time to better myself in all the ways that let me down last year. I'm enjoying it and I know all these 1% will be the difference for me.
I want to use this time to hunt some waves too, maybe Fiji, indo and some spots in Aus. Just watching the swells."
What does a holiday look like for you as a pro surfer?
"A lot of people would say my whole life is a holiday and there is some value in that but to achieve at a high level at anything you have to work hard, have routine and make sacrifices. So, a holiday for me is when I get to go home at the end of the year, it usually looks like me riding some weird old boards and enjoying the ocean in a different way with family, girlfriend and friends. Maybe next year I'll try to go to the snow in Japan."
What about 'switching off', tell us how important it is for you, and how you achieve it?
"It's super important for me but that doesn't make it easy. I've got an active brain so the more I can slow down and disconnect the better. Getting into nature and consciously tapping into my breathing is the most effective way for me to switch off."
So now I guess you're starting preparation for the next CS season, what does that look like for you, from now until the first heat?
"I'm competing in a couple of the regional QS events to get some of the rust off and work on some things mentally. Every heat I surf between now and Snapper is just to make me 100% ready for the season ahead. Between these practice events and hunting a few swells I'm hoping to be ready and refreshed for the first event.
Thanks for your time, Chippo!