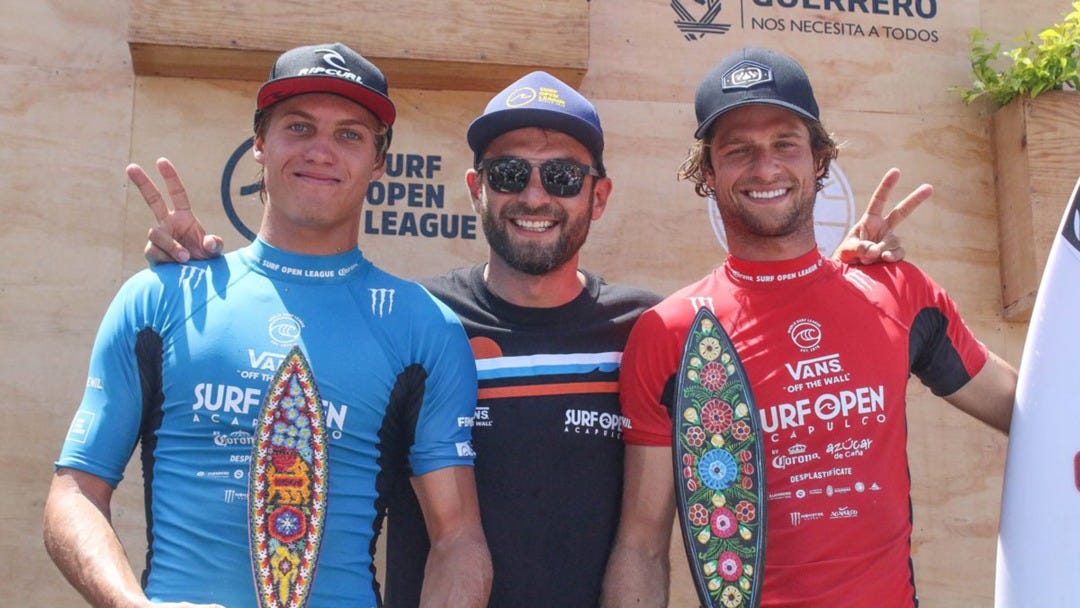 07/15/2019
Luke Gordon Wins the WSL QS Acapulco 1000 in Playa Revolcadero
Luke Gordon Wins the WSL QS Acapulco 1000 in Playa Revolcadero.
Acapulco/Mexico (July 14, 2019): Yesterday, the WSL Acapulco QS 1,000 awarded Luke Gordon his maiden chair-up in the playful beach breaks of Playa Revolcadero. A hard-fought day of competition ensued among the remaining four competitors in Semifinal action before moving straight into the Final between Gordon and Brasilian Matheus Navarro. This marks the South Carolina native's first QS victory and was welcomed back to the beach with Mexican locals bombarding him with praise.
"I feel on top of the world, this is incredible," Gordon said. "I feel like I should be in a commercial right now or driving a Lamborghini (laughs). It was just my time I guess, and it feels really good to finally get a win after all these years. I'm super blessed to come out on top of that event with all the guys surfing really hard all weekend and I'll remember this one for a long time."
The win did not come easily for Gordon, as he took on Santa Cruz's own John Mel in the semi-finals, ending Johns chances of being N.A. No. 1 heading into the Vans US Open Trials. Luke also took on names like Jeremy Carter and Tyler Gunter in the early rounds. But the day belonged to Gordon who then went blow-for-blow with one of of 2019's standout talents Navarro in the Final. Gordon's forehand power proved to be too much, garnering an 8.50 (out of a possible 10) to all but seal the victory.
"Thirty-five-minute Final and I was just trying to get two good waves and started early and just put it together," Gordon said. "I guess I was in tune with the ocean. Just watching Cam (Richards) do really well and Nolan (Rapoza) win in Chile, that was incredible, and every contest now I started realizing it's possible. It can be done. I came here, I had to win this event and I did."
Credit: WSL/Nichols