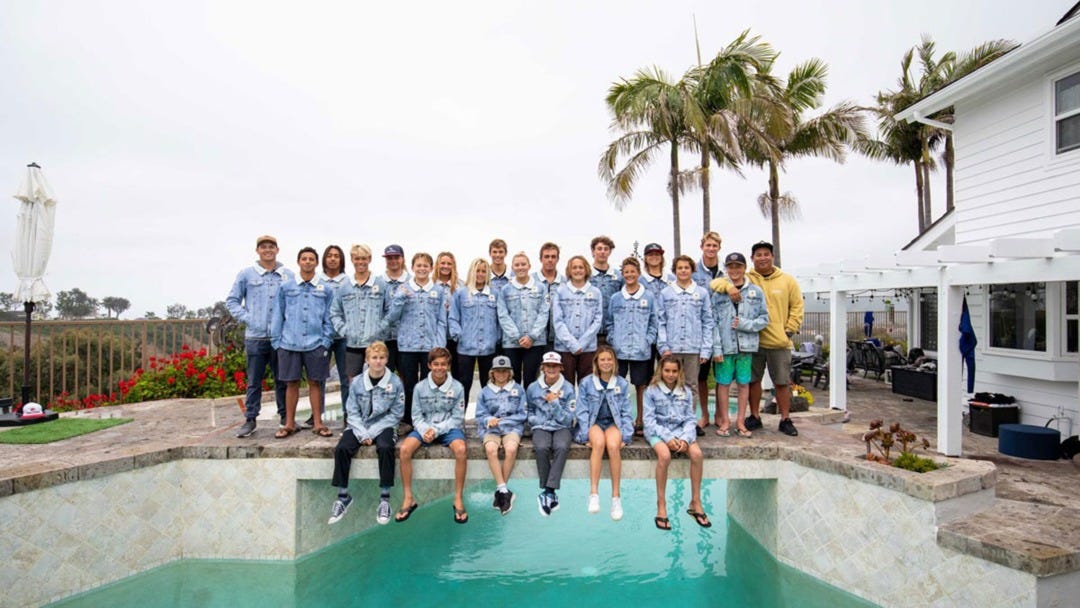 07/02/2019
Rip Curl Team Day Summit 2019
Last Week, the Annual Rip Curl Team Day Brought a Nationwide Roster of Groms to Costa Mesa, Ca for a Day of Team Bonding and Fun Around Southern California.
The day began early in the pool with a Hypoxic Breathing course with local breath holding guru's, Water Groms. After over an hour of burning lungs and getting tossed underwater, the team left with new lessons to use in the lineup when things get big. The crew then headed to Salt Creek Beach for the annual Team Day tag team surf challenge, with the chance to win the prestigious giant candy boxes.
The Team took over the Salt Creek lineup and went to work on a few waist high lefts offering up scores for every team. When the final horn sounded, the Yellow Team made up of Luke Swanson (HI), Owen Carter (NC), Jake Chandler (CA) and Petey Romaniuk (CA) grabbed the win. As the Yellow Team reveled in their winnings, the rest of the group took to the lineup for a team expression session. Team Day veterans Crosby Colapinto (CA), Alyssa Spencer (CA) and Emma Stone (CA) teed off and showed the groms what a couple more years' experience gets you.
After the surf, it was time to head to our favorite post-surf refuel spot, Banzai Bowls. Once lips were purple with acai, the team headed over to the Rip Curl USA Headquarters. There the team got a presentation on better utilizing social media as athletes and a sneak peek at next year's Mirage boardshort line, with the opportunity to name a new short and win a custom, 1-of-a-kind custom pair!
To finish off the day, we headed to Brainy Actz Escape Room to put the groups teamwork to the test. We split into three groups and locked ourselves in rooms and put our minds together to make the grand escape. All three teams concurred the rooms and made it out with time to spare.
We ended the day giving top honors to 2 athletes that impressed the group the most throughout the day. The days MVP, putting up huge scores during the tag team surf challenge and having a great attitude all day, went to local Huntington Beach ripper, Petey Romaniuk. Petey walked with a new limited-edition Sector 9 x GromSearch collab skateboard. The days Sportsmanship Award for best attitude went to Hawaiian grom, Diego Ferri. Diego was surprised with a 50 Year Anniversary watch, one out of only 1,969 and all the candy he could ever need.
The day brought important lessons, laughs and smiles to the whole group during a perfect team building environment. Rip Curl could not be prouder of the juniors who represent the Ultimate Surfing Company. See you all next year!
Photos: Matt Ord | @mattheword