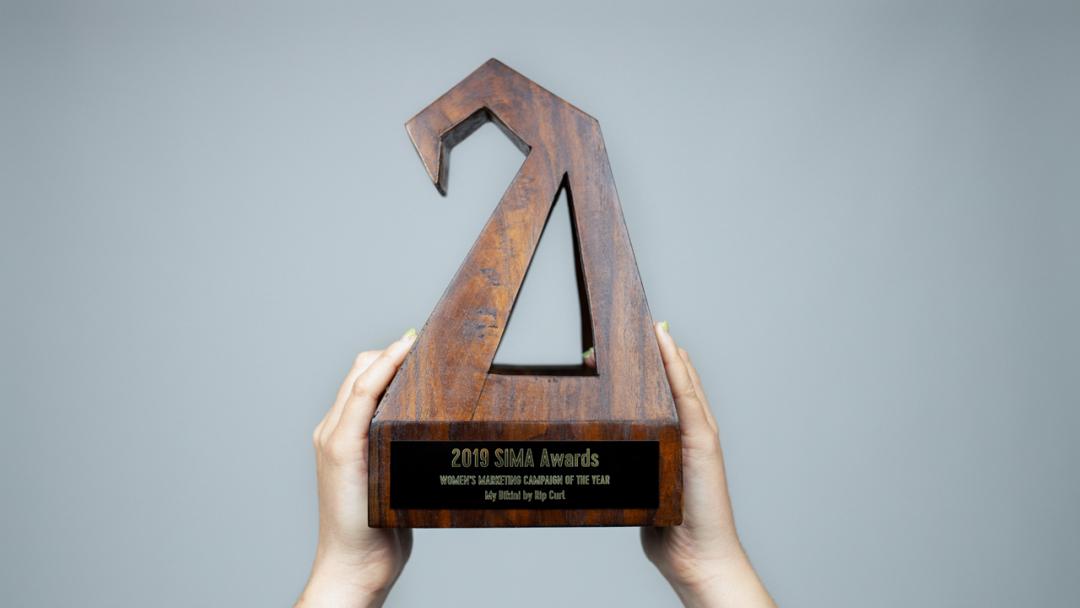 03/12/2020
MyBikini Wins 2019 SIMA Awards Women's Marketing Campaign of the Year
The Rip Curl Women's and Marketing Team walk with Marketing Campaign of the Year.
Last night, surf industry brand and retail crew gathered at the Observatory in Santa Ana, CA for the annual SIMA Awards. The SIMA Awards is a program that strives to identify the surf industry's most influential and innovative companies and recognize them for their efforts to advance and grow the industry. Winners of each category are determined by a final vote open to all SIMA member companies as well as specialty retailers. It was a great night of recognition, honoring and awarding those who work so hard to make our industry what it is today.
The Rip Curl Women's Team took home Marketing Campaign of the Year for the signature swim campaign, MyBikini. MyBikini has been an annual staple in Rip Curl messaging for years and continues to be supported by quality, great looking product. This year, the MyBikini campaign featured top selling collections like Hanalei Bay, Golden Haze, Wonderland, Summer Lovin', Morning Sky and Coastal Tide.
"This award is a credit to the talent and collaboration between the marketing and women's product teams working together to elevate the MyBikini story. Thank you to all who voted, especially the retail partners who brought the campaign to life in their stores." said President Dylan Slater.
The Crew here at Rip Curl is extremely proud of the efforts from our Women and Marketing teams and are honored to win this award. We look forward to continuing the tradition of great looking products made form quality materials that make our ladies feel and look their best in and out of the water.
About SIMA
The Surf Industry Manufacturers Association (SIMA) is the official working trade association of surf industry suppliers. Founded in 1989, SIMA is a non-profit organization that serves to promote awareness of the surf industry and participation in the sport of surfing through public relations efforts and a variety of services, educational programs and research. In addition, SIMA actively supports oceanic environmental efforts through its 501(c)(3) charitable environmental foundation, the SIMA Environmental Fund.