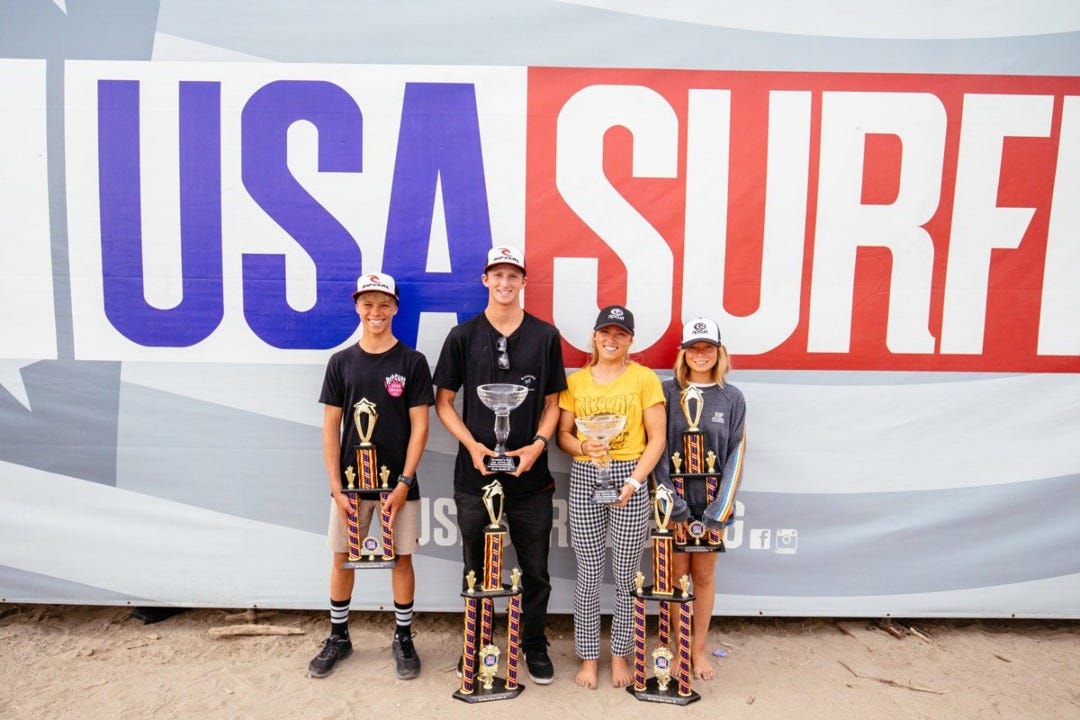 06/24/2019
Team Rip Curl Finishes Victorious at the 2019 USA Surfing Championship
2 Governors Cups, 4 Back-to-back Titles, 2 Division Wins, and 4 Final Results as Team Rip Curl Wraps Up an Action-packed Week at the USA Surfing Championship.
The West Coasts most rippable wave came out to play for Finals Day of the Toyota USA Surfing Championship. Lowers went fully classic for the first half of the day, allowing the nation's best juniors to tee off all morning to set up the Final rounds.
Moving toward the second half of the day, a strong onshore breeze rolled onto the San Clemente shores allowing the juniors to take to the air. The Boys U18 Final was "the best final of the events history" according to USA Surfing CEO Greg Cruse. Crosby Colapinto (CA) stuck to his power surfing ways, decimating every lip along the way before ending each ride with an inside bowl flick. By the time the buzzer hit, Crosby had earned a 10 and 9.93, putting him .07 from a perfect heat on the way to his 4th USA Championship title. His victory was not easily earned, as finalists Nick Marshall (CA) flipped his way to a 9.97 and third-place Wyatt McHale (HI) grabbed the Finals other perfect 10.
Alyssa Spencer went on a tear all-event long, putting up two perfect scores on the way to her U16 and U18 Finals, where she was victorious in both. Alyssa mixed great wave selection and a powerful backhand attack to run away with both Finals. "I'm just over the moon right now, I'm so happy I won this event and so proud of all the girls in the heat" said Spencer. She ultimately finished the event with a prestigious Governor's Cup and two division titles.
Rip Curl saw two other riders on Finals Day, with Luke Swanson (HI) in the Boys U16 Final and Ewe Wong (HI) in the Girls U14 Final. Luke put on an impressive rail game and took to the air multiple times during this talent-stacked, wave starved heat but came up short by a few points to Final winner Levi Slawson (CA). Luke walked away with a 3rd place on his first trip to the USA Surfing Championship Finals.
Ewe Wong showed a rail game beyond her years… and size, as she slashed her way to the U14 Girls Final. Once in the heat, she picked off a few long running rights and walked away with a 4th place finish to fellow Hawaiian and heat winner, Betty Lou Johnson.
All said and done, Team Rip Curl USA walked away with 2 Governor Cups (Colapinto & Spencer), 3 division titles (Boys U18, Girls U16 & U18) and 4 Final appearances. Congratulations to these juniors for an amazing week of surfing! Rip Curl is proud to know the future of competitive surfing is in good hands. Thank you, USA Surfing, for putting on a great event as always and allowing these juniors to showcase the nation's best talent. We look forward to seeing you all next year!