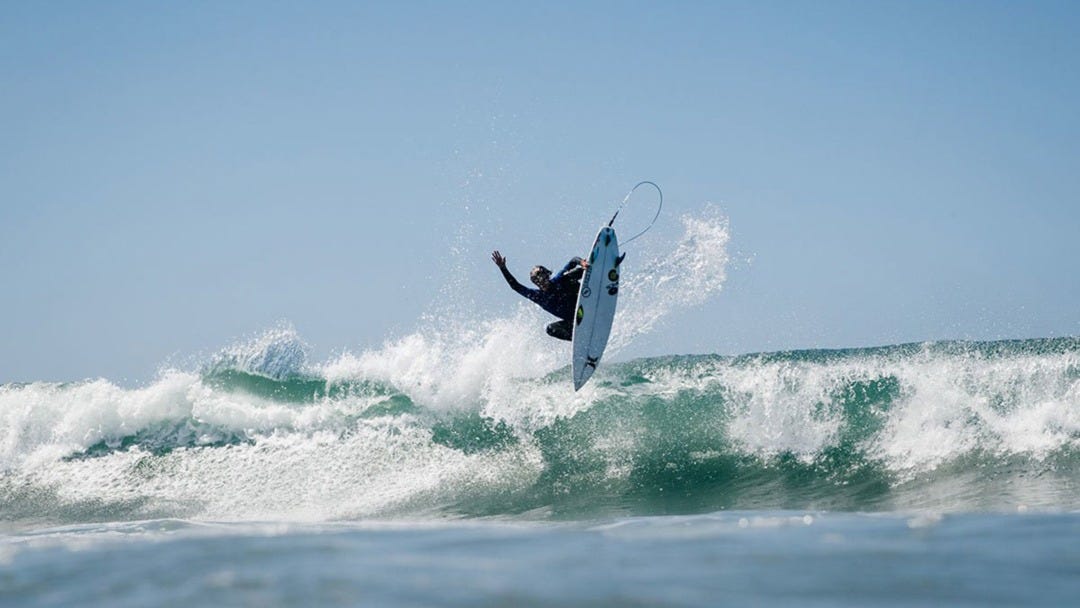 05/19/2019
The Gromsearch 2019 Season Kicks Off In Hb On June 15th!
The 2019 Rip Curl Gromsearch Season Presented by Banzai Bowls is Set to Kick Off June 15th-16th, in Huntington Beach, Ca.
A packed line up of over 160 of the Nation's top groms will be battling it out at the South Side of HB Pier for coveted regional titles. The four finalists from each division; 16 & under boys, 16 & under girls, 14 & under boys, and 12 & under boys, will all be invited to compete in the National Final - at the ultimate surfing stadium, the BSR Surf Resort in Waco, Texas. The 16 & under boys and girls National Champions will win an all-expense paid trip to compete in the RCGS International Final – at an undisclosed location along #TheSearch in Spring, 2020.
This past May the RCGS International Final was held on the black-sand beach breaks of Playa Hermosa, Costa Rica. After 3 days of heavy surf, major upsets, and huge wins, Caitlin Simmers (USA) and Afonso Antunes (PRT) added their names to the famed GromSearch Champions list.
For event registration, info, and updates, head to ripcurl.com/gromsearch.
Follow @ripcurl_usa to follow along with all the action leading up to the season!
GromSearch could not be possible without the tremendous support of its sponsors; Banzai Bowls, BSR Surf Resort, Perfect Swell, Flexfit, Sector 9, Lost Surfboards, Oakley, Surface, FCS, Surfline, and Wahoo's Fish Tacos.
For event schedule and more info on next events, check out ripcurl.com/gromsearch
Previous Champions - Rip Curl GromSearch International final
2019 Afonso Atunes (PRT) & Caitlin Simmers (USA)
2018 Xavier Huxtable (AUS) & Keala Tomoda-Bannert (Hawaii)
2017 Kade Matson (USA) & Caroline Marks (USA
2016 Nolan Rapoza (USA) & Brisa Hennessey (Hawaii)
2015 Samuel Pupo (BRA) & Leilani McGonagle (Costa Rica)
2014 Pat Curren (USA) & Brisa Hennessey (Hawaii)
2013 Leonardo Fioravanti (ITA) & Tatiana Weston-Webb (Hawaii)
2012 Dylan Lightfoot (ZAF) & Tatiana Weston-Webb (Hawaii)
2011 Mitch Parkinson (AUS) & Nikki Van Dijk (AUS)
2010 Gabriel Medina (BRA) & Bianca Buitendag (ZAF)
2009 Thomas Woods (AUS) & Nikki Van Dijk (AUS)
2008 Dale Staples (ZAF) & Malia Manuel (HAW)
2007 Tyler Newton (USA) & Tyler Wright (AUS)
2006 Owen Wright (AUS) & Alana Blanchard (HAW)
2005 Mason Ho (HAW) & Nikita Robb (ZAF)
GromSearch International final - Locations
The first GromSearch International final was held at Bells Beach, Australia as part of the 2005 Rip Curl Pro, WSL tour event.
Since 2014 the International final has been on 'the Search', looking for new and exciting locations to run the event.
2019: Playa Hermosa, Costa Rica.
2018: Raglan, New Zealand.
2017: Maresias Beach, Sao Paulo, Brazil.
2016: Ala Moana Bowls, Waikiki, Hawaii, USA.
2015: Maresias Beach, Sao Paulo, Brazil.
2014: Lakey Peak, Sumbawa, Indonesia.
2005 – 2013: Bells Beach, Victoria, Australia.