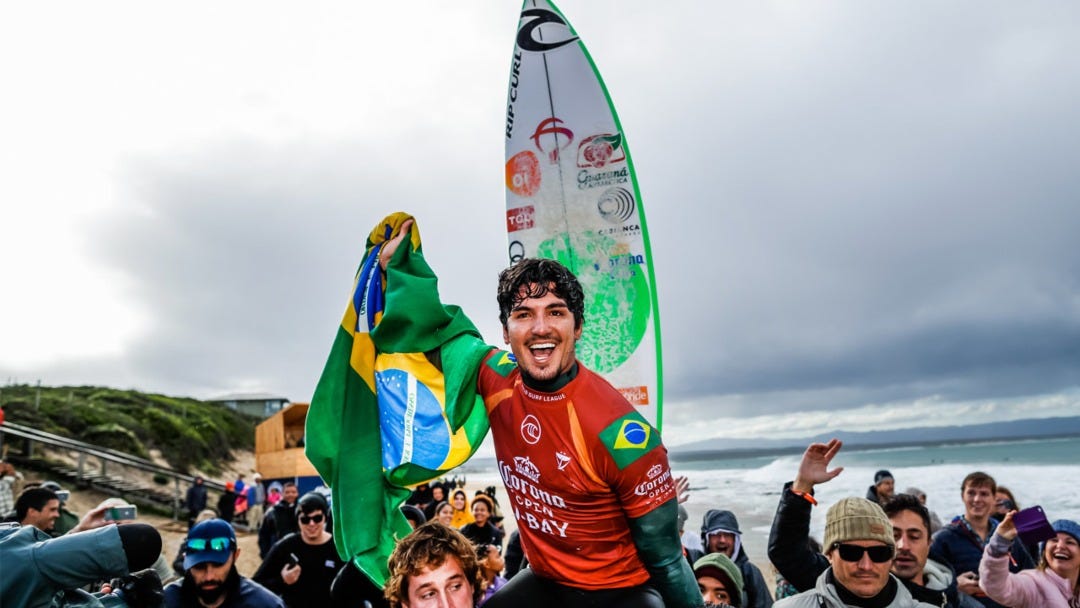 07/19/2019
Today Gabriel Medina has won the Corona J-Bay Open in South Africa, putting himself in the perfect position to fight for the 2019 World Title.
In a historic moment for surfing, Gabriel Medina (BRA) has won the Corona J-Bay Open, stop No.6 on the World Surf League (WSL) Championship Tour (CT) and the first Goofy win at Jeffrey's Bay since Mark Occhilupo's (AUS) victory in 1984.
Gabriel takes home his first CT win of 2019 with victory at the coveted South African right-hander, now solidifying his spot amongst the world's best on the Men's CT. The 2 x WSL World Champion narrowed the gap between him and Jeep Rankings Leader Kolohe Andino (USA) with his 13th career CT win.
"It's been a long journey to make the final here is South Africa, this contest is really special and hard to win so I'm super happy."Gabriel Medina.
"Italo is so dangerous, even when I had him combed in the last three minutes, I wasn't comfortable."
Medina's win today looked to be in jeopardy after Italo Ferreira (BRA) opened up the Men's Final with an excellent 9.1 ride, but Medina was quick to bounce back and posted an almost perfect 9.73 minutes after Italo's first wave. Medina then went on to take advantage of the momentum ending the Final with another near-perfect 9.77 and heat total of 19.5.
As the defending champion of the next two stops (Teahupoʻo Pro, Tahiti and The Freshwater Pro Lemoore, California,) when asked about the upcoming events Medina simply said, "I'm back."
Looking towards the final half of the 2019 CT season, Gabriel is in a great position to continue his campaign for the 2019 World Title. 6,950 points behind Andino on the rankings, it is set to be an exciting race all the way to the final event at Pipeline, Hawaii. The 2019 World Title race is heating up, and after a dominate track record in the second half of Men's WSL CT, Gabriel looks ready to defend his World title.