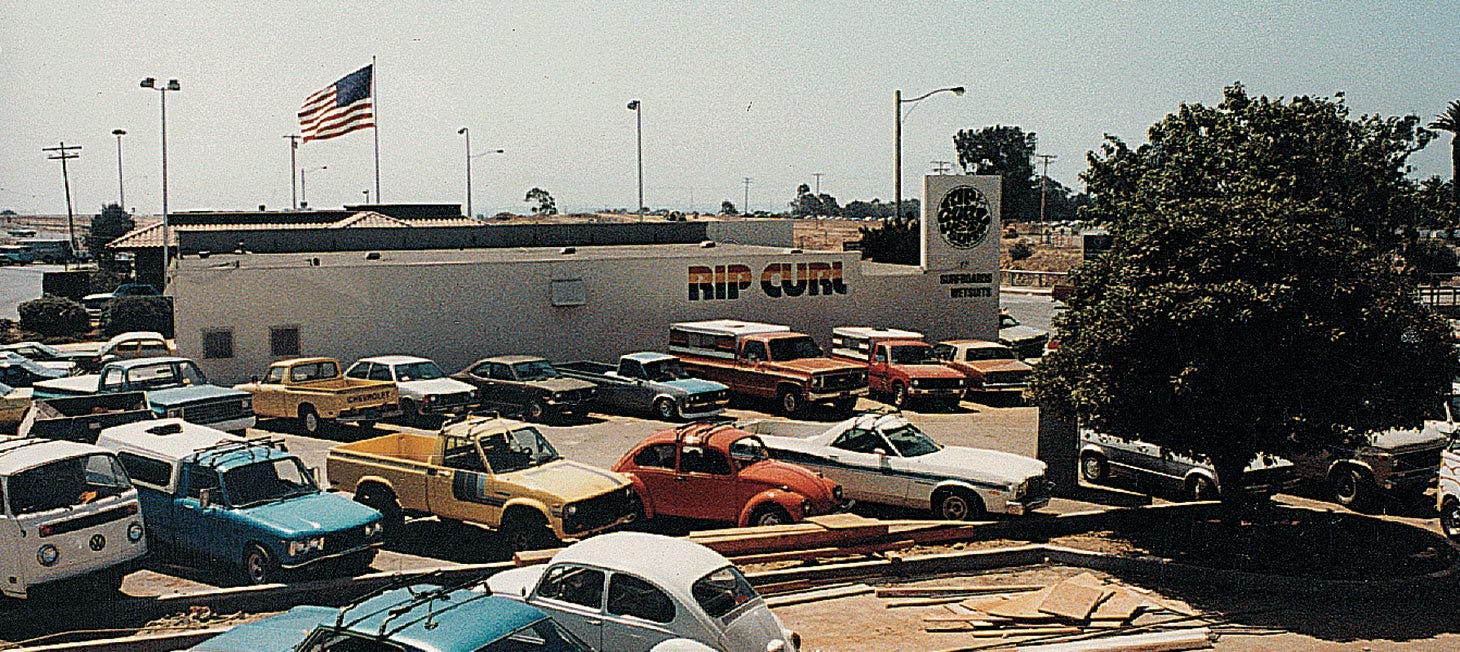 Going International
While Rip Curl's involvement in competitive surfing was clearly evident by the mid-1970s, Warbrick and Singer were determined that the company should not embrace the new money-wise sport and neglect surfing's roots.
Both men were firmly committed to the philosophy of "The Search", the cornerstone of soul surfing. Even as Rip Curl grew, they took pains to ensure that they weren't dragged kicking and screaming from the surf to oversee the business. They had their priorities right, and they made sure that Rip Curl did too. They spent a lot of time in Bali, surfing the recently-discovered breaks of Uluwatu and Padang – in those days the pre-eminent equipment testing laboratory for the world soul surfing elite.

Thus, as Rip Curl underlined its position as the number one surfing wetsuit company through sponsorship of some of the best surfers in the world, the company also maintained its involvement with surfing's roots by supporting soul surfers like Wayne Lynch, Michael Peterson, Cheyne Horan and Tom Curren.

Warbrick and Singer also spent a great deal of time involved in their own "search", launching expeditions to little-known island groups and far-flung coasts, often taking with them the surfers at the cutting edge. By the end of the 1970s, Rip Curl had become, in every way, the surfer's company.

This strong identity with the sport, however, did not detract from Rip Curl's commitment to the technology of its products. By 1977 the company was producing wetsuits for windsurfers, sailors and water skiers as well as surfers. Each division required a different technological approach and a completely different marketing strategy. Rip Curl took on these challenges hand in hand with its export drive and eventual establishment of Rip Curl International.
Instead of making wetsuits in Australia for export - a costly and difficult exercise in itself - Rip Curl would sell its technology, designs and ideas. The product itself would be made under licence in the country where it was needed.

In 1981 Rip Curl established its first corporate Licensee, Lowers, in Southern California, within walking distance of its namesake - one of America's most famous surf breaks. The formula was a success and in 1985 a new company called Frogs began making Rip Curl products in Hossegor, on a stretch of France's Atlantic coast renowned for its grinding hollow beach breaks.

Today, nine corporate Licensees make and sell Rip Curl products in USA, France, South Africa, Japan, Indonesia, Brazil, Argentina, Peru and Chile. Surfers in the most remote corners of the planet can be seen using Rip Curl products. Maybe they have never heard of Torquay, maybe not even Bells, but they share the spirit of The Search, and pursue the dream that recognises no borders and needs no translation.

Working in close proximity to the best surf still makes as much sense as it did when Rip Curl was "Born at Bells". It means Rip Curl can never lose touch with its roots... And 28 years on, Rip Curl offices around the world are still empty on some days. Those special days, when it's clear and cold, there's a brisk wind, not too strong, but coming straight off the land. And a six foot swell – made clean and straight by its long march.

Some days, only one type of work needs doing...