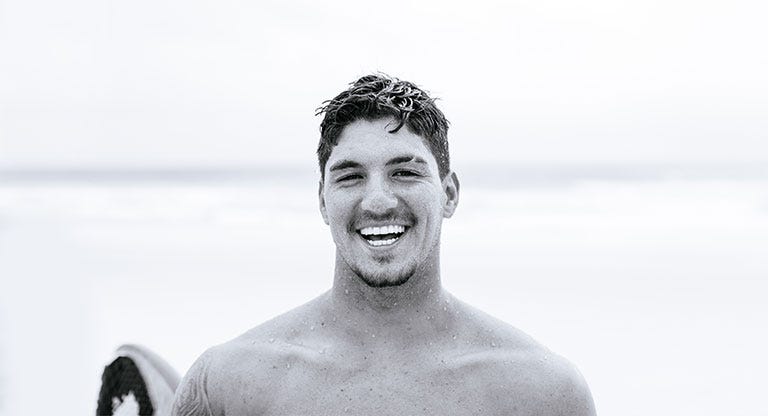 Gabriel Medina
Praia de Maresias, em São Sebastião, Brazil
A four-hours drive south of Sao Paulo, off the highway and through a long, winding road surrounded by lush tropical jungle, you will find the town of Maresias. One main road runs through the town, and at first glance there is nothing remarkable about the small seaside town. But then you see the Gabriel Medina Instituto.
Maresias is where 3x World Champion Gabriel Medina grew up. It is where he learnt to surf, where he fell in love with the ocean, and where he hatched his dream of becoming Brazil's first World Surfing Champion.
He came on to the World Tour in 2011 fresh-faced and inexperienced, but with an unparalleled hunger and a drive, along with an innate talent, he quickly made rose the ranks and put himself in the position of a formidable threat to the top surfer's in the world.
Today, he is a 3x World Champion, Brazil's surfing hero, and the best surfer in the world. Raw. Real. Innovative. Passionate.
AKA: Gabby, Gabs
Born: December 22, 1993
Resides: Praia de Maresias, em São Sebastião, Brazil
Height: 5'11" (180 cm)
Shaper: Johnny Cabianca
Training Ground: Maresias, Brazil
Favourite Wave: Restaurants, Fiji
Inspirations: God, family, friends, Mick, Kelly & Ayrton Senna
World Titles: 2 (2014, 2018)
WSL Ranking by Year:

2011: 12th, 2012: 7th, 2013: 14th, 2014: 1st, 2015: 3rd, 2016: 3rd, 2017: 2nd, 2018: 1st
WSL World Tour Event Victories:
2011 - Quiksilver Pro France
2011 - Rip Curl Search, San Francisco, California
2014 - Quiksilver Pro Gold Coast
2014 - Fiji Pro
2014 - Billabong Pro Teahupo'o
2015 - Quiksilver Pro France 2016 - Fiji Pro
2017 - Quiksilver Pro France
2017 - MEO Rip Curl Pro Portugal
2018 - Tahiti Pro Teahupo'o
2018 - Surf Ranch Pro
2018 - Billabong Pipe Masters
2019 - Corona Open J-Bay
2019 - Freshwater Pro
2021 - Rip Curl Narrabeen Classic
2021 - Rip Curl Rottnest Search
Carousel of Rip Curl products that Gabriel Medina recommends