Social Compliance
Rip Curl is a surfing company founded in 1969 by two surfers Brian Singer and Doug Warbrick. Almost 50 years on, they remain as Founder / Directors of the company today and have a strong belief in fair play and consistent business practice.
Along the way, they crystalized how to do things the "Rip Curl Way" and developed a set
Company Principles and Values
which are now a daily road map for how we act and conduct ourselves as a company and crew. Those Principles and Values are...
CUSTOMERS
COMMITTED CREW
CREATIVITY AND INNOVATION
COMMUNITY & ENVIRONMENT
HONESTY & INTEGRITY
The thing is, our commitment to these Principles and Values does not end at the sites of Rip Curl offices and facilities. It extends to the places where our products are made, the factories that make them, and the people inside those factories too.

By staying Committed to best and fair practice with our extended supplier Crew we will deliver the most Creative and Innovative products to our Customers in the safest and best manner. By constantly checking ourselves when selecting and working with our suppliers and by maintaining our Honesty and Integrity in that process, we will manage to work with good social compliance in the Community and Environment in which those suppliers live.

Applying these Principles and Values holds us accountable and reminds us how important it is to ensure that the workers who make Rip Curl products are treated fairly, in accordance with local and international laws and accepted international standards of compliance. At Rip Curl we recognise that our crew is the backbone of our business and we expect our business partners to understand that and respect the rights of their crews equally.
With this general intention in mind Rip Curl also recognises the breadth of its supplier base – its capacity to influence suppliers and the level of sophistication of the supply chain. Reaching a satisfactory level of compliance among suppliers is an ongoing process that requires time and effort, but this is a process to which Rip Curl is highly committed. Devoting resources is a necessary part of that.

Rip Curl's intention is to purchase merchandise solely from sources that adhere to and respect the Principles and Values and standards that Rip Curl holds paramount.

All merchandise is to be manufactured in accordance with all applicable laws of the respective country of manufacture as well as relevant international standards. It is also a fundamental element of our relationship that all production is undertaken at the agreed factories which have been inspected and approved by Rip Curl. No unauthorised sub-contracting, outsourcing or any other diversion of production from the agreed factories is allowed… under any circumstances.

Rip Curl has developed the following fundamental principles which constitute the Rip Curl's factory Workplace Code of Conduct.
Factory Workplace Code of Conduct
Employment Relationship: Employers shall adopt and adhere to rules and conditions of employment that respect workers and, at a minimum, safeguard their rights under national and international labor and social security laws and regulations.

Nondiscrimination: No person shall be subject to any discrimination in employment, including hiring, compensation, advancement, discipline, termination or retirement, on the basis of gender, race, religion, age, marital status, disability, sexual orientation, nationality, political opinion, social group or ethnic origin.

Harassment or abuse: Every employee shall be treated with respect and dignity. No employee shall be subject to any physical, sexual, psychological or verbal harassment or abuse.

Forced Labor: The use of forced labor including slavery and human trafficking, prison labor, indentured labor, bonded labor or otherwise is prohibited. Workers should not be required to lodge "deposits" or their original identity papers with suppliers and all workers shall have the right to enter into and to terminate their employment freely.

Child labor: No person shall be employed under the age of 15 or under the age for completion of compulsory education, whichever is higher.

Freedom of association and collective bargaining: Employers shall recognize and respect the right of employees' freedom of association and collective bargaining.
Health, safety, and workplace environment: Employers shall provide a safe and healthy workplace setting to prevent accidents and injury to health arising out of, linked with, or occurring in the course of work, or as a result of the operation of employers' facilities. Employers shall adopt responsible measures to mitigate negative impacts that the workplace has on the environment.

Hours of work: Employers shall not require workers to work more than the regular and overtime hours allowed by the law of the country where the workers are employed. The regular work week shall not exceed 48 hours. Employers shall allow workers at least 24 consecutive hours of rest in every seven-day period. All overtime work shall be consensual. Employers shall not request overtime on a regular basis and shall compensate all overtime work at a premium rate. Other than in exceptional circumstances, the sum of regular and overtime hours in a week shall not exceed 60 hours.

Compensation: Every worker has a right to compensation for a regular work week that is sufficient to meet the worker's basic needs and provide some discretionary income. Employers shall pay at least the minimum wage or the appropriate prevailing wage, whichever is higher, comply with all legal requirements on wages and provide any fringe benefits required by law or contract.

Second Tier Suppliers: The supplier shall only work with and source products from other suppliers of goods or services (eg trims, materials and any other inputs) who comply with the standards included in this code in particular laws regarding slavery and human trafficking.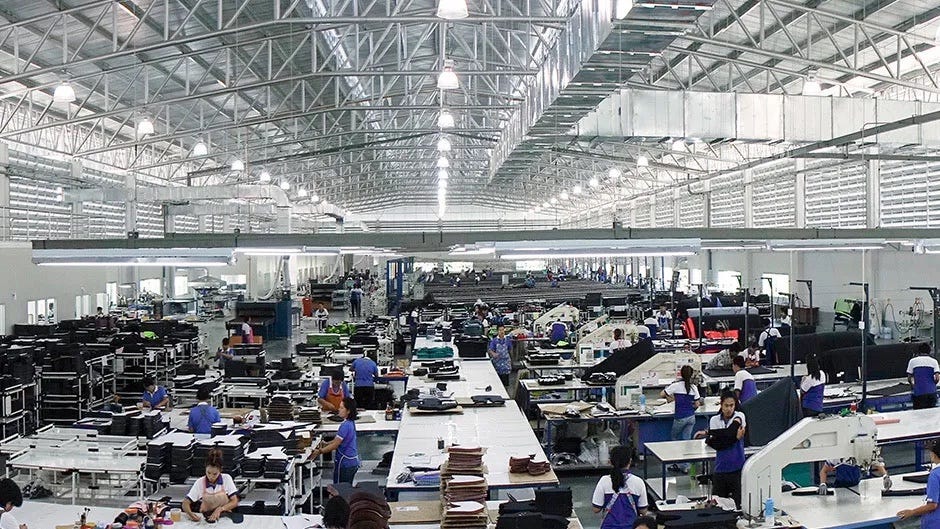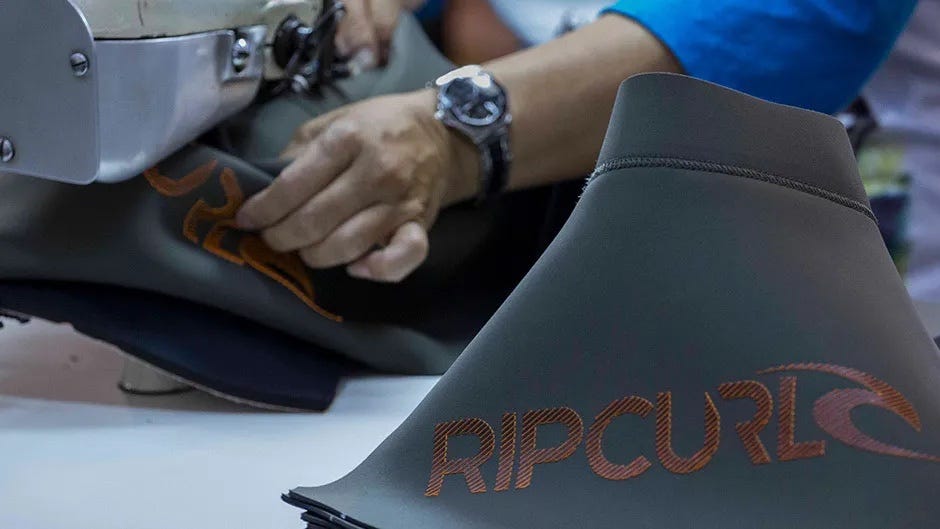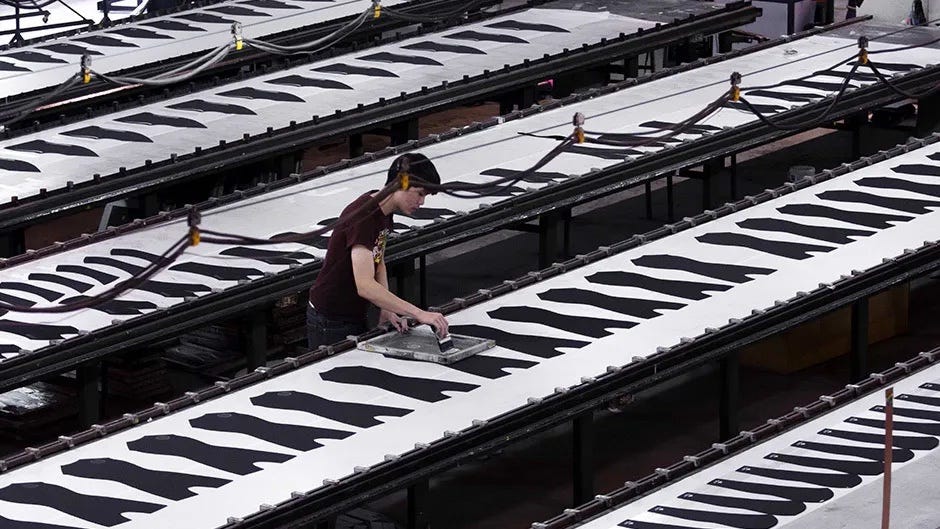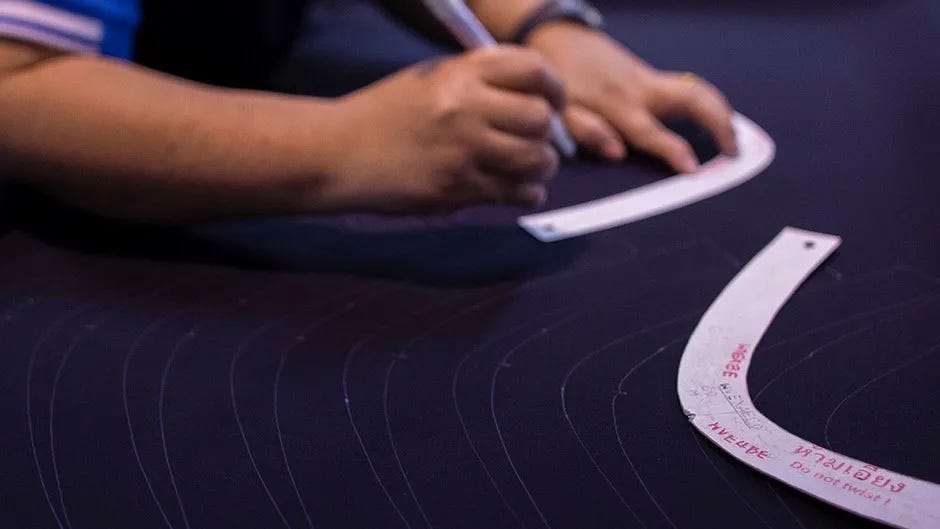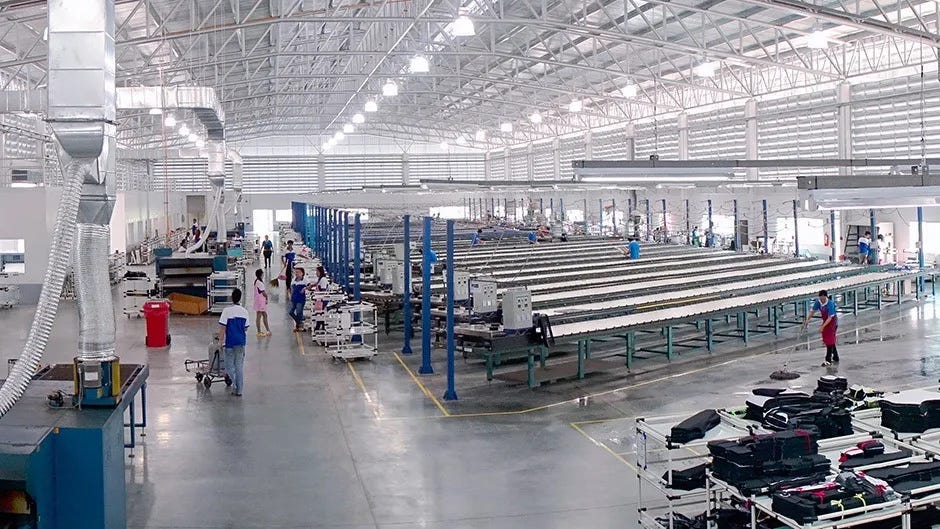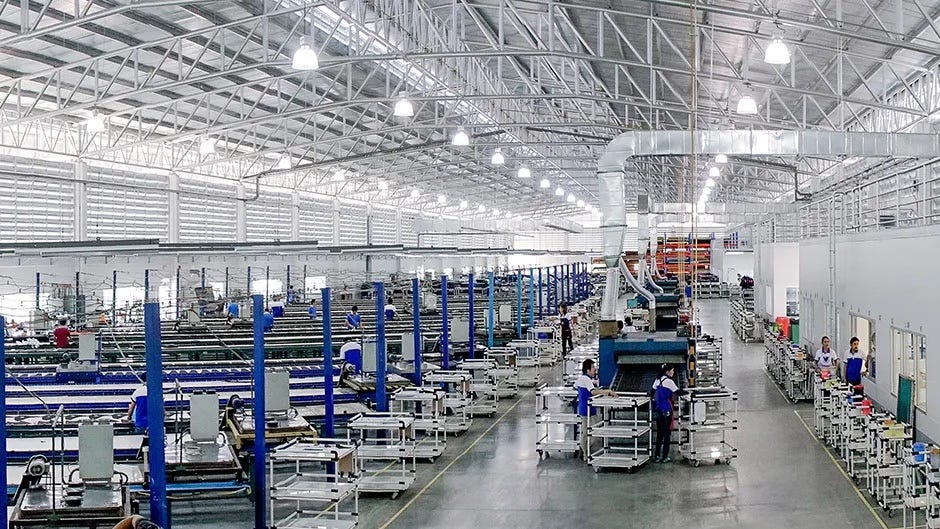 Rip Curl Owned Factory
Since 1989, Rip Curl owns and operates a large state-of-the-art wetsuit manufacturing facility "Onsmooth Thai Co.,Ltd" located at 143 Moo 7 Thawangtarn, Saraphee, Chaingmai, Thailand. The factory employes around 650 workers and is one of the biggest employers in the region. Operating this facility allows us to control our pricing, lead times and entitlements for our workers while allowing us to develop ultimate surfing wetsuits.
Countries of Production
Due to the technical range of products Rip Curl offers, our supply chain is diverse and widely spread with regional offices controlling local suppliers, while the Torquay head office manages global supplier relationships. Regular factory visits and product development trips are a major part of ensuring our supply chain is transparent.

Click here to view our factory list.Sourcing Countries: China, Thailand, India, Bangladesh, Vietnam, Hong Kong, Indonesia, USA, Cambodia, Portugal, Italy, France, Morocco, South Korea, Australia, Brazil, Japan, South Africa
Audits of our Suppliers
Rip Curl works with Intertek, a leading global quality standards auditor, to perform audits on our behalf. Using the WCA (Workplace Conditions Assessment) format, Rip Curl ensures our factories are upholding our Workplace Code of Conduct and adhering to local laws protecting factory workers.