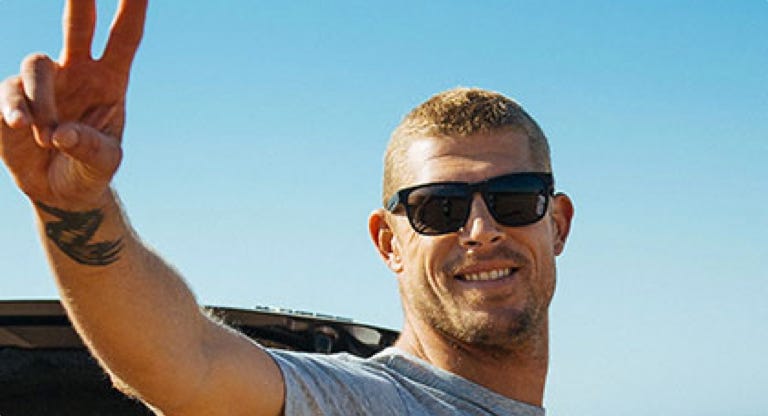 Mick Fanning
Gold Coast, Australia
It's difficult to sum up a man like Mick Fanning in just a few short sentences. A surfer? Yes. A brother, a son? A 3x World Champion? One of our sport's greatest athletes? Yes. Yes. Yes. The unlucky surfer who got knocked off his board by a white pointer during a Final at Jeffrey's Bay, broadcast live around the world? Yes.
But Mick Fanning is much more than these figures and statistics. Mick Fanning has seen and achieved more in his life and career than most dare to dream. He has done this in the face of personal tragedy, great adversity, and under harsh scrutiny of the public eye. He has done it with humility and a deep respect for surfing, and those who he chooses to surround himself with.
Mick Fanning is an Aussie hero. Mick Fanning is a legend. And right now, after retiring from the World Tour in 2018, Mick Fanning is officially on The Search.
AKA: MF, Fanno
DOB: June 13, 1981
Born: Penrith, New South Wales, Australia
Resides: Tweed Heads, New South Wales, Australia
Height: 5'10" (177 cm)
Weight: 161 lbs (73 kgs)
Shaper: Darren Handley (DHD)
Training Ground: Snapper Rocks, Duranbah
Favourite Wave: Any pointbreak
Inspirations: Taylor Knox, Occy, Parko, Dean Morrison, John John, Danny Wills & Andy Irons
World Titles: 3 (2007, 2009, 2013)
WSL Ranking by Year:
2002: 5th (rookie of the year), 2003: 4th, 2004: 43rd (injured), 2005: 3rd, 2006: 3rd, 2007: 1st, 2008: 8th, 2009: 1st, 2010: 3rd, 2011: 11th, 2012: 3rd, 2013: 1st, 2014: 2nd, 2015: 2nd, 2016: 17th (select events), 2017: 12th
WSL World Tour Event Victories:
2001 - Rip Curl Pro Bells Beach*
2002 - Billabong Pro J-Bay
2005 - Rip Curl Pro Search Reunion Island
2005 - Quiksilver Pro Gold Coast
2006 - Nova Schin Festival Imbituba
2006 - Billabong Pro J-Bay
2007 - Hang Loose ProSanta Catarina
2007 - Quiksilver Pro France
2007 - Quiksilver Pro Gold Coast
2009 - Hurley Pro Trestles
2009 - Quiksilver Pro France
2009 - Rip Curl Pro Search Portugal
2010 - Quiksilver Pro France
2012 - Rip Curl Pro Bells Beach
2012 - Billabong Pro Teahupoo
2013 - Quiksilver Pro France
2014 - Rip Curl Pro Bells Beach
2014 - J-Bay Open
2014 - Moche Rip Curl Pro Portugal
2015 - Rip Curl Pro Bells Beach
2015 - Hurley Pro Trestles
2016 - J-Bay Open
* As a Wildcard
Carousel of Rip Curl Products that Mick Fanning recommends