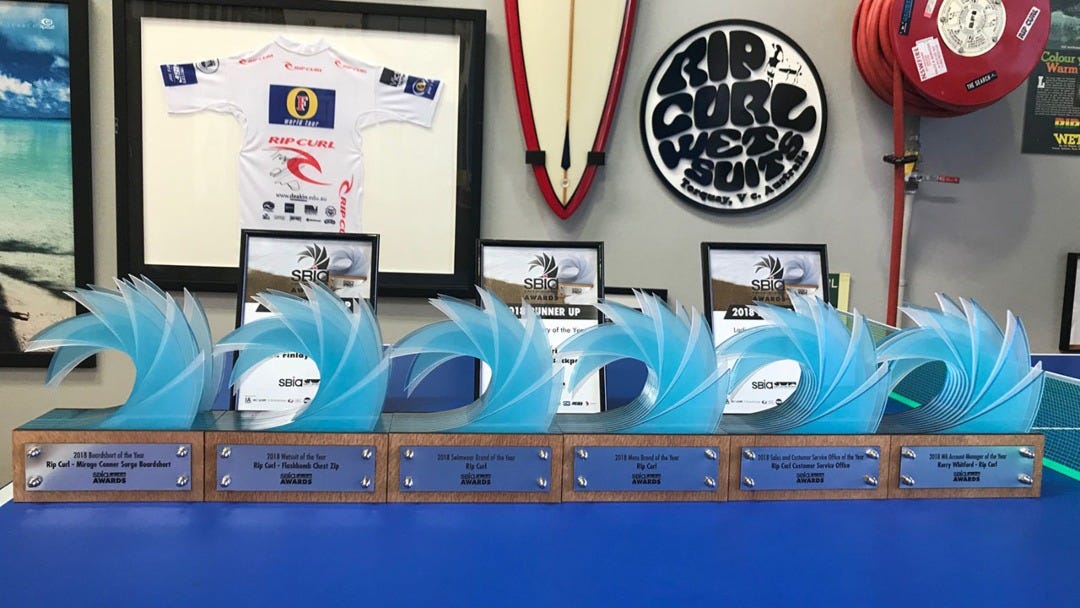 26/10/2018
Rip Curl Triumphed At The 2018 SBIA Awards, Presented With 6 Awards And 3 Nominations.
Matching the pace set at last years 2017 SBIA Awards Gala, Rip Curl this year was presented with 6 awards, taking out highly honoured categories including Men's Brand of the Year, Women's Swimwear Brand of the Year, Boardshort of the Year and more.
Year after year the Surf and Boardsports Industry Association (SBIA) hold a prestigious night that brings the industries best together in celebration of another successful year in Australian surf retail.
Last night, Thursday 25th October 2018, Sydney's Crown Plaza buzzed with excitement as the room filled out with the industries best, eager to learn the winners of the 2018 SBIA accolades. With 27 awards up for grabs, ranging from Core Boardstore to Men's Brand of the Year, Customer Service award and everything in-between, you can imagine the anticipation.
Initially nominated for an incredible 16 awards, Rip Curl was both honoured and humbled to take home 6 awards as well as 3 Runner-up places.
Special mention goes to Gary Crothall, the mastermind and pioneer of both Rip Curl, and the wider Surf Industries credible customer service reputation. Setting the benchmarks in customer service high for the last 47 year at Rip Curl, Gary is a true legend of the industry and therefore could not have been a more deserving man to accept Rip Curl's award for Customer Service Team of the Year. Congratulations Gary and the Torquay Customer Service team.
Awards:
Men's Brand of the Year
Customer Service Team of the Year (for the 2nd year in a row) - Torquay Head Office
WA Account Manager of the Year - Kerry Whitford (for the 3rd year in a row)
Ladies Swimwear Brand of the Year
Men's Boardshort of the Year (for the 4th year in a row) - Mirage Connor Surge
Wetsuit of the Year - Flashbomb Chest Zip (for the 4th year in a row)
Rip Curl is also pleased to announce runner-up finishes in the following categories:
Surfing Accessory of the Year - FLight Posse Backpack
Ladies Brand of the Year
QLD Account Manager of the Year - Sean Finlay