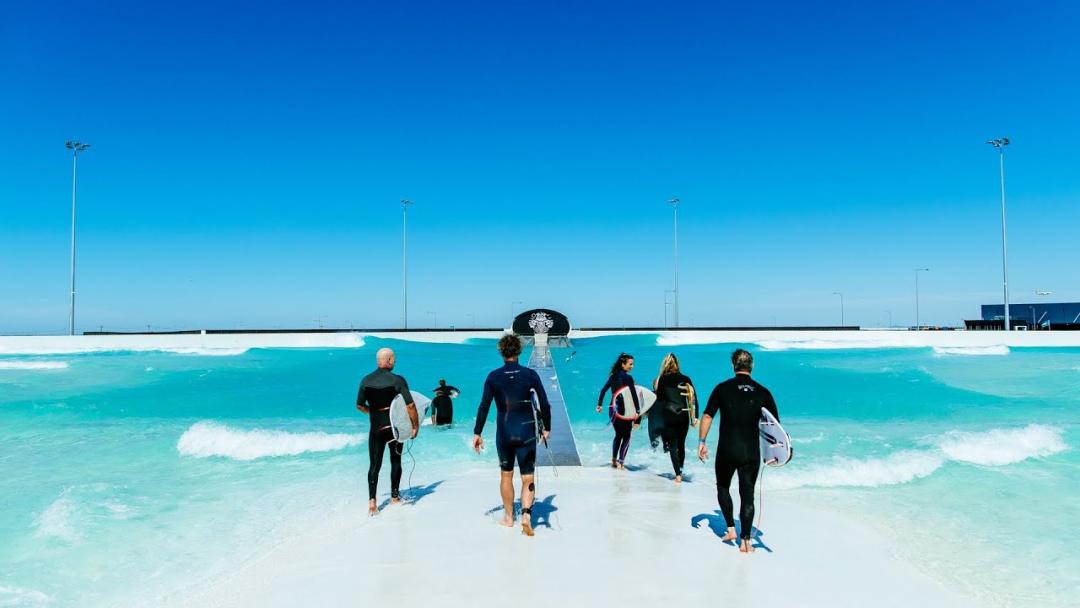 24/06/2020
Australia's Favourite Wave Pool, URBNSURF, Re-Opens With NEW Wave Settings!
Melbourne's URBNSURF, the new hotspot for city surfers to regular searchers, the core lords and beginners alike has opened its gates once again. Just around the corner from Tullamarine airport, everyone's favourite stopover is back... bigger and better than before.
Over the last few months due to Victorian COVID-19 restrictions, URBNSURF was closed to the public. However, activity behind the scenes certainly did not stop. The UrbnSurf team were busy creating two brand new settings to add to the menu of wave types. Joining the perennial Beginner, Intermediate and Advanced settings are the new Cruiser and Expert waves... there really is something for everyone.
If you are a novice - intermediate surfer with an affinity for a clean, mellow point break, gliding along on your log or fish, you're going to love the Cruiser setting.
If you're ready to tuck into some heavier slabs, then the "beast mode" Expert setting is the one for you. With only 12 people in the lineup at a time, compared to the regular 18, you'll be greeted with 1.8-2.0m pits on rotation and only a handful of guys and girls out.
Sessions can be booked up to six weeks in advance, but word of warning... they generally sell out straight away, so get in quick at URBNSURF.com. The pool opens daily from 7am - 6pm at 309 Melrose Drive, Tullamarine. And with the school holidays just around the corner this is the perfect activity if you're searching for non-stop, waves with your family and friends.
Need to hire gear? UrbnSurf have a quiver of boards on offer. Choose from a range of shapers including Lost Surfboards, JS Industries, Haydenshapes, Pyzel, Channel Islands, Firewire, and Softech. As well as a variety of softboards, longboards, and bodyboards available. Need a wetsuit? You can hire one of Rip Curl's ultimate wetsuits at the UrbnSurf rental store too.
Prefer to wear a suit of your own? The onsite store, Lagoon Surf Supply Co. has you covered. Stocking all the best Rip Curl wetsuits, Mirage boardshorts, bikini's, Anti-Series jumpers and more, you'll be set for a day at the pool and every search mission to follow.
The low down on hiring:
2-hour options:
• $5 for 2-hour softboard hire
• $15 for 2-hour hardboard hire
• $10 for 2-hour wetsuit hire
All-day options:
• $10 for all-day softboard hire
• $20 for all-day board hire
• $15 for all-day wetsuit hire
Thinking of booking a session? Here's what they're worth:
Plays In The Bays: (1 hr) $15 child and $25 adult
Cruiser/Intermediate: (1 hr) $59-$69 child and $69-$79 adult
Advanced: (1hr) $79
Beginner Group Lesson: (1hr 45min) child $59 and $69 adult
Spectator Pass: (all day) $5
10 x advanced surf sessions: $700
10x Cruiser/Intermediate surf sessions: $530-$620
3x group surf lessons: $160-$185
With hundreds of waves on offer every hour, stop by Australia's first and only mechanical wave for a day of fun, safe and world-class waves. It's always pumping at URBNSURF. See you there.