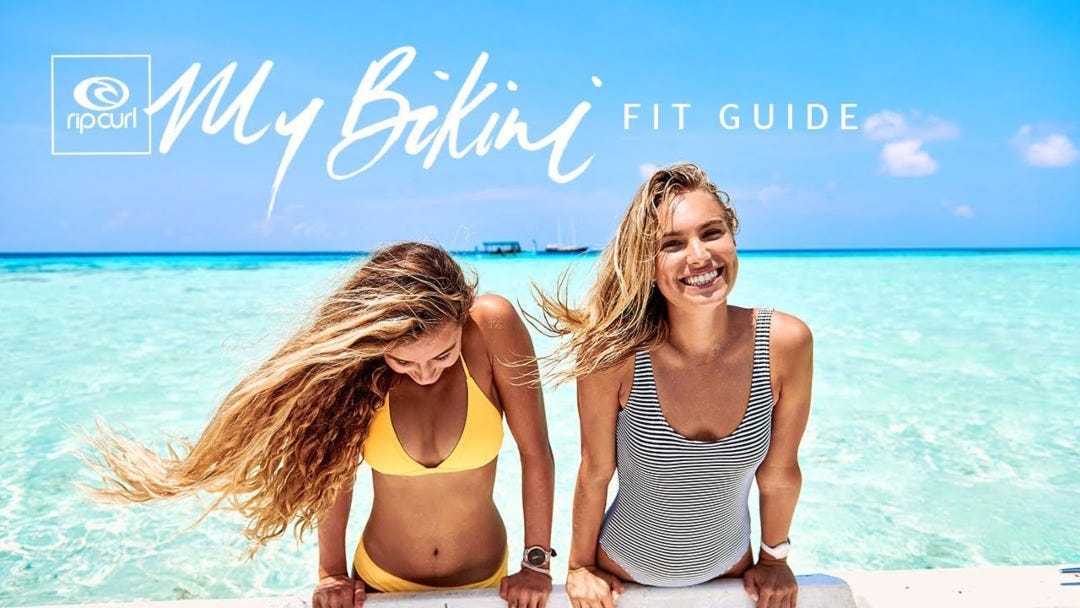 03/09/2019
Best Swimwear for Your Body Shape
Your Go-To Guide for Falling in Love with Your Swimwear!
Finding the right bikini can sometimes be overwhelming. With so many different types of swimwear out there, it can be hard to choose between the huge variety of unique cuts and fits. That's why we've put together this guide to different types of bikinis, here to help you find the best swimwear for your body shape.
Whether you're after something with good coverage, or have the confidence to show some skin, there's a bikini out there for you to look and feel your best in the surf and on the sand.
Bikini Bottoms
Cheeky Coverage
The cheeky coverage fit is our best-selling bikini bottom for a reason. Ladies out there who are feeling confident? This bikini is for you! It features a hipster fit across the hip, with a wide waistband to sit nicely on your body. The 16cm coverage is elevated with a ruched detail up the centre back, offering a super flattering and feminine shape. It also has a baby-locked edge, so it sits flush and seamlessly on your body.
These bikini bottoms are the perfect amount of cheeky, with just the right amount of material to keep it all together. The ultimate mix and match bikini bottom, the cheeky coverage fit will quickly become your new staple bikini over summer.
Good Coverage
Halfway between cheeky and full coverage, the good coverage bikini bottom is an easy shape that is guaranteed to look good on everyone. This shape is a bikini "pant", so the material is slightly skinnier on the side of the hip, offering a flattering leg shape. It features a modest fit on the back with 22cm coverage, keeping you secure whether you're out in the surf or soaking up those hot summer rays.
A super easy mix and match bikini that is certain to flatter every body shape, our good coverage pant will keep you feeling confident and looking amazing.
Full Coverage
Another best-seller, this bikini bottom is our longest running pant. Featuring a stylish, modest cut, this is the "everybody" pant – from young teens to mums to everyone in between. This easy swimwear piece offers 25cm coverage across the back, detailed with a thin waistband to accentuate your leg shape. It also features twin needle stitching around the leg seams, so it stays put and won't ride up when you're on your surfboard.
If you're not into the cheeky cut but want a functional, flattering bikini bottom with a fun print, this is the bikini bottom for you.
High Waisted, High Cut Cheeky Coverage
Embracing an 80s vibe, this fashion forward number is super on trend. The wider waistband features internal wired elastic so it will cling to you comfortably, making it the perfect bombshell bikini bottom for surfing. It delivers a flattering shape around the leg, and the high cut and cheeky coverage accentuates each body shape in all the right places.
The high waisted, high cut bikini bottom not only looks amazing, but functions just as well.
Bikini Tops
Light Support
The moulded tri bikini top is a Rip Curl heritage piece, and a great seller in our swimwear range. The sliding cups offer light support and are also fully moulded, detailed with a light gathering underneath to allow for capacity in the cup. The tie-neck and tie-back keep this bikini top simple and easy to wear, while allowing the top to be fully adjustable.
Offering light support in a simple design, this is an easy triangle bikini top with modifications to flatter every body shape.
Good Support
A staple summer swimwear piece, this bikini top offers good support in a flattering style. The cups are totally fixed so there is no movement while you're in the surf. The cups are also fully moulded, ensuring good support for your bust. The wide underbust band is supportive and adjustable, while the neck shape offers a more feminine look. The boning at the side seam offers that extra support where it's needed, and the open back features fully adjustable shoulder straps so you can achieve the perfect fit.
For those ladies after something supportive and easy to mix and match, this bikini is a must-have.
Good/Full Support
If you're on the hunt for swimwear designed to flatter larger busts, this bikini top is for you. With enough capacity in the cup to fit a D, this top offers good to full support while staying on trend and super flattering. The wide shoulder straps and underbust band are key features to support and secure the garment, with internal wired elastic to keep you snug. The open neck shape is flattering to the chest, and the back offers a three-slot adjuster for that adjustability where you need it.
If you're looking for something with extra support that is also super flattering, look no further!
Full Support
Our full support bikinis are the perfect swimwear for bigger busts, packed with loads of hidden benefits you'll love. They offer no or removable padding to eliminate extra bulk for bigger busts and are double lined to keep you secure. The wide underbust also features a hidden underwire for that added support, while the neckline opens up your décolletage for a flattering touch.
With fully adjustable straps and a 3-slot adjuster on the back, this is the full support bikini top you can count on.