11/01/2022
Rip Curl GromSearch Victoria and NSW events cancelled due to COVID cases.
Torquay, Victoria (Tuesday 11th January 2022):
Rip Curl, in conjunction with Surfing Victoria and Surfing NSW, have cancelled the two Rip Curl GromSearch events scheduled for the middle of January, due to the currently high COVID-19 concerns Nationally. The events were due to be held on January 13-14 (Vic) and Jan 18-21 (NSW). Both events had already been rescheduled from their original dates in the September school holidays, due to similar Covid related issues.
With the current Covid situation continuing to develop nationally, in Victoria and NSW, as well as locally on both the Surf Coast and in Newcastle, organizers have opted to avoid any further risk of additional exposure to competitors, families, and local residents that holding these events may cause.
"Cancelling an event is always a difficult decision to make. We've been committed to running the GromSearch series whenever we can, but the health and safety of competitors, and our respect and consideration for the communities where we run the events always takes priority" commented Rip Curl Team and Events Manager Mark Flanagan about the decision.
After managing to complete the 2020/21 GromSearch series and National final under challenging circumstances, organisers were hopeful to be able to manoeuvre the current series through recent Covid outbreaks, but haven't been so lucky with the timing this year. Significant outbreaks have occurred over the September school holidays, and now at the start of the new year.
Surfing Victoria and Surfing NSW have been extremely diligent to encompass all relevant National, state and regional regulations into their already thorough Covid protocols, which ensures that all their events are held with the utmost care and attention. However the uncertain nature and rapid development of the current Covid situation has resulted in the collective decision to cancel these two events.
"There's a lot of uncertainty right now and we've decided that it's not the best environment to push forward with junior events over the next two weeks, so we'll cancel these and concentrate on providing an awesome National final in March" finished Flanagan.
All competitors will receive a full refund in the coming weeks.
Further information will be distributed to competitors on selection for the National Final to be held later in the year.
RIP CURL GROMSEARCH SERIES – 2021/22.
EVENT 1: Coolum, Qld – Dec 13-15, 2021
EVENT 2: Jan Juc, Vic – Jan 13-14, 2022 – CANCELLED
EVENT 3: Newcastle, NSW – Jan 19-21, 2022 – CANCELLED
National Final: URBNSURF Melbourne, March 7th, 2022
*all dates and locations are subject to the relevant local, state and federal Covid-19 restrictions and regulations.
COVID-19 considerations for 2021/2022 series.
All events are run in conjunction with the relevant Surfing Australia affiliated state surfing organizations and adhere to the relevant local, regional, state and/or federal Covid regulations and restrictions. In an effort to eliminate cross-border and regional travel, organisers may determine to reserve entry to each GromSearch event specifically for residents of that state only.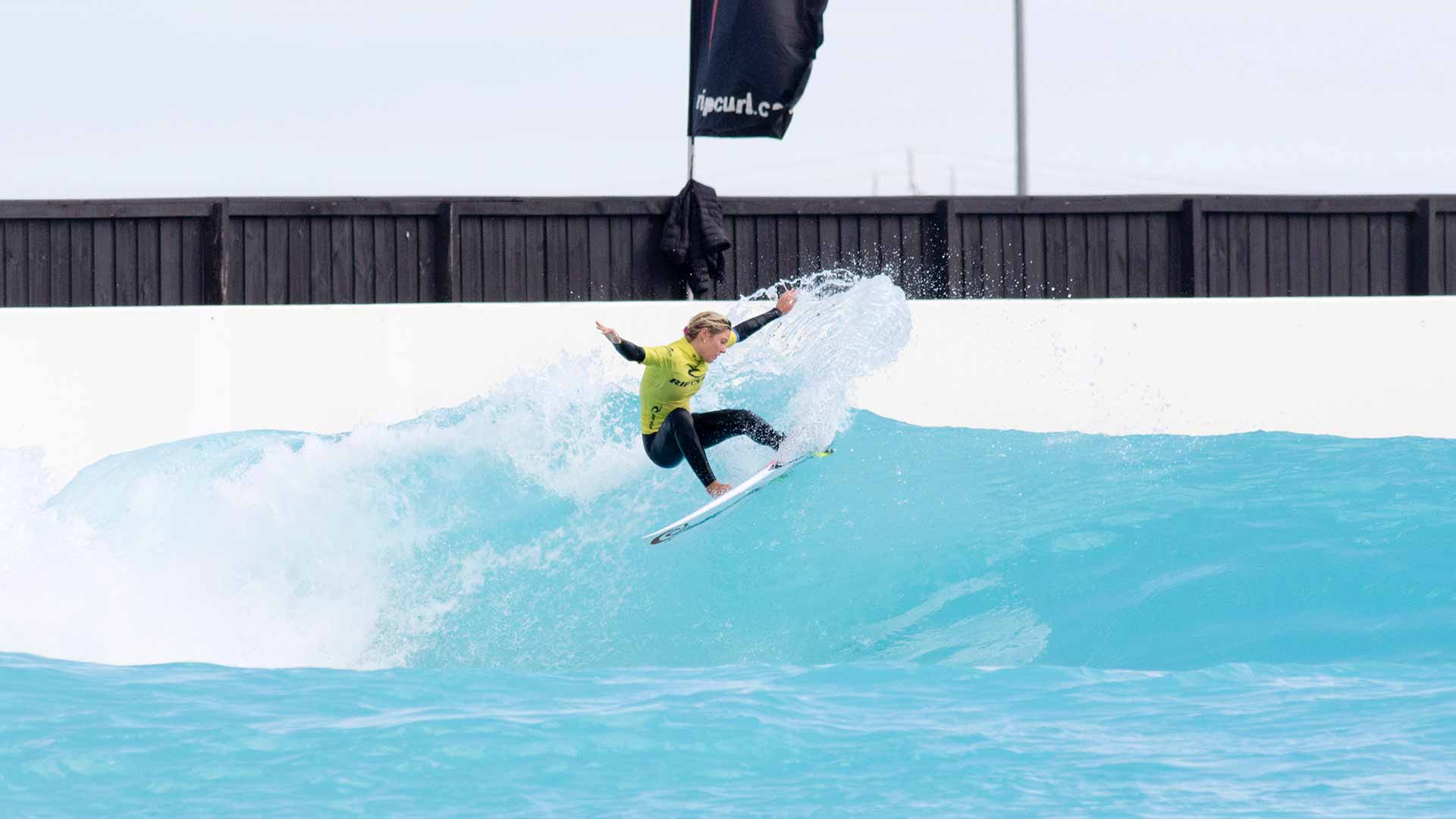 With Vic and NSW events being cancelled due to current Covid uncertainty, all focus shifts to the GromSearch National Final held at URBNSURF Melbourne. 2021 GromSearch National Champion Willow Hardy on her way to victory.