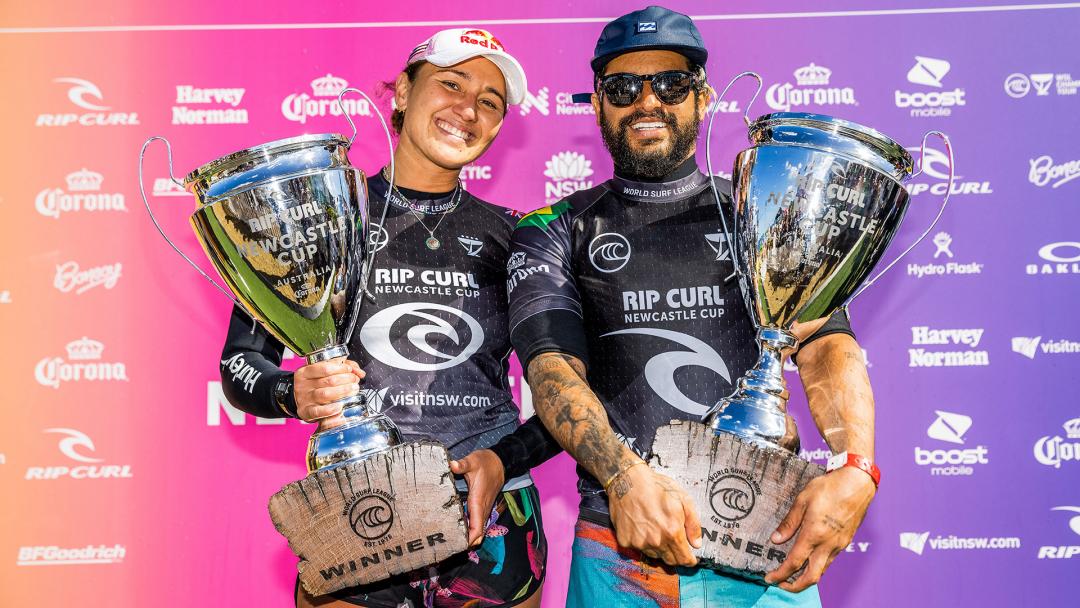 10/04/2021
Italo Ferreira & Carissa Moore Win the WSL 2021 Rip Curl Newcastle Cup
Both Defending World Champs Reclaim the Yellow Leaders Jersey at Merewether Beach
TheRip Curl Newcastle Cup was an event which got better, day by day, as the surf built, the wind improved and the two World Champions who took it out upped their games in each and every heat.
Australian Isabella Nichols who had knocked out Tatiana Weston-Webb and seven-time World Champion Stephanie Gilmore on her path to her first WSL Championship Tour Final. Now, having already locked in the best result of her career, she was up against a four-time Champion inCarissa Moore who has used this event to put her peers on notice after dropping the biggest air ever seen in a women's CT event, while also putting together a goose-bump inducing power surfing masterclass in the Semi-finals.
But in the end, it was Moore who presided over one of the most dominant victories we've seen in a recent Championship Tour heat. She's now officially reclaimed the yellow Leader's Jersey.
"Oh my gosh it feels amazing, I don't know what I expected coming into this event,but I was just taking it heat by heat and it feels so good to be standing number one atthe end of this contest," Moore said after winning.
In the Men's side of the draw a new leader emerged.The last timeItaloFerreiraandGabriel Medinamet in a Championship Tour final, there was a World Championship and a Pipe Masters trophy on the line. Ferreira took the win on both counts, and today at Merewether beach he got another one over Medina, who had been in excellent formthroughoutthe entire event.
Italo linked a series of carving back-hand turns and waited patiently on a barely-breaking wave in case it presented an opportunity on the inside bank. It did, and he added an air reverse for a 7.17 which put him into the lead. His signature move, a big backside full-rotation air, also banked him a 7.77 for a lead he held throughout most of the heat.
Medina locked in a 8.60 for three tight, big backside turns, one of them almost vertical, immediately after he'd ridden out of the previous hit, but it wasn't enough to move past the energy of Italo.
"This guy's a machine, he pushes me a lot. It's going to be a good run, for sure, we have three more events in Australia," Ferreira said in his post-heat interview of the rivalry between the two Brazilians.
This final alsoput the two men on Brazil's Olympic surf team up against one another, and while only one of them could win here today, it's a shot across the bows for the other teams going for gold in Toyko.
All eyes now turn to Sydney's Northern Beach as the Rip Curl Narrabeen Classic begins Friday the 16thof April. No doubt more action will ensue as 3 x World Champion Mick Fanning returns as event Wildcard.
Keep up to date with all the latest WSL Championship Tour News at World Surf League