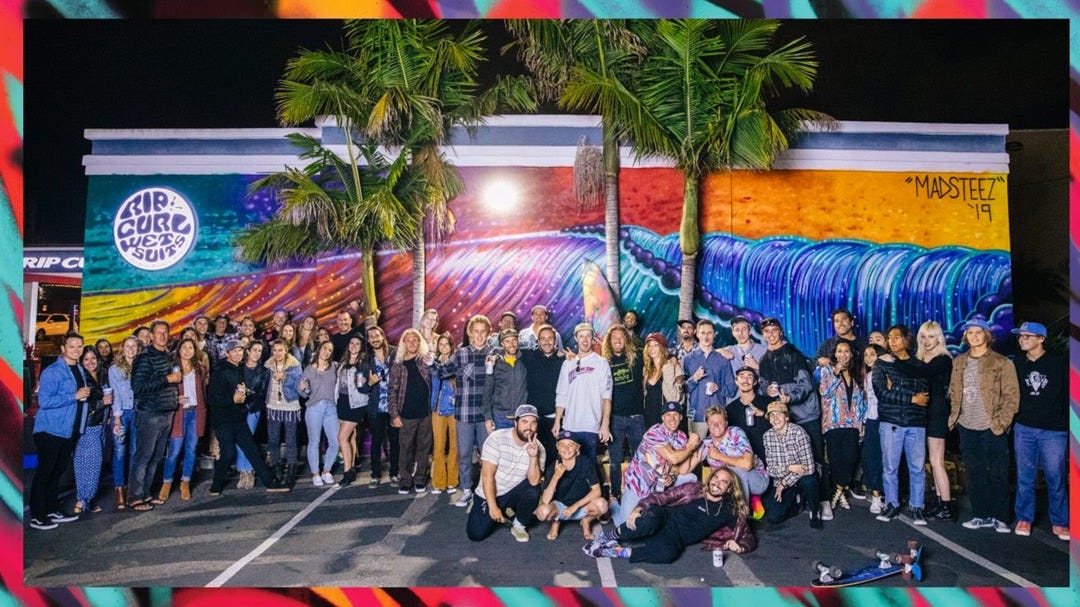 30/05/2019
MADSTEEZ Brings Colour To Swamis, California
Just a few days after returning home from his time at the Rip Curl Pro Bells Beach, where he painted a large-scale mural featuring Mick Fanning, Tyler Wright and Gabriel Medina, Paul Mark Deren aka MADSTEEZ was at it again.
From Torquay, Australia, straight to sunny Southern California, MADSTEEZ surprised the small surf town of Encinitas with a huge pop of colour. The project outline was simple: paint a piece inspired by the city of Encinitas, with a unique Steez twist. Chosen location? The side of the iconic Hansen's Surfboards shop, directly across the street from the Swamis Beach break.
Over the course of three days, Steez sprayed sun-up to sun-down as the community came to admire and connect with the master at work.
On the final day, the mural was revealed, beers were cracked and the MADSTEEZ launch party kicked off. Industry greats, Rip Curl staff and the Encinitas community gathered to marvel at and appreciate a beautiful, classic sweeping Swamis right-hander, as immortalized by MADSTEEZ.
Happen to be in California? Head down to Hansen's Surfboards and see the mural for yourself... 105 S Coast Hwy 101, Encinitas, CA 92024.
And stay tuned for the next MADSTEEZ ambush, coming soon...