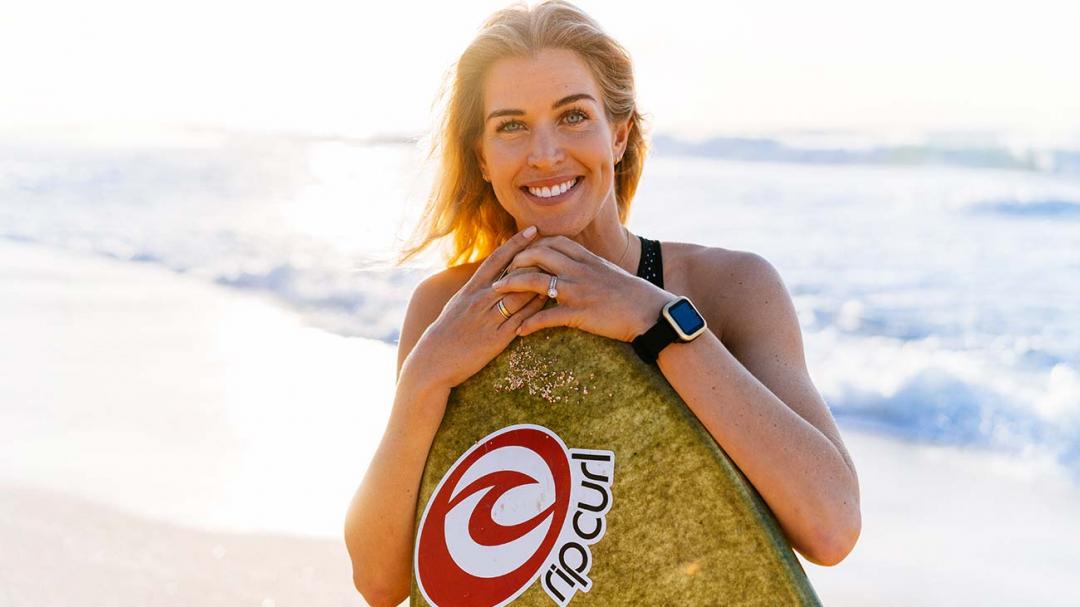 30/04/2021
The Ideal Mother's Day According to First Time Mama and Longtime Surfer, Rosy Hodge.
If you haven't heard of Rosy Hodge yet, time to get acquainted.
Rosy is a well known and stylish surfer originally hailing from South Africa before travelling the world and landing herself in California as one of the World Surf League, and basically everyone's, favourite commentator. Ro's warm smile and huge heart are well known to those near and dear to her. However, more recently it's her new little seven-week-old Bub, Hayes Rex Foulke who has grabbed our attention.
Back in early March 2020, Rosy Hodge gave birth to a beautiful boy, Hayes Rex Foulke. We had a quick chat with Rosy in the lead up to her pregnancy to discuss what she was excited about, nervous for, experiencing right then and there. Then, when her little man was born we checked in again, child birth sure is a wild ride!
With Mother's Day around the corner we thought it was fitting to loop back with Rosy and hear about her first few months of motherhood, and more specifically what her ideal Mother's Day entails. (Shout out to Ro's lovely husband, Foulkey… take note).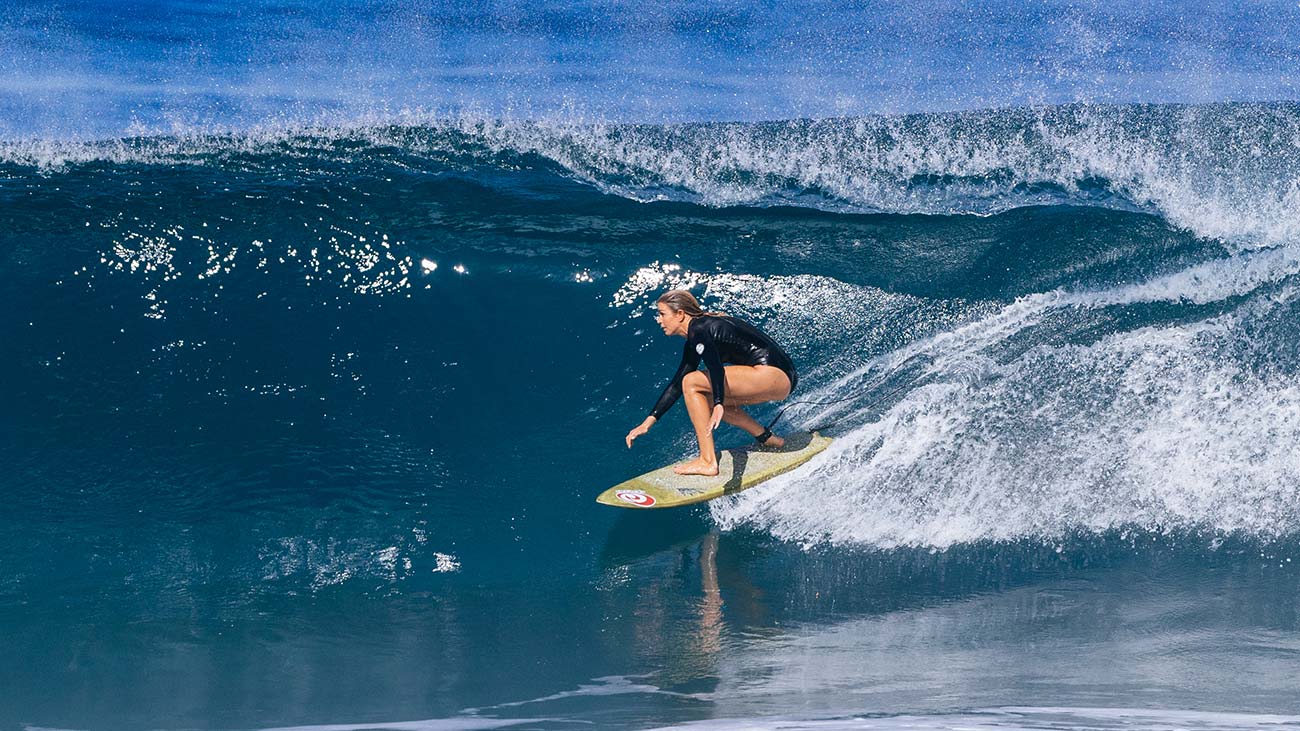 Hey Ro! Mother's Day is just around the corner, that must be exciting! Tell us a little about your last few months learning how to be a Mum and what the ideal Mother's Day looks like for you. To spice it up a little, we're starting with a couple of multiple choice questions...
So, let's start at the beginning. What does your ideal Mother's Day morning look like?
Breakfast in bed
Beach walk
Go out to a cafe for a nice meal
Sleep in till lunchtime
All of the above sound incredible but I think my ideal would be a surf with Hayes and hubs on the beach and then a long hot shower uninterrupted and by myself!
Love it. What do you do next, after your morning activity?
Go for a surf
Watch your fave TV show with Foulke, Hayes and Mac
Now it's coffee and walk time
Just woke up... so, shower?
C! Had the surf and the shower now it's Mak, my dogs turn to have an adventure.
Sounds like the whole fam is in for a great Mother's Day. If you had to choose, what is at the top of your Mother's Day wish-list?
The latest Flashbomb HeatSeeker E6 Wetsuit
A new suit from the latest Sayulita Collection
A cosy Anti-Series Layer
A fun new surfboard
B. We are going into summer in Cali and I would love a Rip Curl surf suit for the warmer days, they are a fave of mine to stay out of the sun and functional to surf in.
Editor's note - Check out all the latest Surf Suits
Your ideal Mother's Day dinner if you had to choose from this menu?
Cheeseboard, dips and crackers to graze on all night
A warm, hearty pasta
Fish and chips by the beach
Something tasty and easy... say, Thai or Indian takeaway.
Probably A & D - but on the beach.
Mmm yes, delicious choice! What is the one household chore you'd love to get out of every Mother's Day?
Washing the dishes
Laundry
Gardening
Cooking
All of the above! It's my first Mother's Day, I have to set the standard!
Ha! Yes! Talk about playing your cards right! In terms of Motherhood overall, what would you say has been the most challenging part of the last few months?
Disrupted sleeping patterns
Finding time for yourself
Missing the Aussie leg of the WSL Championship Tour
Nappy changes and all that goes with it
It's for sure a bit of all of these but right now Hayes is asleep on my chest and it's early morning and even though it's been a rough night of sleep I look at him and feel very content. Corny but true. Oh and Foulkey has been a machine at nappy changes, thanks Babe!
Beautiful. Which leads me to the topic of self-care. What is your go-to when you need to take a little time to yourself?
A facial
Read a book
Go for a surf
Getting creative in the kitchen
Definitely C, I only just got back in the water and it feels amazing. It's really hard getting back into it but has also made ANYTHING fun. Don't care if it's low tide slop, if I get to my feet 3 times I'm smiling.
Congrats on getting back in the water so soon!
And finally Ro, if you could sum up motherhood so far in just a few words...
Motherhood is an emotional rollercoaster!
---
If your Mum is anything like Rosy, maybe she'd love some of these answers too? So, cheeseboard and Thai takeaway for dinner?
Either way, we want your Mum to have the best Mother's Day ever, so much so we are giving away a clutch Mum will love for $10 when you spend $79.99. The Rip Curl Mother's Day Clutch is the perfect little gift for Mum. Designed with our North Shore yardage these bright florals are inspired by the Hawaiian islands.
Go on, treat Mum this Mother's Day.
For all those early surf-check taxi-drives, rinsing your wetty after every surf, making sure you've got a fresh towel and letting you fill her car with sand and salt... Mum sure deserves it.