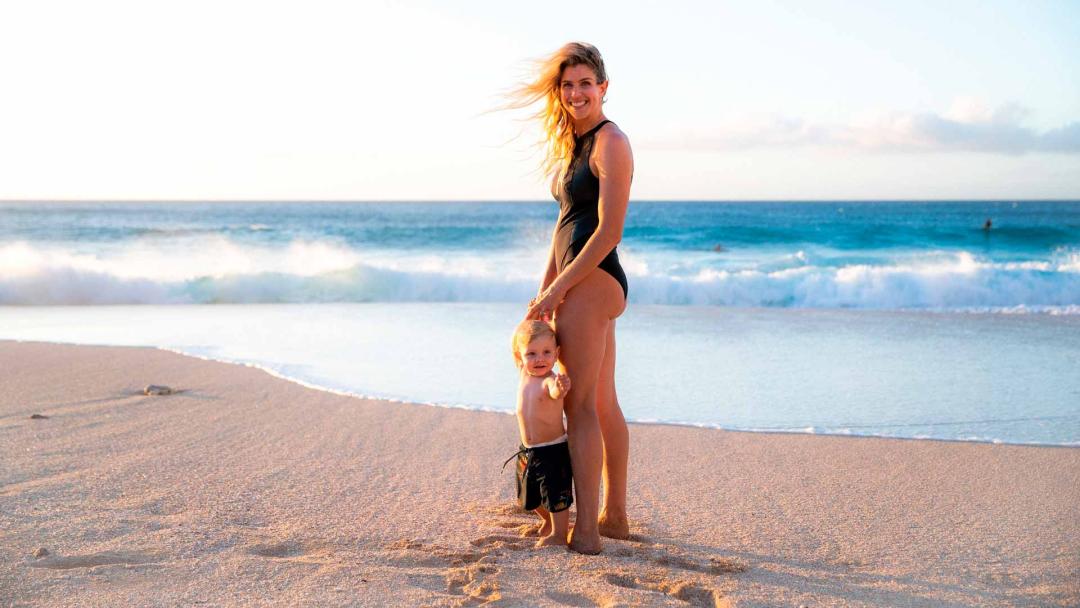 07/10/2022
Riding the Wave of Motherhood with Rosy Hodge.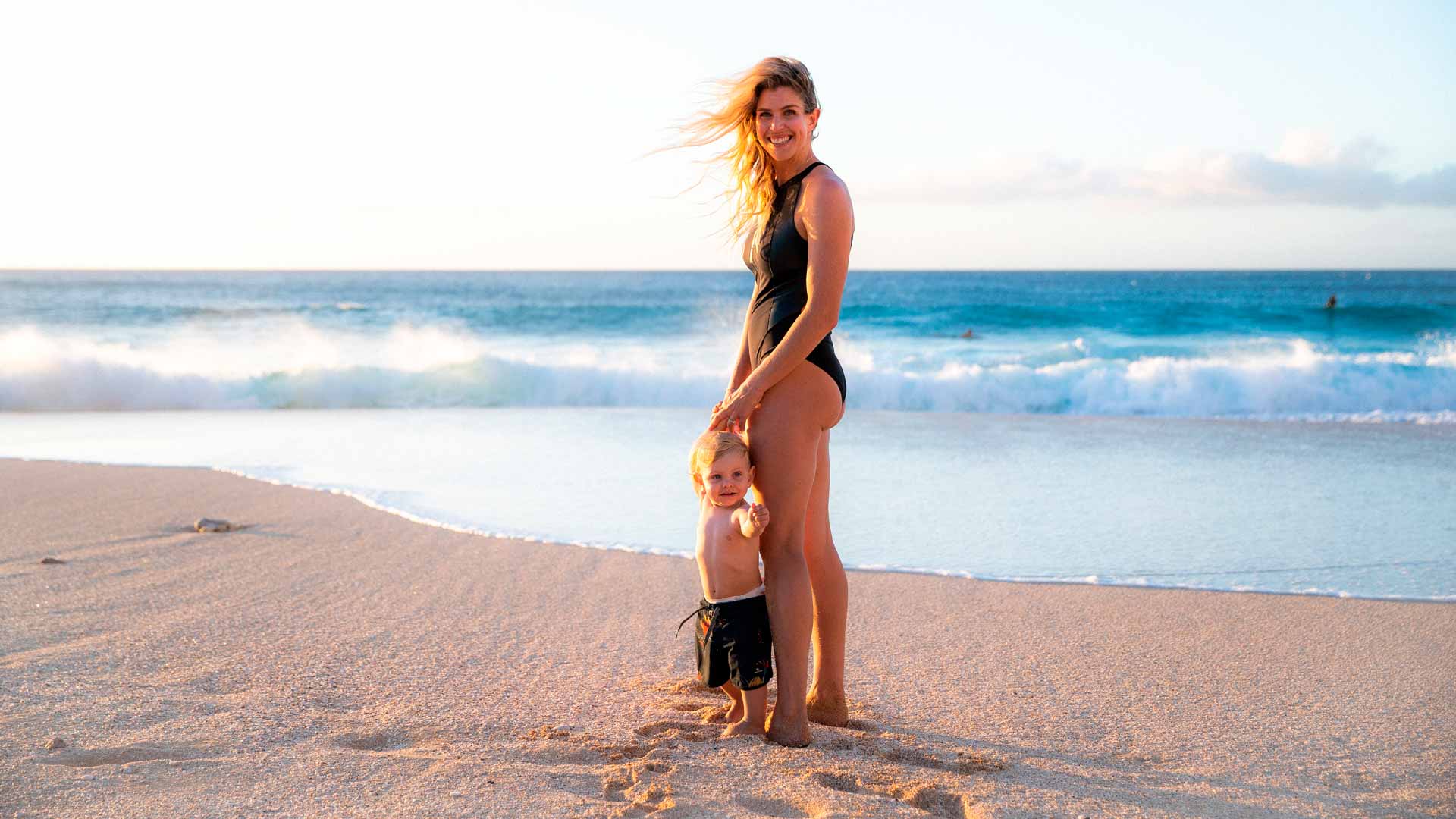 Rosy Hodge has long been inspiring us, in and out of the water, with her grace and determination.
Growing up in South Africa, Rosy learnt to surf at one of the world's best right-hand point breaks, Jeffery's Bay. Naturally she was destined for greatness and spent four years surfing competitively on the World Championship Tour.
Rosy then transitioned to a full-time commentator with the World Surf League, where she became a familiar face and won hearts all over the world. Nowadays, we get to appreciate another chapter of Rosy's life as she raises her son, Hayes, at home in Southern California.
We sat down with Rosy to chat about her pregnancy, motherhood, and how she appreciates surfing in a whole new way.
We would like to note that what works for one person may not be right for another and that this interview contains one person's personal view. It is not medical advice. For this reason, it is important to speak with your doctor and seek professional medical advice before deciding to surf while pregnant or after childbirth.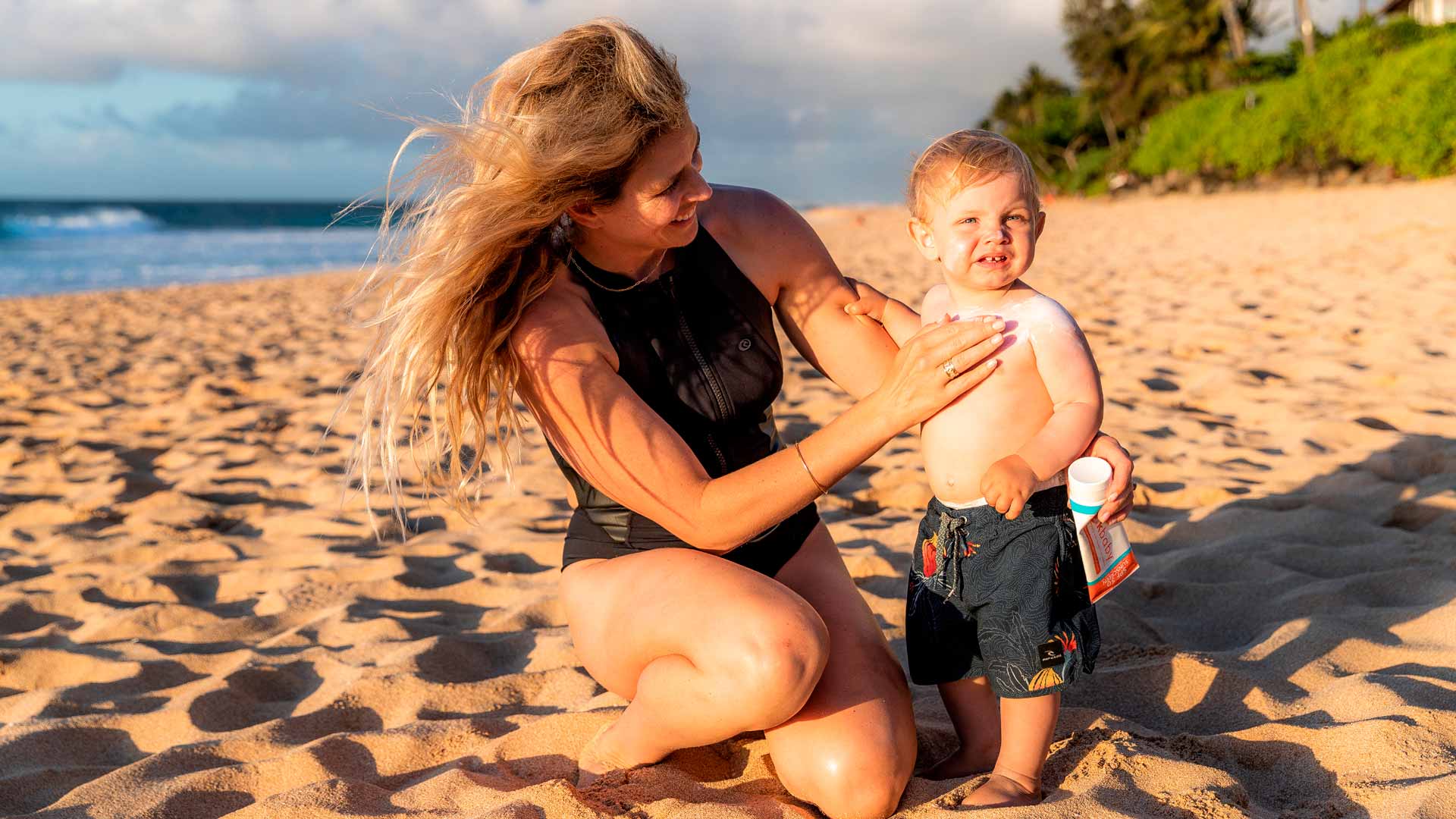 Did you change up your boards to make it easier to paddle or feel safer in the water?
"Yes, foam became my best friend. My thyroid slowed down, so I gained weight pretty quickly. I stayed on a performance fish called the El Tomo Fish from FireWire and went up a couple inches and in volume. By the third trimester I was huge, so I opted for a 7'2 Seaside and Beyond. I nicknamed it 'the Mothership'. It was the perfect board for me."
How did you navigate the bump and laying on your belly?
"It's a strange sensation. Someone described it like laying on a bag of sausages and I found that to be pretty accurate [laughs]. I would kinda push my knees into the board to take the pressure off my belly. Some people prefer knee paddling, but I stayed prone and that worked for me."
What kinds of waves/breaks were you surfing?
"I kept it super mellow. I would ride my push bike to Lowers, find the most uncrowded peak, catch a couple waves and then ride home. That would be my exercise, and it kept me happy. I definitely wasn't charging any heavy waves."
When did you feel it was time to stop surfing and focus on the pregnancy?
"Always clear things with your doctor, I'm not going tell anyone what they should do, but I will share what worked for me. I've been surfing my whole life, so going surfing felt more natural to me then a prenatal workout. Through all the challenges and changes, I kept surfing. It's what kept me grounded and gave me confidence. I surfed up until 34 weeks and then transitioned to an inflatable surf mat until my due date to keep me in the water, having fun and catching waves."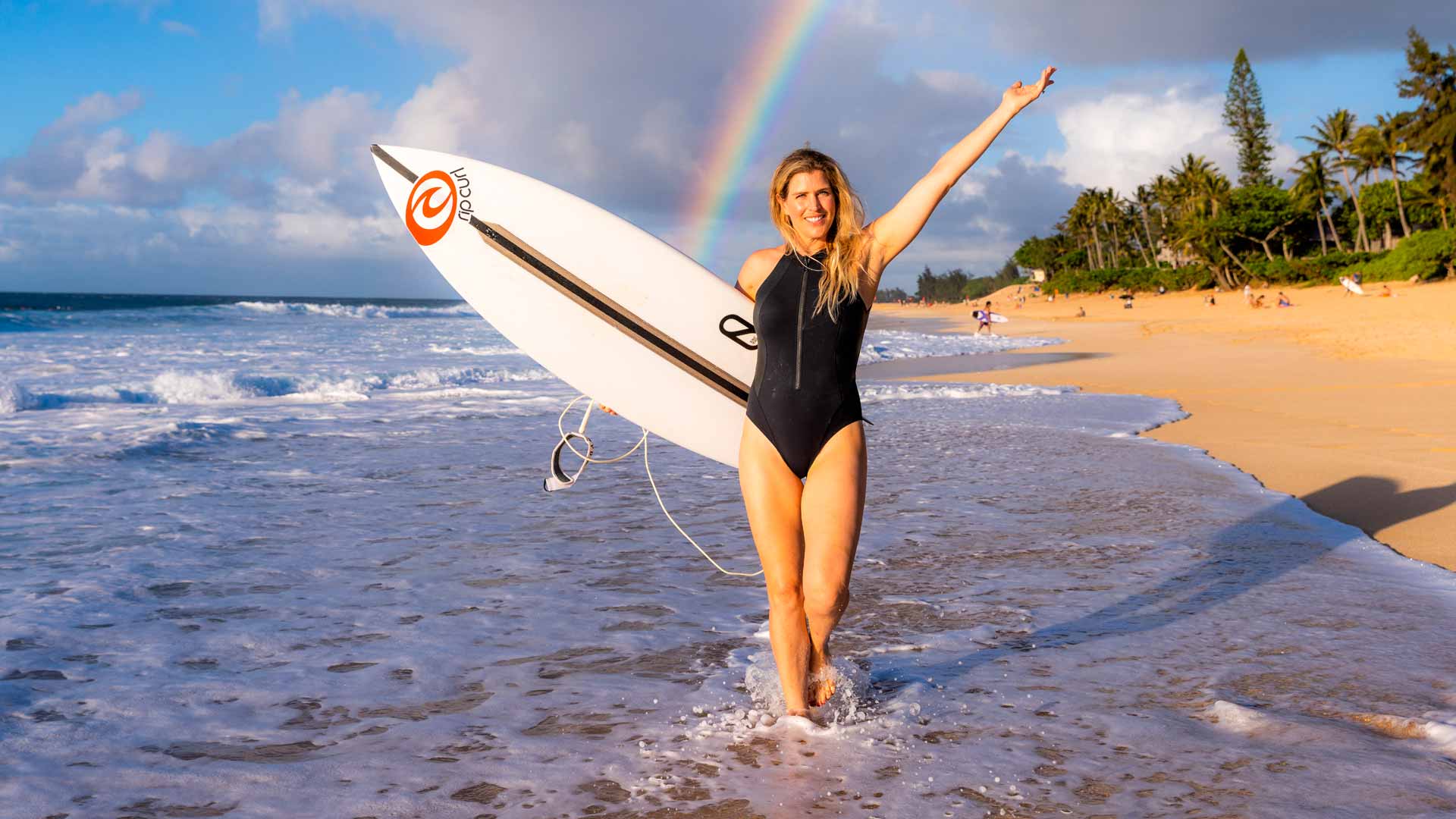 What do you have to say to other women who want to surf whilst pregnant?
"If you feel comfortable doing it, then go for it! Listening to your body is the key. I learned so much about my body and myself by staying in the water. There are opinions and arguments against surfing while pregnant, but I think ultimately, it's your decision and it's about what you are comfortable with. My advice is to get a board with lots of volume that you can still have complete control over and just keep it mellow."
How did you maintain your fitness while pregnant other than surfing?
"I would swim laps, bodysurf, ride my bike, walk my dog, and do prenatal yoga at home."
Your body goes through so many changes when you have a baby. How did it feel surfing postpartum? Were there feelings of fear or doubt that weren't there before?
"Postpartum was the hardest transition for me. I felt pretty low about not bouncing back to the same level I was at before. I ended up having an emergency C section, and I felt very disconnected from my body after that. It took a long time to get my strength back. Sometimes I would come home after a surf crying because I couldn't get to my feet. But you have to persevere, and eventually it started to come back. You definitely need to give yourself some time and grace. Some people's bodies recover quicker than others. Mine took some time, and that's okay. I'm back in the water when I can find the time, and now I appreciate every minute in the ocean in a whole new way. I think Bethany Hamilton is so impressive. She's had 3 boys and continues to push the sport in an amazing direction."
What advice do you have for other women who want to get back in the water after having a baby?
"Do it! I know priorities change after having a baby, but it's so refreshing to be active and take some time away from the role of being a mom. I think it's important to continue doing the things that make up your identity and bring enjoyment to your life."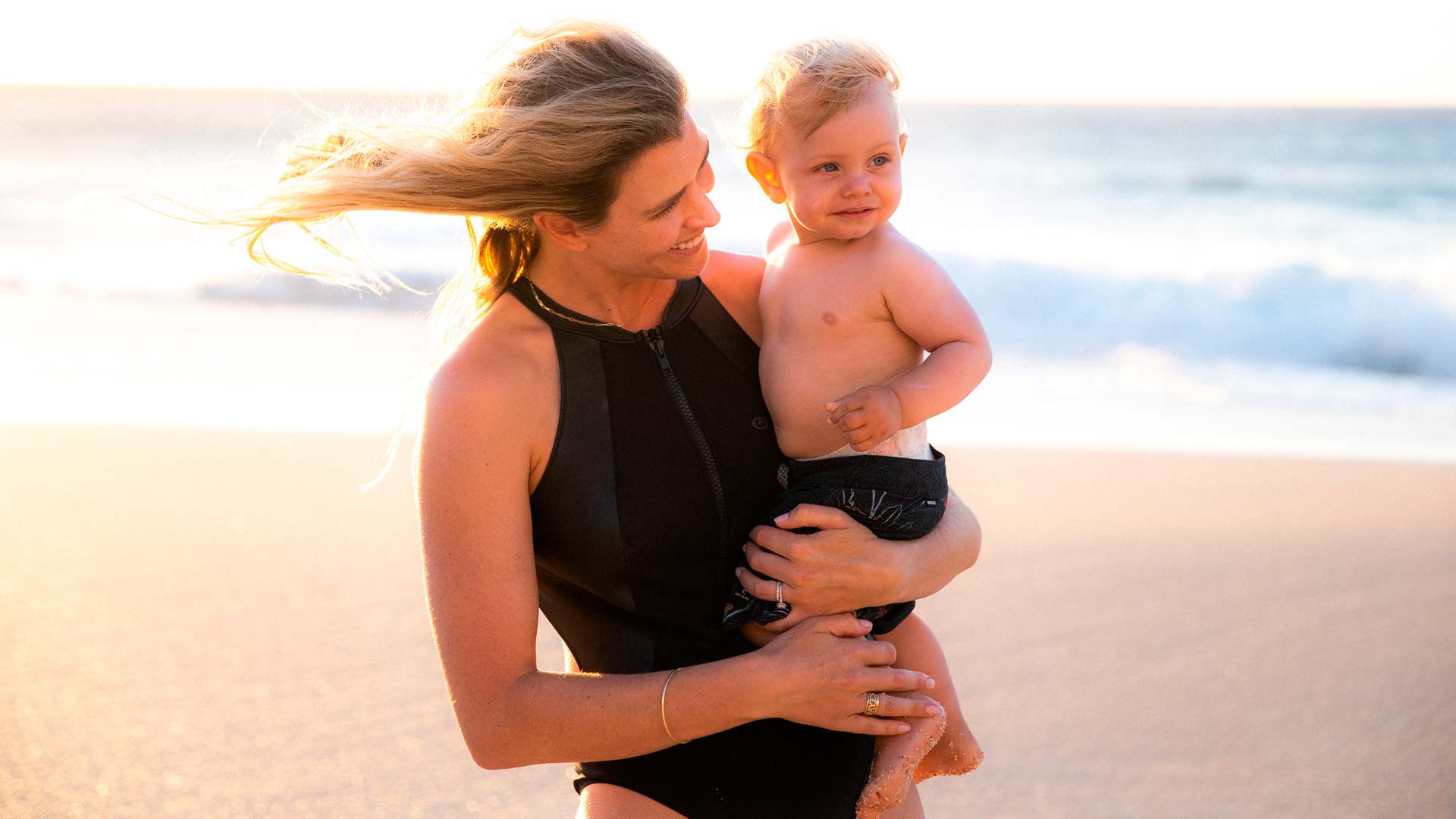 Rip Curl is proud to have such a strong female role model like Rosy on the team, and we'd like to thank her for sharing her story with us so openly.