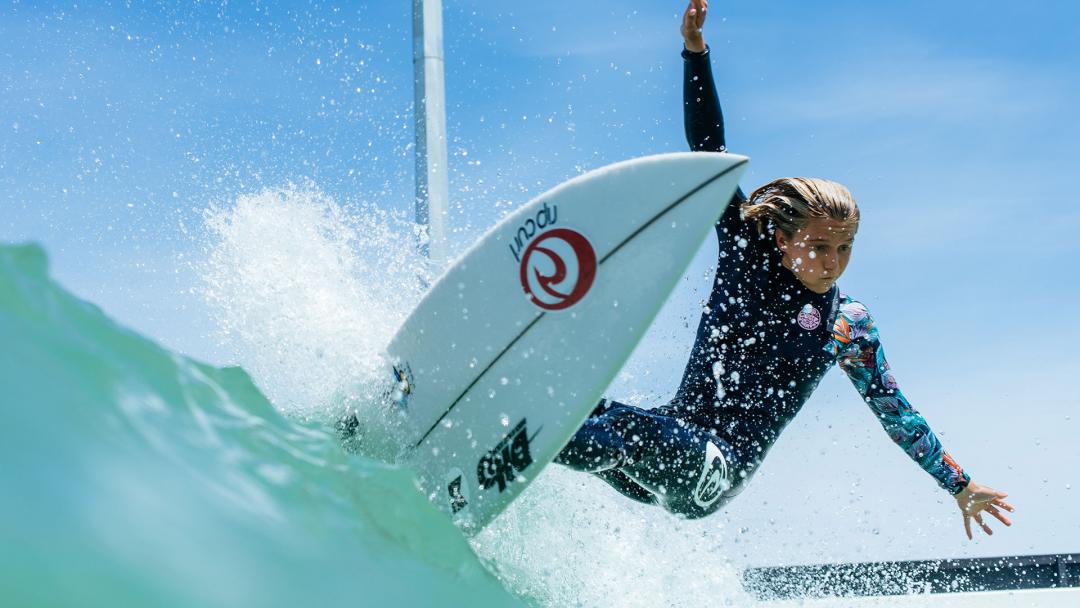 28/07/2020
Rip Curl GromSearch Series Announced For 2020
Wednesday July 22nd 2020: The world-renowned Rip Curl GromSearch series is set to continue in three key surfing locations on Australia's East Coast for 2020.
The Australian Rip Curl GromSearch series will focus on providing junior surfers from around the country with a fun set of competitive events to enjoy with their friends, in a safe environment.
"Rip Curl are stoked to commit to the GromSearch series this year. It's been a tricky year for Groms and their families with Covid 19 restrictions, so we want to continue to support the next generation of surfers and run a National series that crew can enjoy in their holidays" commented Rip Curl Event manager Mark Flanagan. "We know there might be challenges to run the series, but we'll work with the appropriate authorities and be guided by the official regulations to get grommets in the water".
Each event will be run in conjunction with the state surfing associations and will adhere to the appropriate health and safety regulations. Unfortunately, due to a shortened season no GromSearch events will be held in South Australia and Western Australia this year, but events in those states will be re-assessed in due course.
The 2020 series will include a GromSearch National ranking, allowing surfers to gain points for each result achieved. The top-ranked surfers at the end of the three-event series will qualify for the Rip Curl GromSearch National Final (in their respective divisions).
The GromSearch National final will be held for qualifying athletes in March 2021.
More information on individual events, entry dates and procedure, points allocation and any other updates to follow.
2020 Rip Curl GromSearch Series dates:
*all dates and locations to be confirmed, pending Covid-19 restrictions and regulations.
EVENT 1 - Newcastle, NSW - Oct 1-4, 2020
EVENT 2 - UrbnSurf Melbourne, VIC – Oct 9th, 2020.
EVENT 3 – Coolum, Qld - Dec 14-17, 2020
National Final – location TBC, March, 2021
DIVISIONS
16 and Under Girls, 14 and Under Girls, 12 and Under Girls
16 and Under Boys, 14 and Under Boys, 12 and Under Boys.
The series provides the opportunity for groms to surf with crew from around the country and developing their competitive game. As participants progress through to the finals they get the chance to test their skills against Australia's best, providing valuable experience competing against elite level talent. The impressive list of previous GromSearch competitors that are currently on the WSL world tour is testament to the quality of the series.
Women's WSL athletes that were GromSearch finalists include;
Tyler Wright, Steph Gilmore, Sally Fitgibbons, Malia Manuel, Nikki Van Dijk, Tatiana Weston-Webb, Bronte McCaulay, Caroline Marks, Macy Callaghan, Brisa Hennessy, Isabella Nichols & Bethany Hamilton.
Men's WSL athletes that were GromSearch finalists include;
Gabriel Medina, Owen Wright, Italo Ferreira, Jordy Smith, Kolohe Andino, Filipe Toledo, Kanoa Igarashi, Wade Carmichael, Ryan Callinan, Leonardo Fioravanti, Connor O'Leary & Morgan Cibilic.
(* Note: the top 6 surfers of the 2019 WSL world tour rankings are all former GromSearch finalists).