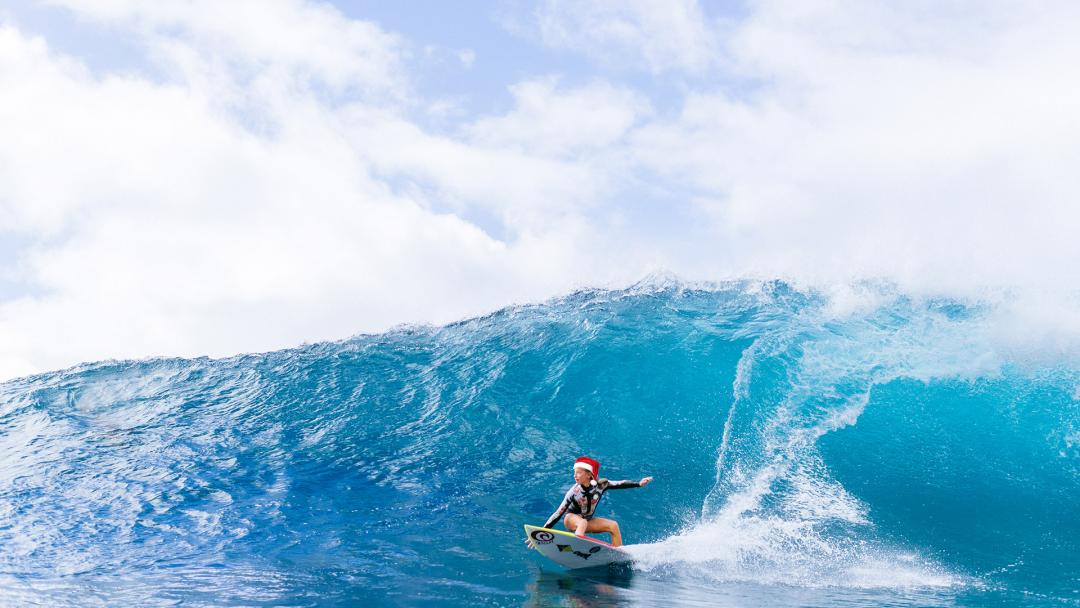 28/10/2020
The Best Christmas Gifts For Surfers: Our Kid's Gift Guide
Parenting a budding young surfing world champ is undoubtedly a full-time job. Dawn surf chauffeuring, nutrient-rich meal prepping, and expert filming and editing, are a mere few of the daily tasks involved… So, it's fair enough you haven't gotten around to the chrissy presents just yet! Never fear, the surf-mums and rad-dads amongst the Rip Curl ranks have banded together to tally up the best Christmas gifts for boys and girls who shred! That way you can lock in the presents nice and early and keep your eyes on the task at hand! Because you know they're going to ask at the end of the day, "Did you see that one!?".
Gifts for Girls
Toddlers (0 – 8 years old)
Mini Long Sleeve UV Spring Suit
Keep her safe in the surf and sun all day long with this super cute mini long sleeve spring suit. This little surf suit is 50+ UPF rated and made in a streamlined fit that makes swimming, surfing and rock pool rambling as fun and as easy as possible.
Golden Days Denim 10L Mini Backpack
Has your little Tyler Wright got a Do-It-Herself attitude? The Golden Days Denim 10L is the perfect Mini Backpack for beach days and outings that demand lots of accessories. She can throw it over the shoulder start living the search! Sunscreen? Hat? Water Bottle? Check, check, check!
Aruba Surf Watch
It's beach time! This comfy and lightweight girls watch is perfect for little surfers. It's durable and has a tropical island watch face that's bound to make her smile!
Teens (10 – 16 years old)
Girl's G-Bomb Springsuit
Bombshell Series is made for surfing designed with style, and the Girls G-Bomb Springsuit is exactly that. Comprised of 100% E5 Neoprene, this wetsuit ensures that every wear is perfectly warm, comfortable and unrestrained so she can surf and feel her best.
Girl Snap Cap
When she's at the beach day in, day out, a simple stylish cap is essential. The Girl Snap Cap will keep the sun off, and the breathable cotton linen fabrication means she can enjoy the hottest days without a care.
Lei Lei One-Piece Girls
Do they want to be a pro-surfer like Rip Curl's Leilani? This surf swim is designed with a durable warpknit fabric perfect for swimming and surfing, the Lei Lei One Piece is a great girls swimsuit inspired by our Costa Rican team rider and style deity, Leilani McGonagle.
Gifts for Boys
Toddlers (0 – 8 years old)
Groms Short Sleeve UV Spring Suit
Bright, lightweight and sun-smart… This Groms Short Sleeve Springsuit is a summer staple. 50+ UPF rated and designed to be a performance fit meaning minimal drag, maximum fun! It's perfect for beach days and even the pool (it's made from chlorine friendly material, so it will keep its shape and colour even when worn in chlorine-filled swimming pools).
Vacation Legendyeah Cap
This one brings back memories! The Vacation Legendyeah legionnaires Cap is a fun and versatile groms hat for stylish and sun smart little surfers. Designed with a roll-up flap option for those dressier luaus. Kinda makes you wish your own noggin was a bit smaller hey?
Bondi Volley Boardshort
A classic fit in a unique set of tonal colours, the Bondi Volley is one of our best-selling boardshorts for a reason. Designed for an on-the-knees fit, detailed with an enzyme wash, made for every sunny day at the beach and on the street.
Gifts for Boys
Teens (10 – 16 years old)
Boy's Bondi Volley Boardshorts
The Bondi Pigment Volley boardshort for boys is all about understated, everyday comfort and style. From the beach to the street to the pool, these 15" elastic waist boardshorts will keep the warm weather vibes high. Finished with a heavy enzyme wash for sun-kissed perfection.
Adjust Hooded Towel Boys
The Adjust Hooded Towels are designed with 300g cotton terry fabric that is ideal for drying off. This hooded towel comes with embroidered logos in a range of colours and prints. Perfect for streamlining the before school shred and now with adjustable lengths to get the most longevity!
Junior E-Bomb 2/2mm Zip Free Wetsuit Spring
The Junior E-Bomb 2/2mm Zip Free Wetsuit Springsuit is a great wetsuit for boys who surf from dusk til dawn. Designed in our high quality 2mm neoprene it's the perfect suit for braving the brisk mornings or persisting through an onshore sea-breeze. If your boy is out there no matter what he'll be rapt with this primo summer wetsuit.
Need some more inspiration? We've got loads more options for your lil' world champ! Shop the whole Gift Guide here… Hopefully Santa delivers waves!