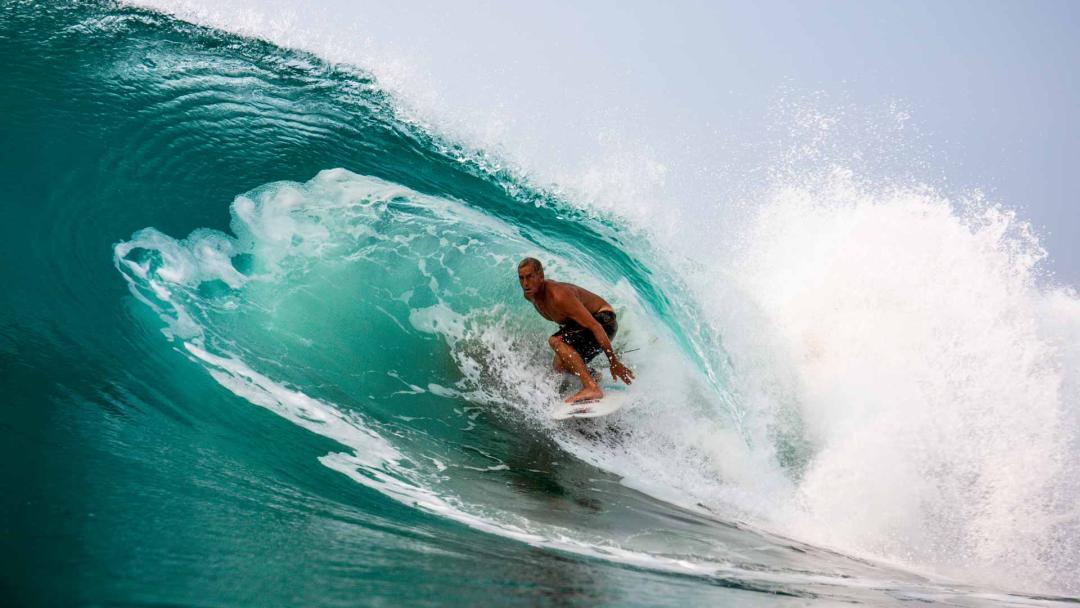 10/08/2022
Introducing Free Scrubber Excess Baggage starring Tom Curren on The Search
"The best surfer I've ever seen was Mark Richards on a single-fin at Sunset Beach during the winter of '81," Tom Curren recalls. "The way he was able to go at it vertically, that really stands out to me. I was about 17 years old and I can still see the transitions he was making from the top to the bottom, using all of his rail, just pushing it really hard. It was probably the last gasp for the single-fin because the thruster was right around the corner, but maybe it was the best surfing ever on a single-fin."

Surfboard design is woven into Curren's DNA. His dad famously built some of the most sought after big-wave guns of the early North Shore pioneering era. Meanwhile, the three-time world champ, a consummate searcher, came of age in a period of profound design upheaval. Single-fins, twins and the earliest Al Merrick thrusters had all been under his feet by the time he was old enough to drive.

"I don't know if watching MR that winter had a direct impact on my approach because things were starting to change so fast at that time, but it's like anytime you watch somebody that's good at what they do, there's an appreciation for it," Curren continues.
An appreciation for design is a constant theme in Curren's half-century evolution as a wave-rider, which helps explain his lineup of boards in "Free Scrubber." With the world on a pandemic hold, the man escaped down to Mexico with an arsenal of alt craft and music instruments.

These new "Excess Baggage" bonus clips from the film show the "shred goat" in his natural environment, free to take a grinder to fins or make up a song about Instagram, is a telling look into what makes one of surfing's most enigmatic characters tick.

Over the years, Curren's fascination with pushing design theories forward has both intrigued and inspired his fans to follow along on their own search for the perfect ride. Perhaps most notable is his act on the Tommy Peterson Fireball Fish at Bawa from "Searching For Tom Curren." Nobody was riding highly foiled, high-performance micro fishes in kegging conditions before that.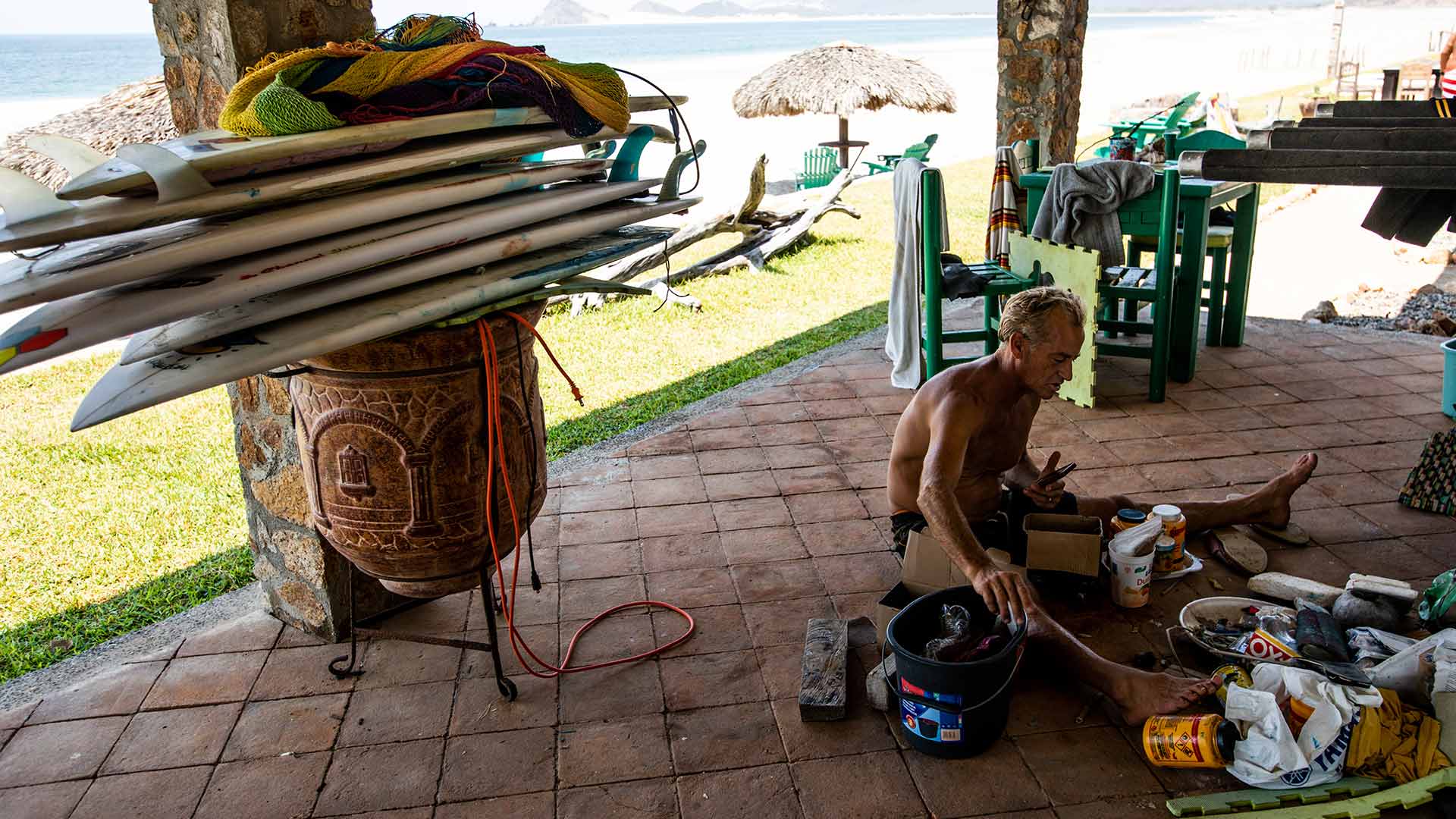 "The last time I was at the Bells event I saw Tommy Peterson, and because I'd been watching 'Searching For Tom Curren,' I wanted to know about the board Curren was riding," Mason Ho explains.

The board was a 5'7" with thick, square, boxy rails. It's signature feature was a set of channels carved through the belly, but rather than running throughout the board, the channels abruptly end with a step in front of the fins before the tail goes flat. Curren shatter barriers and inspired a generation on it back in 1994.

"Tommy ended up making me one in three days," Mason adds. It was fully done in three days. It has a lot of sentimental value."

Of course, before the Fireball Fish there was the 7'8" Maurice Cole-shaped reverse vee that Curren rode on the turn seen around the world. With nary a sticker to be seen on the board, that searing arc at Backdoor photographed by Tom Servais has come to epitomize the perfect turn.

In 1991, Cole shaped a 7'3" and 7'8" for Curren while at home in France. With the resin still curing, he packaged them up and shipped them to his protege, who was waiting on the North Shore. Over the course of the season, the reverse vee design had featured prominently in Curren's "trials to title" run, in which he won a record seven contests enroute to his third world title, but it was the yellow railed, logoless boards that he rode in Hawaii that caught everyone's attention. It actually all started with the contest at Haleiwa.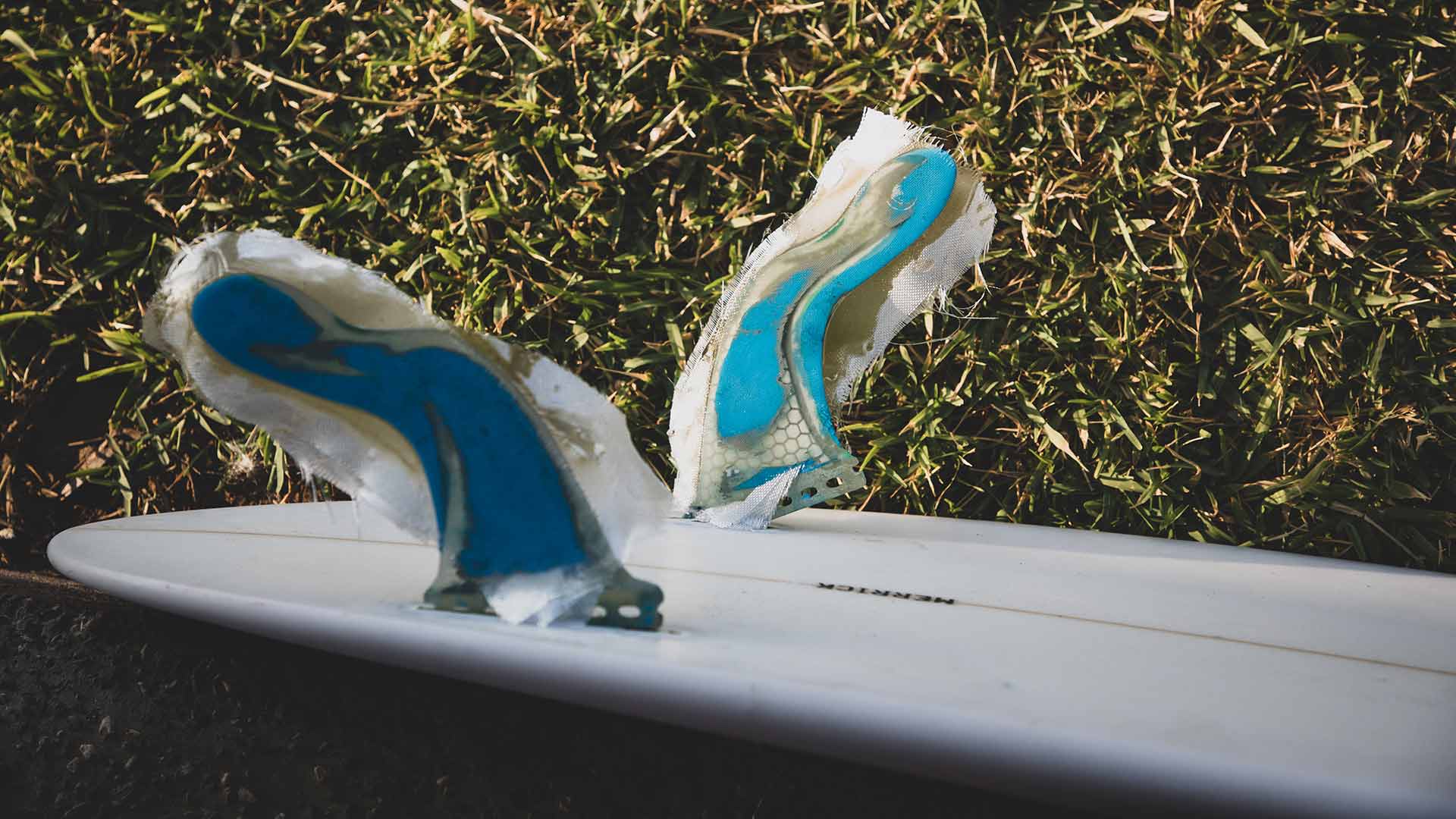 Cole had convinced Curren to step up from a 7'3" to a 7'8" in the quarters. The catch was that the longer board was back at the Kuilima condos on the other side of the North Shore. With Tom's heat coming up quickly, Cole, a man of perpetual action, charged himself with retrieving the now-famous semi gun in record time.

"I came screaming back into the car park, hopped the curb, pulled right up to the scaffolding, and there's Tom, just waiting. His heat's already out in the water and he's just standing there, patiently waiting like a kid who's mom told him not to move," Cole laughs. "So I give him the board and tell him to get out there. He looks at me, and asks, 'Got any wax?'"

Curren's quest for the perfect quiver continues, and thanks to these new unearthed lost reels from Free Scrubber, we get to enjoy a little more of the man's magic and mystique.
Kicking off August 10, 2022, we will be dropping one new "Free Scrubber: Excess Baggage" clip every week for the next eight weeks. Follow along on this exclusive Rip Curl YouTube playlist for the latest drops.
Watch All Free Scrubber Episodes
Free Scrubber Excess Baggage Part 1
Free Scrubber Excess Baggage Part 2
Free Scrubber Excess Baggage Part 3
Free Scrubber Excess Baggage Part 4
Free Scrubber Excess Baggage Part 5
Free Scrubber Excess Baggage Part 6