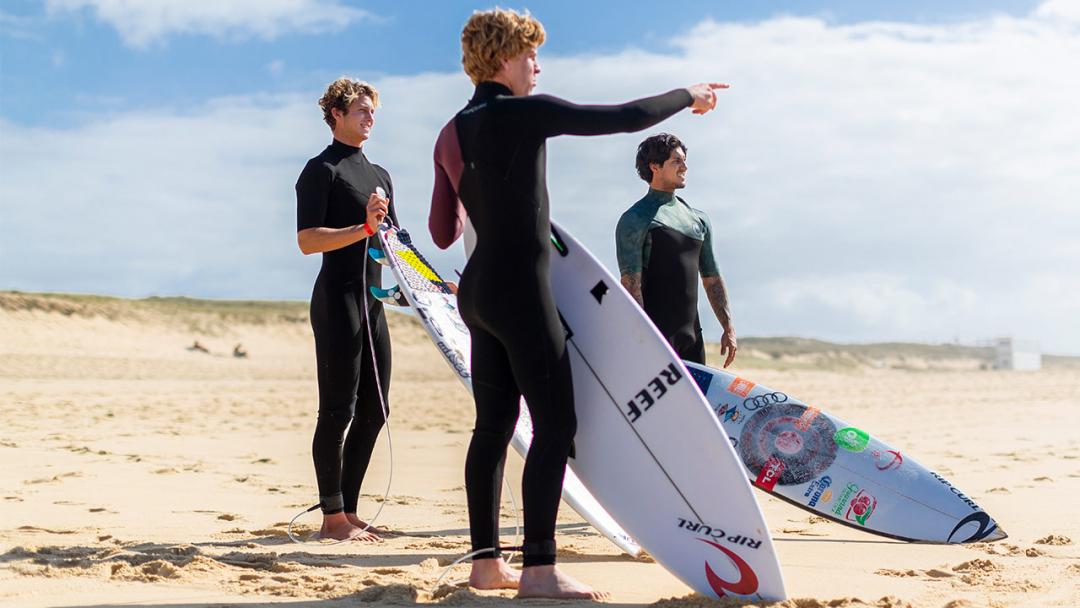 03/29/2020
E-Bomb: The Ultimate Guide
The Ultimate Guide to the Super Stretch Wetsuit
Welcome to the one-stop guide to all things E-Bomb. As Spring rolls around, air temps start to rise, while the water tends to hold on to it's Winter chill. Our Team and Crew have found Spring to Fall are ideal E-Bomb seasons, but you may not know which exact suit or style is right for you and where you surf.
Take a peek through this guide to score the Ultimate Super Stretch wetsuit for whatever your climate may be.
E-Bomb Fullsuit
Available in a 4/3 and 3/2, the E-Bomb fullsuit is your go-to suit year round. Inspired by high-performance surfing with the least restriction possible. 100% E6 neoprene, glued and blindstitched seams, and stress point tape make this the lightest, most flexible suit we offer. Also, the zipperless technology makes an easy entry and exit.
E-Bomb 3/2
Searchers Edition
E-Bomb Shortarm
A favorite for warmer Spring time water temps and chilly Summer mornings, the E-Bomb Shortarm is super a versatile and comfortable suit. Built with 100% E6 neoprene, glued and blindstitched seams, and stress point tape, just with gusset arm endings to keep water out and you warm. The shortarm also adds increased comfort and range of motion while paddling.
E-Bomb Shortarm
E-Bomb Springsuit
A favorite of a few team riders including Owen Wright and Gabriel Medina, the E-Bomb Springsuit is a super stretchy, versatile and comfortable option for those warmer waters. 100% E6 neoprene, blindstiched and glued, mesh arm and leg seals and a glide skin collar. Surfing warm lineups with pumping waves? Add the E-Bomb Springsuit for extra protection against the bottom.
E-Bomb Springsuit
E-Bomb Jacket
Whether on a surf trip or enjoying a Summer day at your local, the E-Bomb Top is a must have. Super comfortable, lightweight and stretchy, the E-Bomb Top is our warm water go-to. Wear it to keep that wind chill off, stay protected from the sun and reef and keep your chest and stomach comfortable during those warm marathon sessions.
E-Bomb Jacket
E-Bomb wetsuits make a great option for someone looking for super stretchy, lightweight, long lasting rubber for any and all climates. Still dont know what you're looking for? Head to our wetsuit page below to shop all of this years wetsuit lineup.
Shop All Wetsuits