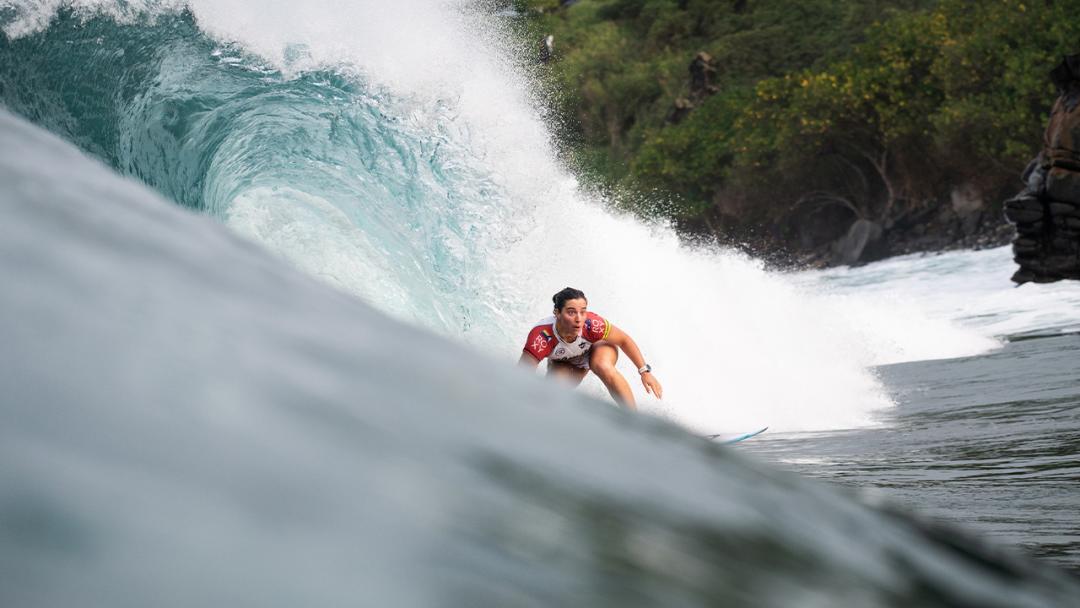 12/08/2020
Tyler Wright's Perfect 10 While Wearing The Progress Pride Flag Kicks Off The 2021 Championship Tour.
The two-time World Surfing Champion Tyler Wright made surfing history today as she paddled into her opening heat of the Maui Pro as the first professional surfer to ever sport the Progress Pride flag on her jersey.
Maui's Honolua Bay presented flawless 5-8ft walls from dawn to dusk, offering surfers a canvas like no other. Putting on a show heat after heat, Wright did not leave any corner of this Hawaiian masterpiece untouched.
Sitting in the commentary booth on reflection of heat one, Tyler said "it's been a few years since I've been here and felt healthy, I feel like I'm surfing with more intention today." Her intentions clear, she is here to be a leader, in every sense of the word, in the water and out.
It was Wright's quarterfinal heat that set the bar, high. Wright locked in the first perfect 10 of the 2021 Championship Tour. With an impressive barrel ride backed up by a series of powerful turns that she unleashed down the line, cementing her excellent score and status as one of the very best.
The commentators, the crowd, hell - the water safety guy knew it was a solid ride… yet it was Tyler's claim as she excited the barrel combined with the new, meaningful flag on her right shoulder that said it all… this was a moment to go down in surfing's history books.
"Having the progressive pride flag today means the world. I've been truly loved and supported in this world and this is my way of saying thank you. Thank you to the people wo have inspired me, come before me. Strong men and women who have stood up for their values. I'm really I'm really proud to be able to wear these two flags."
Tyler also took to Instagram to make a statement before she hit the water this-morning, her written word perfectly describing what this change to her jersey represents. We couldn't have said it better.
Rip Curl stands with Tyler and her decision to use her platform as a world class surfer, on a global stage, to represent the LGBTQ+ community, communicating a message of inclusivity.
We are proud the be the sticker on your board, Tyler. And excited to see what you achieve this season, both in and out of the water.⁠
Bring on the Semi-finals of the Maui Pro, tomorrow! #GoTyler