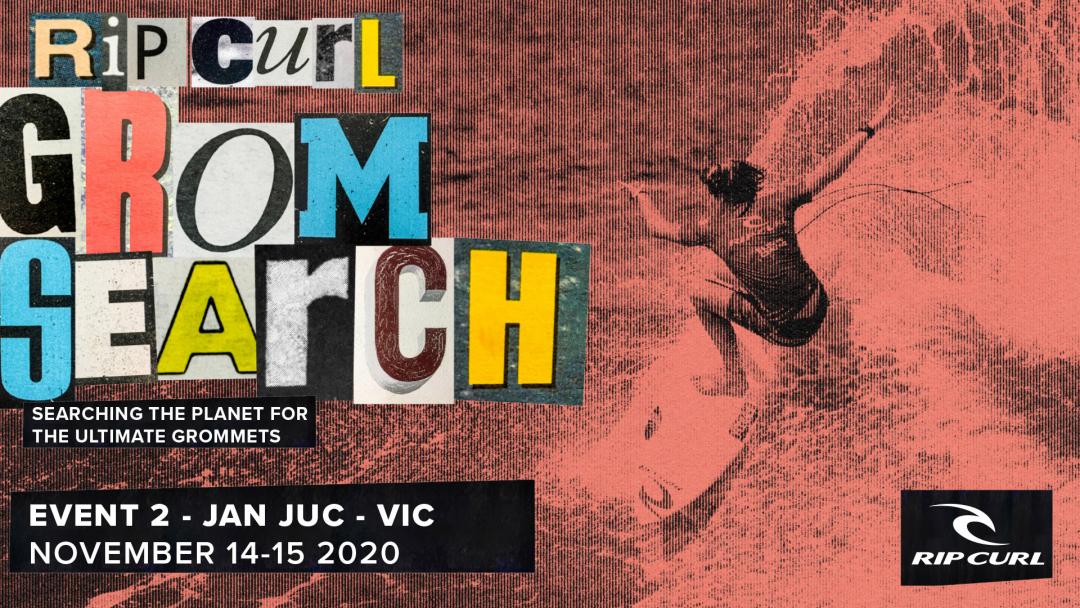 20/11/2020
Surf Coast Groms dominate on Finals Day of the Rip Curl GromSearch, Jan Juc.
The Surf Coast Groms have dominated the finals day of the Rip Curl GromSearch Jan Juc winning 5 of the 6 divisions.
In small clean waves, the best 16 & Under surfers from around the state kicked off the new competitive season with an incredible display of innovative surfing.
In his final year of competition at this event, Ethan Huxtable (Jan Juc) went head to head with the younger rising star Willis Droomer (Jan Juc) in the final.
Both surfers put on an amazing display of aerial manouvers with each surfer scoring excellent rides throughout the final. In the end it was Huxtable who came out on top with a 15.50 heat total to Droomer's 15.00 heat total. "I'm super happy to win after a long break away from competition" said Huxtable.
"It was fun and super competitive going against Willis. He is super innovative with his airs so it was great to get the win over him." The top 3 from each division will progress to the National Final to be held at URBNSURF Wave Pool in Melbourne next year.
"I'm stoked to be going to the National Final at URBNSURF. We have been spending some time up there since the lockdown ended and it's such a perfect wave."
Asher Lens (Torquay) finished in third on 10.67 point whilst Charlie Farrer (Barwon Heads) finished in fourth on 9.10 points.
The 16 & Under Girls division saw Emily McGettigan (Torquay) claim the biggest win of her career taking down former Australian Champion Ellie Harrison (Barwon Heads).
McGettigan finished on 13.34 points whilst Harrison finished on 12.67 points.
"This is the biggest win I have ever had. It's really built my confidence" said McGettigan.
"The conditions were pretty slow out there but there was plenty of opportunity. I'm stoked to take the win."
Finishing in third and fourth respectively were Mia Huppatz (Jan Juc) and Poppy Corbett (Phillip Island).
The 14 & Under Divisions were controlled by the Surf Coast pairing of Willis Droomer and Isla Huppatz (Jan Juc).
Huppatz was incredible in the final locking in the only perfect 10 point ride of the weekend on her way to a massive 17.83 heat total.
The 12 & Under divisions saw wins from Remy Filer (Jan Juc) in the Boys and Sophie Wilkinson (Shoreham) in the Girls.
Finals Results:
16 & Under Girls
1st Emily McGettigan – 13.34
2nd Ellie Harrison – 12.67
3rd Mia Huppatz – 8.57
4th Poppy Corbett – 7.30
16 & Under Boys
1st Ethan Huxtable – 15.50
2nd Willis Droomer – 15.00
3rd Asher Lens – 10.67
4th Charlie Farrer – 9.10
14 & Under Girls
1st Isla Huppatz – 17.83
2nd Sarsha Pancic – 9.84
3rd Sonia Seuren – 6.90
4th Jess McGettigan – 5.36
14 & Under Boys
1st Willis Droomer – 13.86
2nd Lucas Hickson – 9.80
3rd Jack Basset – 9.37
4th Isaiah Norling – 7.03
12 & Under Girls
1st Sophie Wilkinson – 10.78
2nd Sara Hickson – 9.30
3rd Maeve Wilkinson – 7.76
4th Lillian Bassed – 2.76
12 & Under Boys
1st Remy Filer – 14.57
2nd Jerry Kelly – 12.64
3rd Taj McPhee – 10.07
4th Archy Wallace – 6.88
2020 Rip Curl GromSearch Series dates:
*all dates and locations are pending Covid-19 restrictions and regulations.
EVENT 1 – Newcastle, NSW – Oct 1-4, 2020
EVENT 2 – Jan Juc, Vic – Nov 14-15, 2020.
EVENT 3 – Coolum, Qld – Dec 14-17, 2020
National Final – URBNSURF Melbourne, March 15th, 2021