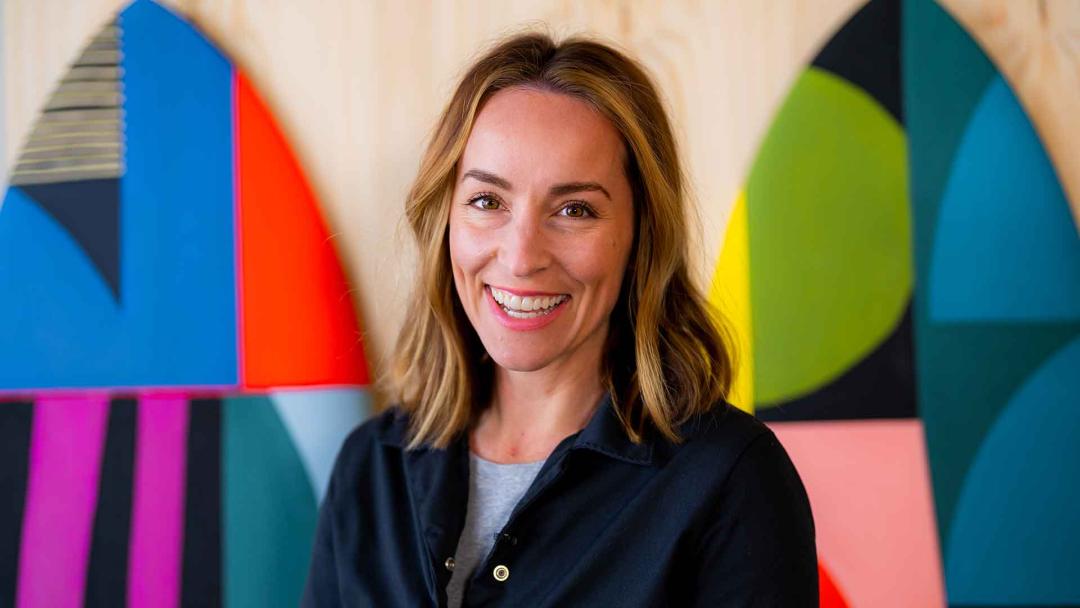 23/02/2023
Erin Miller Wray Collaboration Celebrates Surfing's Athleticism
Erin Miller Wray is on a mission to merge art and athletics.

"I'm drawn to projects where those worlds collide and people can use art in a tangible way and experience it," explains the Los Angele-based artist.

"I want people to touch it, feel it, be able to embrace it and experience it all in the hope of bringing people together, building community, healthy lifestyles, engagement, and just kind of open people's eyes to the potential that creativity can have in one's life," she continues.

Erin's journey into the art world began seven years ago when she started doing chalk sign paintings and large-scale mural pieces. With a knack for design, an eye for color and a passion for textures, Erin continued to grow and blossom as a contemporary artist. Over the years her work has graced everything from the sides of buildings to surfboards. A mother, wife and surfer as well, she brings her artist inspiration into everything she does.

"The way I look at it, we are all artists," Erin says. "We're all creating something in our lives, whether it be a traditional art form or craft or an athlete who's enhancing their performance. We're building relationships. We're crafting careers. We're craft crafting families. At the end of the day, we're all artists."
For Spring 2023, Erin and Rip Curl have collaborated to bring her art to beaches and lineups around the world. From cozy, colorful fleece, to bright G-Bomb springsuit and more, this exclusive collection is all about the good energy and positive vibes.
"It's such an honor to be able to create for such an iconic brand and work with people who are on the Rip Curl team," Erin continues. "It's really special how each piece has come together with different forms and textures. I'm so happy with them."
"They feel like they're all in the same family, but they feel uniquely their own, which is really cool. It's like, pick your party. You want soft? Do you want silky? Do you want plush? Do you want smooth? Pick your party. I like that because, I mean, at the end of the day, that's what this is. It's a party in the water. I hope that everybody feels like they're just having their own little party when they wear these.
One of the most exciting things about this collaboration is the way Erin has incorporated movement and energy into the designs. An athlete herself, she's endlessly fascinated by the collision of sport and art.
"It's really cool too to see athletes performing what essentially is their art in a piece of art. Like, what a cool canvas!" Erin smiles. "The crossover of design and athletics feels very special. As an athlete, sometimes what you're wearing helps elevate your performance. Not in a performance/technology way, but when you feel good in what you're wearing, that can absolutely elevate your energy and performance."
At the end of the day, it's that inspirational beauty that Erin seeks to discover and explore with her work.
"I really want to bring beauty into the water and people's homes and lives. And I want to bring beauty into the lives of athletes too," she surmises. "They are doing such amazing things on so many different levels and I want to bring art to all of them."
Dive into the 2023 Surf Revival Collection in collaboration with Erin Miller Wray.