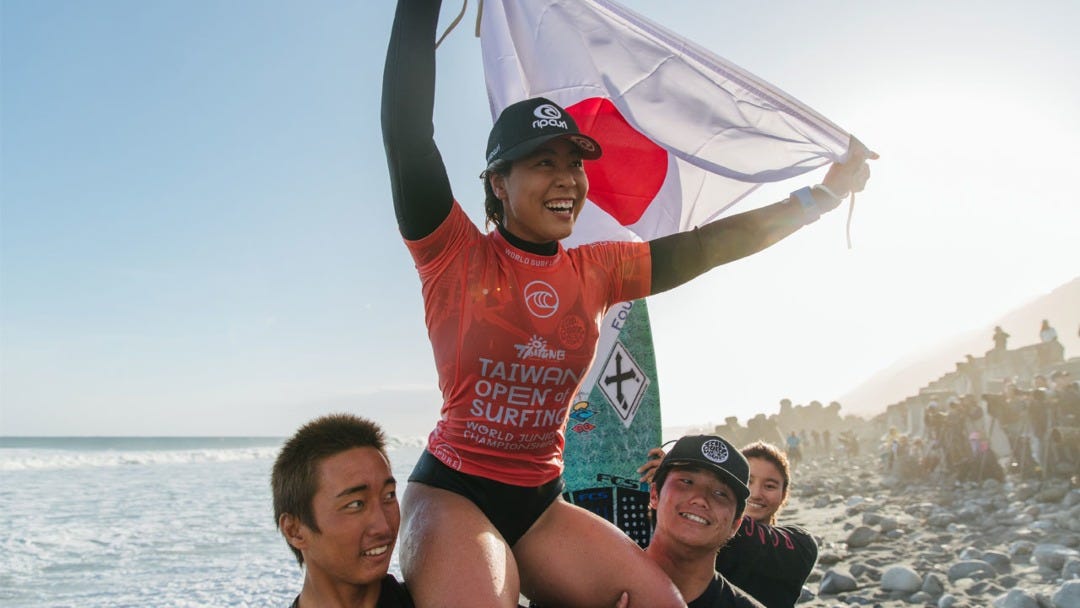 12/02/2019
Amuro Tsuzuki is the 2019 WSL World Junior Champion
Amuro Tsuzuki has claimed the 2019 World Surf League Junior Championship at the Taiwan Open of Surfing.
The final day of competition saw the best junior surfers in the world tested in solid and unruly six-to-eight foot surf at Jinzun Harbour as the cream rose to the top on a historic day of competition. Tsuzuki overcoming tough opposition in Californian Alyssa Spencer in the final.
Tsuzuki made history yesterday, becoming the first-ever Japanese WSL World Surfing Champion, posting huge scores all event on her way to the final where she came up against Alyssa Spencer. Unlike her earlier heats on Final's Day, Tsuzuki controlled the final heat in its entirety, finding two rights early to post a two-wave combination 13.00 (out of a possible 20) which ended up being enough to gift her the World Title trophy.
"It's all very overwhelming for me. It's been such an incredible event with so many different conditions I really enjoy surfing here in Taiwan. Today was really challenging with big waves and water moving everywhere, but I was so focused on not giving up and it worked for me in the end. I'm just so happy."
Not only has Amuro Tsuzuki made history at the Taiwan Open of Surfing but she is a few days away from learning if she will join the elite Women's Championship Tour in 2020. Tsuzuki needs a few things to go her way at the Lululemon Maui Pro this week but her grit and determination shown on Finals Day was proof enough that she would fit in well amongst the world's best. This was personified in her Semifinal heat where, after paddling against sets for nearly 15 minutes, she got out the back exhausted and needing a score, she then turned around, took off on a set and landed the turn of the event on a massive and critical closeout section to post a 9.27 and claim a spot in the final.
"I knew I needed to throw everything at that turn so I did and when I rode out of it I was so excited," Tsuzuki continued. "I can't do anything about my spot next year but wait and watch the results in Maui. Regardless of what happens, I'm so happy with my achievements this year."
California's Alyssa Spencer looked to be the surfer to beat on Final's Day as she looked comfortable in the solid surf going both left and right at Jinzun Harbour. In the Final, Spencer posted a decent first score on a long left and then struggled to return to the line-up, having to exit the water and run up the beach to regain her position. Eventually, Spencer found her opportunity but failed to land her final turn after an exhaustive day of surfing and finished her campaign in Taiwan in second place.
"I am disappointed to come so close and finish runner-up, but I'm so happy to see Amuro win," Spencer said.
"She is a friend of mine and a great surfer so I'm really happy for her. Today was a lot of hard work in the big surf but it was a great challenge for us all. I have two more years in the juniors, so I hope to come back next year and hopefully take it out. I enjoy it a lot in Taiwan. This is my second time here and there is always waves to be had and I'm already looking forward to next year."