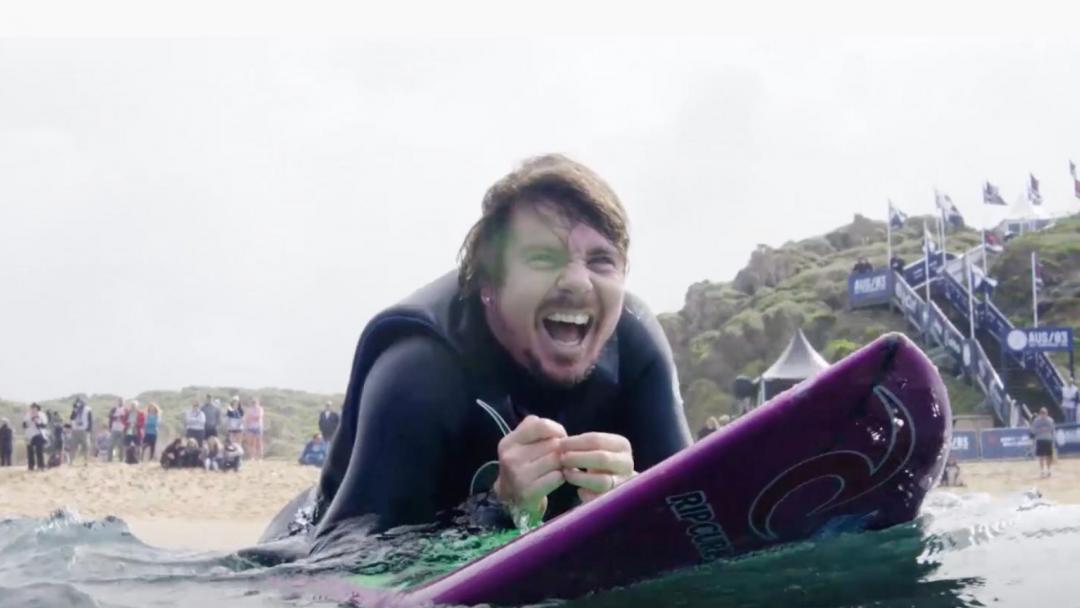 09/23/2021
Barney Miller Adaptive World Surfing Champion Receives World Champion Black Rip Curl Sticker
Rip Curl signs World Champion Barney Miller to a new deal.
If you don't know Barney Miller, you really should keep reading.
Back in 1999, his teenage life was turned upside down when he was a passenger in a car which slammed into a tree near his home town of Sawtell on the NSW mid north coast. He became a C6 quadraplegic from that day on.
A lot of people would have been defeated – would have given up the things that they love to do, the sports they follow, the dreams they want to achieve: Life in general. But not Barney.
He made it his mission to live his life as well as he did before the accident – to overcome the adversity. To keep trying to stand and walk when he was told he couldn't. He got back in the water and with the help of friends and family he kept surfing.
Barney's determination is well known in surfing circles and he was rewarded for his efforts with an adaptive world surfing title bringing home the gold medal in 2017.
"Ever since I was a young grom I dreamed of being a world champion," he said at the time. "When I had my accident and broke my neck 18 years ago, I thought that was one goal I had to let go of," reflected Miller on social media after the awards ceremony.
"To have the opportunity to represent my amazing country is already such an honour but to take home the gold and become a world champion, that means the absolute world to me!"
Through his friendship with 3x World Champion Mick Fanning and the subsequent relationship with Rip Curl Barney has always been part of the Rip Curl Team. When he comes to town for the Rip Curl Pro Bells Beach, the local crew get together to make sure he can surf the Bells Bowl. A surf session with Barney is a great thing to be part of. Not only is his stoke infectious, but able bodied surfers realise how easy they have it and how hard some others don't.
This week Barney signed a new deal with Rip Curl and as such earned the right to rock the prestigious Rip Curl "black sticker". On the back of the Rip Curl WSL Finals and Gabriel Medina's third world title we thought it was a great time to announce Barney's new deal.
As a mark of respect, every World Champion on the Rip Curl team has the privilege of peeling off the Red Sticker, and putting on the prestigious Black Sticker. This is only for World Champions like Gabriel Medina, Mick Fanning, Tyler Wright, Tom Curren, Damian Hardman and now Barney Miller.
Barney's story and that of his relationship with wife Kate Miller, or Kada as she goes by in her music career, is well documented in their movie "You and Me". The couple are currently touring Australia in a specially built camping van, living as well as they can and with a focus on surfing and music. They dropped into Rip Curl HQ in Torquay on their travels and picked up the Black sticker and signed the deal.
"Watching and being a surfer, your whole dream is to be a world champ, when it all happens and being friends with a lot of world champ's in this family and to be a part of that elite crew, it's such an honour."
"This Black Sticker puts you on that little bit higher pedestal, it's just such an epic feeling." - Barney Miller
You're an inspiration, Barney!
Stay tuned for ways to connect with Barney and Kate around Australia.