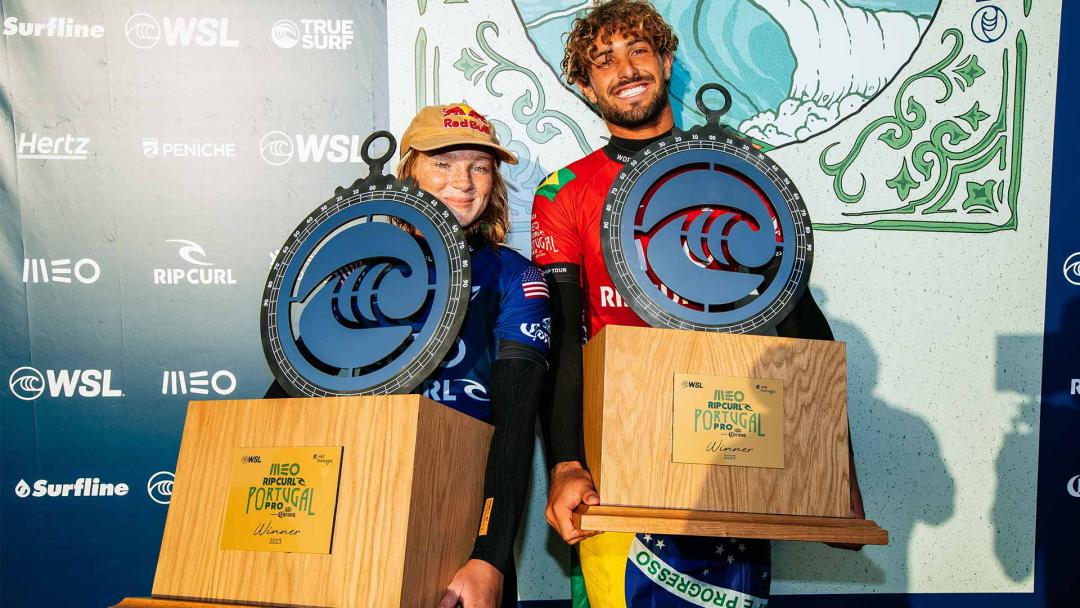 03/20/2023
Caitlin Simmers & Joa Chianca Win First-Ever CT Event at the MEO Rip Curl Pro Portugal.
Brazil's Joa Chianca earns near-perfect victory over World No. 1 Jack Robinson as rookie sensation Caitlin Simmers goes all the way, claiming maiden CT win over Courtney Conologue.
At the end of a pumping Finals Day at Supertubos, two budding superstars came away with their first career wins. Brazilian Joao Chianca took down World No. 1 Jack Robinson with two excellent scores in a men's Final that came down to the last minute.
"Since I first qualified I've been dreaming about my first win," said Chianca in his post-heat interview. "Five minutes after I paddled out, I realized how good the waves were and how much I love everything about this and how much I love everything that was happening out there, just perfect barrels and perfect waves. ...My coach just told me,
'Enjoy the process. You've been doing everything you can to make it happen... if you don't get it you will get it at the right time at the right event. And my time came."
Then 17-year-old rookie Caitlin Simmers beat out veteran Courtney Conlogue to get the victory in her third event on tour. Simmers' victory was a testament to her talent and determination, claiming victory against some of the world's best surfers in her first year on tour.
"I really can't believe it honestly," said Simmers. "Courtney got really tubed, and I was like ok this is starting. I tried to get some away from her and paddle up and down the beach to find one and then it happened and I was really happy. This is my favorite kind of wave, I surf beach breaks pretty much everyday. I'm really grateful for everyone here, Portugal is really cool. I'm grateful for surfing, and I don't know what else to say, thank you!"
All the action took place at the famous beach break of Supertubos, a world-class wave known for its powerful waves and challenging conditions. Located in Peniche, Portugal, this place is a favourite among surfers from around the world, offering a unique and exhilarating surfing experience.