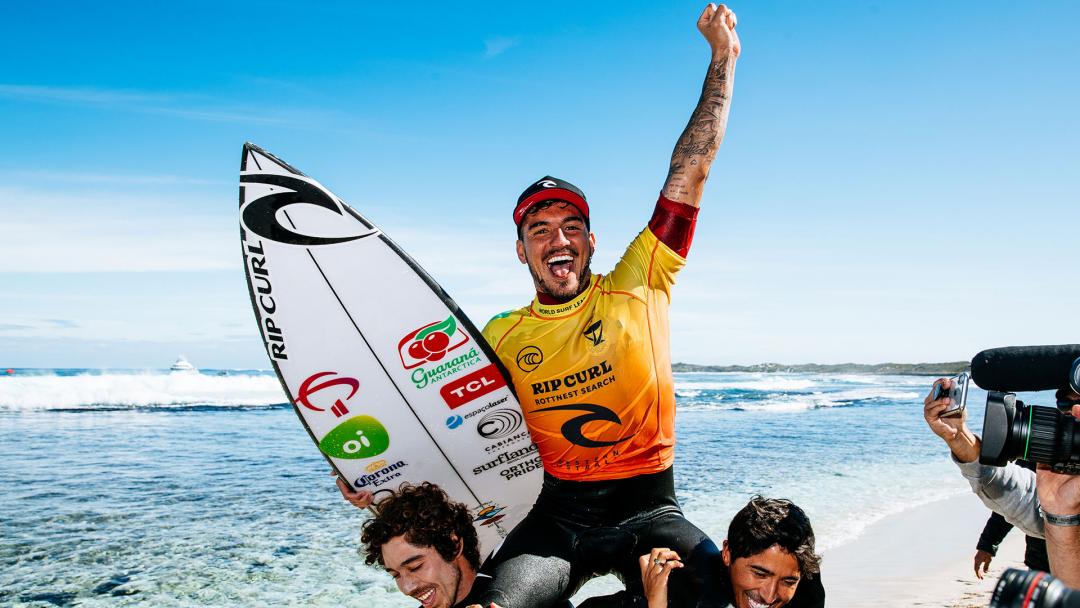 06/30/2021
Gabriel Medina Secures His Spot In Historic Rip Curl Finals
Medina First to Make Final 5 for Historic Rip Curl Finals
The contest is heating up as we get closer to the winner-takes-all Rip Curl WSL Finals.
After six demanding events in Hawaii, Australia and California, in what's sure to be the most tumultuous season of the WSL Championship Tour, it's time for a much-needed breath before we move forward into historical waters.
This September, the first Rip Curl WSL Finals will crown surfing's World Champions at Lower Trestles. Never before has a surfing World Champion been decided in a one-day, winner-take all event.
If there was any question before, there certainly is not now: The Brazilian men have a stranglehold on the WSL Leaderboard. Gabriel Medina has become the first male to clinch his spot for the Rip Curl WSL Finals. Italo Ferreira certainly would have liked to have been more in the conversation on Finals Day in Lemoore, but he's still holding onto the number two spot.
Meanwhile, Filipe Toledo's victory, his second of the season, has moved him up to third on the leaderboard, giving Brazil the top three positions.
The big mover is Griffin Colapinto, who thanks to a clutch performance at the Surf Ranch, has climbed three spots and is now into the WSL Final 5. With lead-footed South African journeyman Jordy Smith out with an injury (and hoping to recover in time for the Olympics), rookie Morgan Cibilic jumped up a spot and is now in fourth.
Like Medina, Carissa Moore has punched her ticket to the Rip Curl WSL Finals with her result at the Surf Ranch. She's looking to defend her 2019 Title and is looking at potentially capturing her fifth title, which would put her only two behind Stephanie Gilmore and Layne Beachley, who are tied at a record seven.
Johanne Defay continued her upward trajectory thanks to her long-sought Surf Ranch win. She's now sitting in second on the leaderboard, and given the power of her both her forehand and backhand, has to be considered a huge threat on the A-frame peak at Lower Trestles.
Sally Fitzgibbons, Tatiana Weston-Webb and Gilmore round out the WSL Final 5 at the moment, as they are starting to create some separation from the rest of the pack. So, while all eyes have been on Moore, Gilmore's pursuit of a record-breaking eighth Title continues in earnest. Who knows, maybe she'll break out a single-fin at Lowers and smoke everyone? Wouldn't that be something.
Caroline Marks and Isabella Nichols are knocking on the door, but it will take something special at the final two stops of the season in Mexico and Tahiti.
With the Championship Tour hitting the pause button until after the Olympics, the next stop will be the Corona Open Mexico, which doesn't start until August 10. This gives all the surfers, or at least those not competing in the Olympics, a little time to hit reset and steady themselves for their final charge down the homestretch. 2021 was always going to be a year unlike any other, and as we're seeing, that's certainly been true so far.
WSL Women's Championship Tour Leaderboard Top 5:
Carissa Moore: 43,855 pts
Johanne Defay: 34,635 pts
Sally Fitzgibbons: 34,270 pts
Tatiana Weston-Webb: 33,625 pts
Stephanie Gilmore: 29,390 pts
WSL Men's Championship Tour Leaderboard Top 5:
Gabriel Medina: 46,720 pts
Italo Ferreira: 33,555 pts
Filipe Toledo: 32,065 pts
Morgan Cibilic: 24,610 pts
Griffin Colapinto: 22,235 pts
Learn more about the Rip Curl WSL Finals.