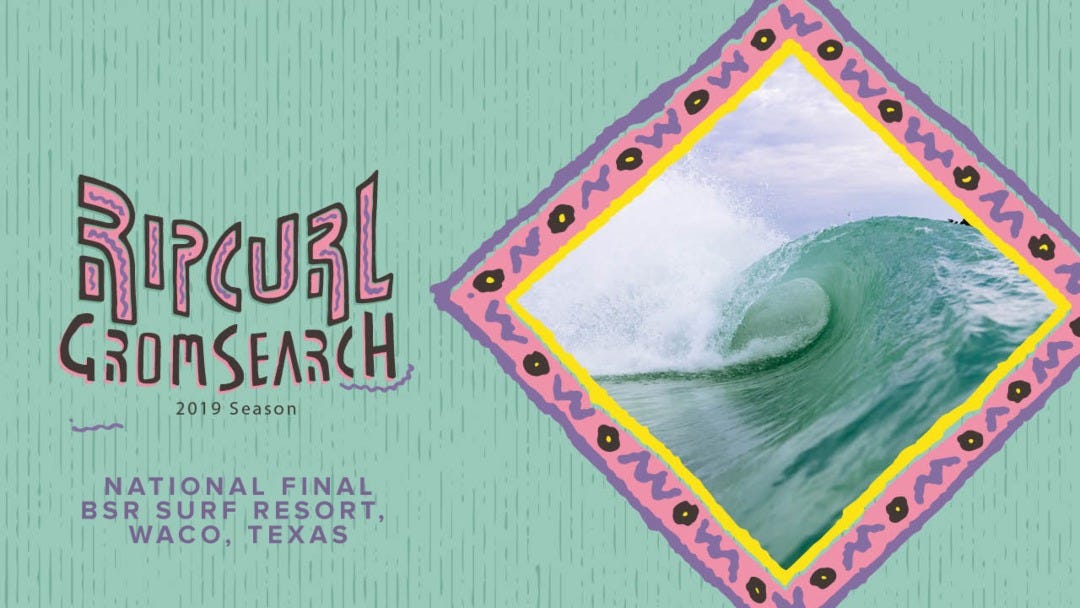 10/21/2019
Rip Curl GromSearch National Final presented by Banzai Bowls, BSR Surf Resort, and PerfectSwell is Headed to Perfection in Waco, TX.
72 of the Nation's top junior surfers. 1 man-made even playing field in the heart of Texas. Who will come out on top?
The 2019 Rip Curl GromSearch National Final presented by Banzai Bowls, BSR Surf Resort and Perfect Swell is set to make history this week on the man-made peaks of BSR Surf Resort. The first organized junior contest ever held at the pool is sure to be an action-packed event showcasing a stacked field of North America's top 72 groms all gunning for the National title's and prize money. An exciting addition for 2019 is the Banzai Bowls Airshow, featuring the very best junior aerialists battling for a winner takes all $1,000 for the best single air!
The champions of the boys and girls 16/U divisions will receive an all-expense paid trip to compete in the RCGS International Final versus the top 8 qualifiers from across the globe. The 2020 International Final is extra special as it will return to Bells Beach, Australia for the first time since 2011, where the very first GromSearch event took place back in 1999.
Presenting sponsors BSR Surf Resort and PerfectSwell have worked countless hours creating and perfecting a custom wave for the event, allowing a 3-wave set with a 1-min break, providing ample opportunity for each surfer to go big. PerfectSwell has made the stakes even higher by donating $5,000 to the prize purse, the perfect incentive to go even bigger. We are forecasting brisk mornings with warm afternoons and low winds creating ideal conditions for the pool. Stay tuned to Ripcurl.com/gromsearch for event news, highlights, and event schedule.
About the GromSearch:
Since Rip Curl developed the concept for the GromSearch events in 1999, the series has spread throughout the surfing world and now culminates with an International final held at a different location each year. The worldwide series is held for male and female surfers aged 16 years and under, commonly referred to as "groms", with the aim of the GromSearch is to nurture and recruit the next generation of surfers at a grassroots level.
Former GromSearch champions include current WSL World Tour stars; Gabriel Medina, Owen Wright, Jordy Smith, Matt Wilkinson, Kolohe Andino, Tyler Wright, Stephanie Gilmore and Sally Fitzgibbons.
For the Event Schedule, Competitor List, Heat Times and More, Head Here: