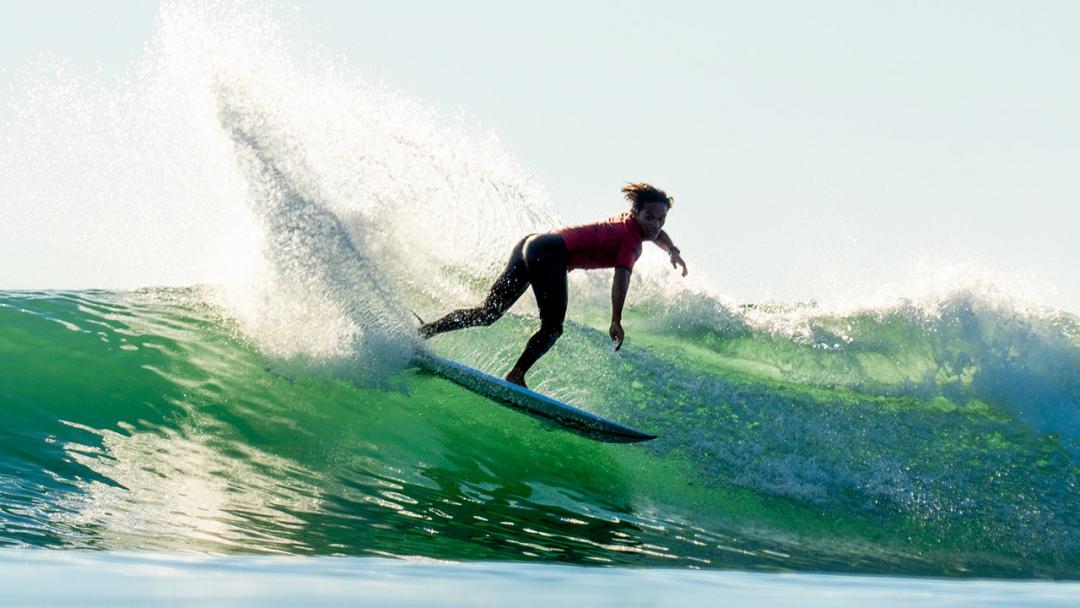 11/14/2021
Four Champions Crowned at the Rip Curl GromSearch National Finals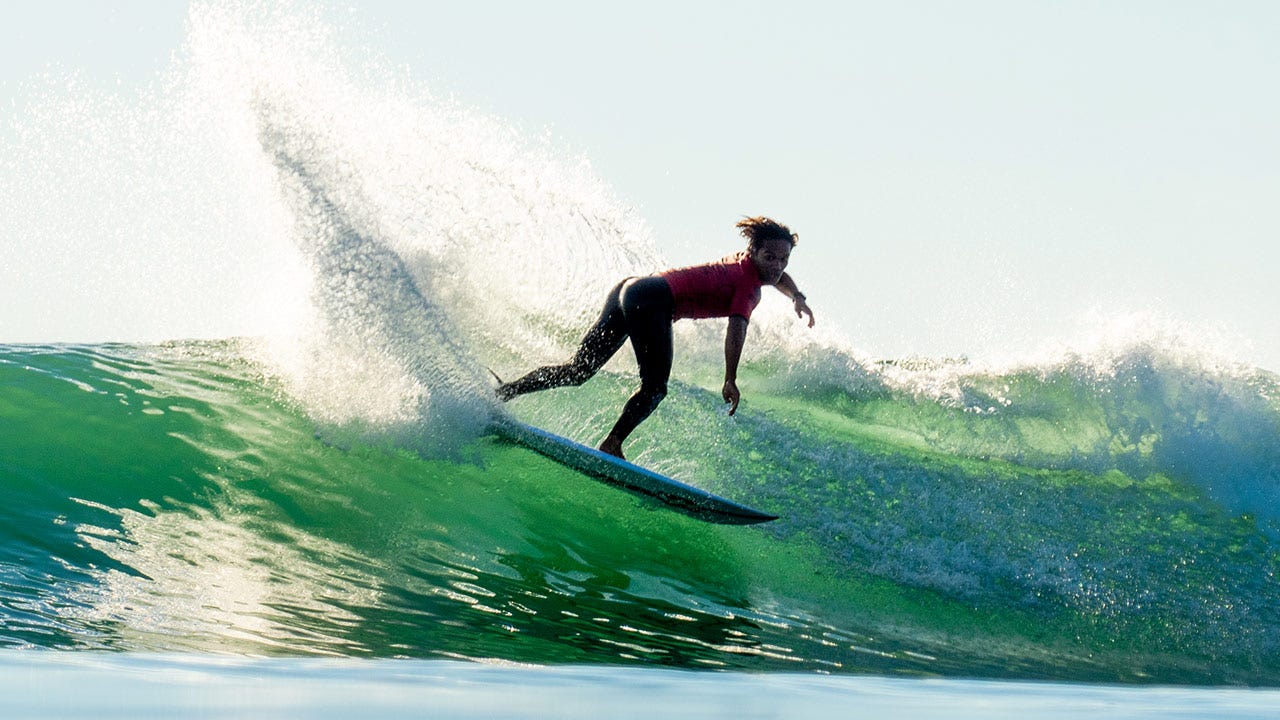 The 22nd Season of the Rip Curl GromSearch Wraps Up in Dreamy Churches Conditions as Four New Champions Are Crowned.
The afternoon sun glistened on the late-fall glass as sets relentlessly filtered into the Churches lineup, providing a perfect canvas for the Rip Curl GromSearch National Final, and putting a stamp on what has been a spectacular 2021 GromSearch season.
Dawn broke with sunny skies, unseasonably warm weather, and a light offshore breeze grooming the incoming swell lines. The contest kicked off with the 12/U boys division, and HB, CA regional qualifier winner Quaid Fahrion wasted no time in setting the bar for the impending day, dropping two solid scores in the opening heat. Hot on his heals were other 12/U favorites and Rip Curl team riders Petey Romaniuk and Lucas Cassity Senkbeil, also securing advancing positions into the semi-finals. San Clemente locals Carson Carr and Tanner Sandvig also had a hard-fought head-head-battle, in which Tanner was able to emerge the victor, leaning on impressive backhand technique and consistent power surfing beyond his twelve years of age.
Unfortunately for Petey, he was unable to keep his momentum going, and found himself bowing out in the semis, leaving Quaid and Lucas to duke it out in the 12/U boys final alongside Zal Costa and Keone Roitman. The final was a seesaw battle, in which Quaid, Lucas and Zal all held onto big single scores. Lucas had an opportunity to regain control from Quaid midway through the heat, but an uncharacteristic fall saw him chasing a number in the dying seconds. It appeared to be all but over, but just before the horn blew, Cassity-Senkbeil found a gem, and making no mistakes this time he belted it all the way to the beach, securing an 8.33 and sealing the National Final Crown!



In the 14/U boys division, it was another regional qualifier champ, this time Hawaii's Rylan Beavers picking up where he left off and netting the first round's highest total. Lucas Cassity Senkbeil was on double-divsion duty, and he too found himself in the semi-final, with Petey Romaniuk, Jak Ziets, and Rex Hennings all putting forth strong performances as well. Local boy Cannon Carr was up to his usual aerial antics, throwing his tail to the sky and riding away clean on one inverted occasion. Unfortunately, he didn't do enough to earn an advancing position, but did manage to walk away with the Banzai Bowls Maneuver of the Event win, and $600 dollars and an epic handcrafted trophy for his efforts.



GoPro Wildcard recipient Matteus Santos also stormed his way through the draw, upset multiple qualifying favorites and earned himself a finals berth that saw him up against Rex, Rylan and Petey. Rylan opened with a strong 7 point ride, and after the ocean went somewhat quiet, he was able to hang on for the victory despite a late push from Hennings, who finished the day in second place.
Between the high-intensity semi-finals and final heats sat the Softech Expression Session, a favorite heat at every GromSearch stop, and a 20 minute fun-filled portion that always injects smiles and good vibes into the event. Although NSB, FL regional qualifying winner Nora Liotta was unable to progress through her opening round heat, she didn't miss a beat on the Mason Ho Twin, drawing incredibly mature lines and coming out the clear-cut winner as the dust settled, bringing home a brand new Mason Ho Softech Twin for her efforts.
The 16/U girls division began with wildcard domination, as all four first round victories were secured by wildcard entrants, two from Rip Curl's Ewe Wong and Erin Brooks, along with West Coast Board Rider's entries Lilie Kulber and Eden Walla.
Erin didn't miss a beat in the semi-final round, picking up the pace and absolutely decimating the playful righthanders with searing backside carves and an immense amount of speed carried through her maneuvers. "I just wanted to go out and have fun and surf my best on those rights," she said. "After I got the first heat nerves out of the way, I was just so stoked to get back out there and surf more heats!"
She blistered her was to a 19.10 total, earning herself a finals appearance in her first event appearance of the last couple years, and the …Lost High Heat Total award win, and securing yet another custom Mayhem to add to her quiver.



Ewe, Lilie, and Sara Freyre rounded out the field of finalists, yet none of them were able to match the numbers Brooks was able to put up early in the pristine evening conditions, and Erin finished the Rip Curl GromSearch National Final well and truly in control and leaving the rest of her rivals in a combination situation, in need of two scoring waves to overtake her 16.67 total.
Winding up the day in absolute flawless golden right handers, the boys 16/U division took to the lineup. Hawaiians Shion Crawford, Luke Swanson and Kai "Boy" Martin were joined by lone Californian soldier Kyan Yang, who had looked to be the form surfer throughout the event's early rounds. "It's basically like another HASA final, but with Kyan here too." Luke stated with a laugh just moments before paddling out.
Kai Boy utilized the same approach as girls champ Erin Brooks, harnessing a lightning-fast backhand attack and hopping out to an early lead after an 8.83 on his opening wave. Swanson found himself on an amazing wave at the heat's halfway point, netting a 7.73 for his efforts, but still sat in second behind Kai as the seconds ticked off the clock. Shion and Kyan were no slouch either, and all four were well and truly in the mix for the 2021 Rip Curl GromSearch National Title, but it was Hawaii's Kai Martin who was able to fend them off and walk away with the crown.



It was a truly amazing way to end the 2021 Rip Curl GromSearch season, and in the National Final's return to the saltwater after a brief, chlorinated hiatus, mother nature made a strong case for keeping things "traditional" in the years to come.
We would like to thank all of our 2021 season's sponsors and partners for their support, as well as California State Parks for accommodating this incredible National Final event at Churches, San Clemente over the weekend.
See you all back again for the 23rd annual Rip Curl GromSearch Season!