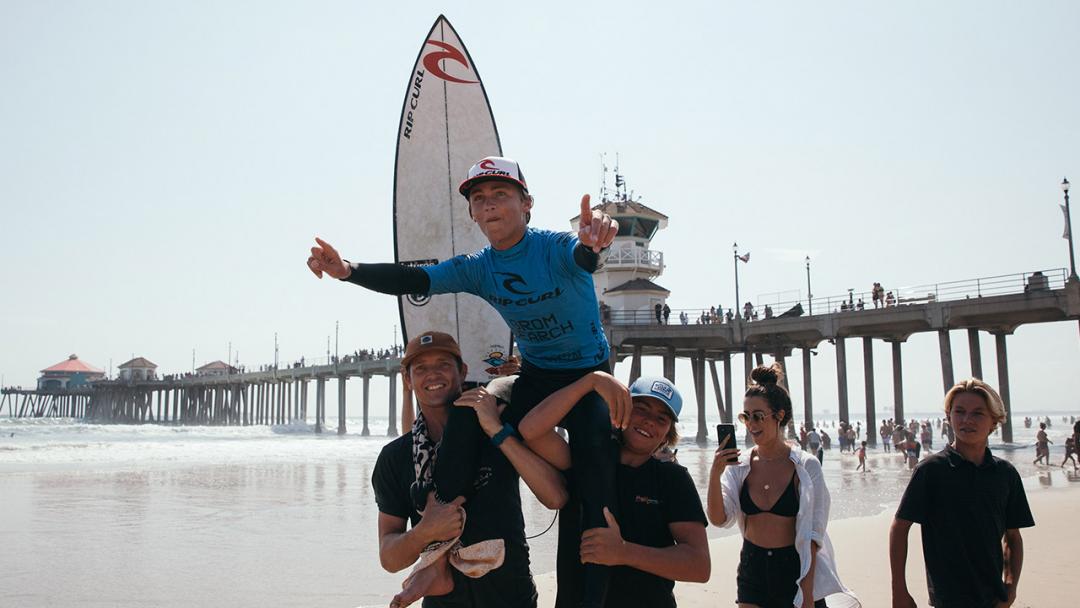 07/12/2021
Four Champions Crowned at Stop 1 of the 22nd GromSearch Season!
128 competitors entered this West Coast Qualifier, but only 16 finalists secured their spot in the coveted Rip Curl GromSearch National Final.
The Rip Curl GromSearch presented by Banzai Bowls found its way back to the ocean for the first time since 2019! Stop 1 of the 22nd GromSearch season kicked off this weekend, at the famed surf arena of Southside Huntington Beach Pier. 128 competitors entered this West Coast Qualifier, but only 16 finalists secured their spot in the coveted Rip Curl GromSearch National Final, going down this October at Churches.
Surfers were greeted with the fresh arrival of a strong south swell, allowing plenty of juice for competitors to work with. However, the swell brought with it strong currents and long paddles, making wave selection and time management a key factor at this stop. Finals Day saw buzzer-beater finishes, a few major upsets, fierce battles and huge maneuvers. An all Softech Expression Session broke up the intense action with some of the most fun surfing of the event. Out of the water, competitors and families were able help clean the beach with the Surfrider Foundation and enjoy other activities presented by our sponsors. Overall, Stop #1 brought phenomenal talent and action – providing some new faces on the podium, as well as a few familiar vets.



The Boys 16/U pinned three Californians vs. the sole Hawaiian, Diego Ferri. Final winner, Luke Wyler started the heat slow before landing an air worth 8.5 points on this 3rd wave - and also securing the Banzai Bowls Maneuver of the Event. Luke backed up his score with a solid 5.5, creating a 6.7-point gap between runner up, Diego Ferri. Kai Kushner and Kyan Yang didn't allow much breathing room, as Kai scored a 12.4 total on a lethal backhand attack, with Kyan starting off hot with a 9.8 total on his first two waves.
"This feels so good… I think it was all in that one air. I figured all these guys are so good in the final, I had to huck it. I stuck to my original strategy and that same mental state – I just wanted to go for it. I can't believe I won this one." said Wyler.
The Girls 16/U was a familiar battle between the future stars of Women's surfing. Hawaii's Luana Silva and Pua DeSoto took on Californians Bree Smith and Sara Freyre. While Pua's impressive 7-wave count was an event high, it wasn't enough to contend with Luana's powerful surfing and 10.8 heat total. Pua and Luana led a strong battle, with Luana getting the win by just 0.49 points.



"Such tricky conditions," Luana said of the final. "I was so lucky to get those 2 waves. It was so close at the end with Pua – all these girls push you a lot, so I'm just really stoked to get my second GromSearch title with that final. So happy!"
The Boys 14/U Final was the closest final of the event, with Jak Ziets (CA) scraping a 0.46 point lead over Florida's Kepa Mendia. Jak was a standout all event long, taking first in 90% of his heats along the way. Jak also earned the …Lost Surfboards High Heat Total of the Event with a 17.3 earlier in the opening round. Fellow finalists Braeden Kopec (CA) and dual division finalist, Kai Kushner (CA) also had a heat on their hands, with Braeden putting up a 9.3 total to Kai's 8.2.



"So stoked, so happy! The heat was started slow, so I knew I had to capitalize on that first one." Jak refelcted of the final. "Then that one came at the very end of the heat, I knew it was the moment. I knew that airs were scoring high, and I had to get out of the mid 5's. I'm just stoked to win that one."
The first final of the afternoon proved to be one of the best heats of the event. A three pack of Californians, Quaid Fahrion, Petey Romaniuk and Tanner Sandvig took on Hawaii's Zal Costa in the Boys 12/U Final. Quaid bolstered his score line early with a 7 on his first wave, putting immediate pressure on his fellow finalists. A few lulls plagued the heat and led to minimal scoring opportunities, but Quaid was able to add to his electric start with yet another 7.3, the heat's highest score, earning him a 14.3 total to Petey's 12 points, enough to earn the Huntington Beach local a runner-up finish.



After the dust had settled, we were proud to crown our four champs and welcome them to our National Final this Fall. We'd like to thank Banzai Bowls, Flexfit, Go Pro, Sun Bum, FCS, Softech, Lost Wahoos for our 2021 GromSearch season would not be possible without the tremendous support of these sponsors.


Follow @ripcurl_usa to follow along with all the action during the season!