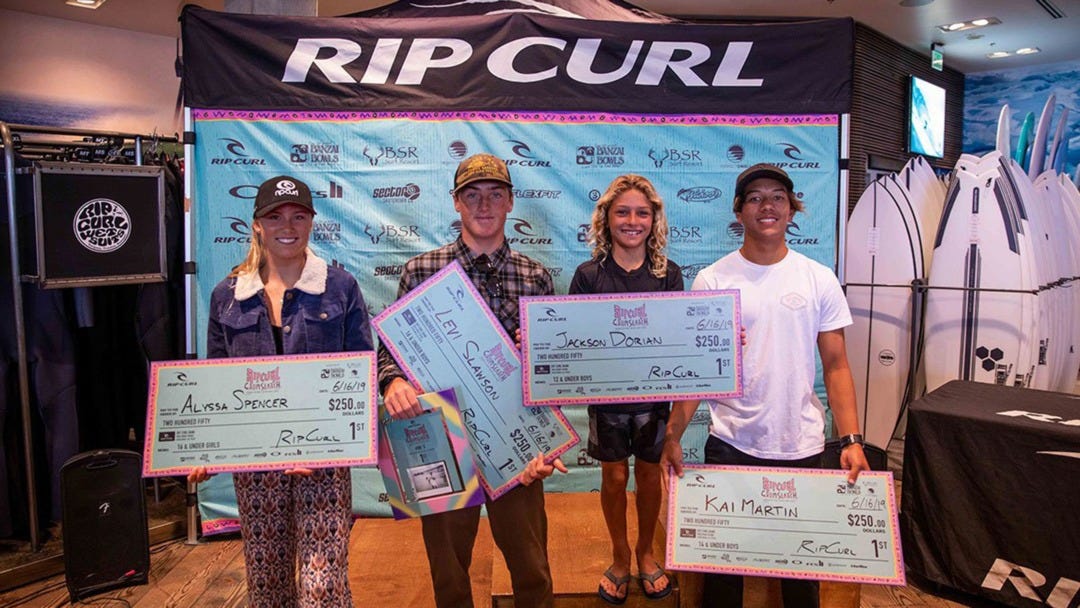 06/17/2019
Huntington Beach Serves Up 2 Days of Ripping for the Rip Curl Gromsearch Stop 1!
Gromsearch is Returning for Its 20th Consecutive Trip Around the World!
Finals day saw buzzer beating wins, major upsets, huge maneuvers and even the occasional stingray. As the heats continued to pass by, the growing pressure of making a final this season and securing a spot in the National Final was proving to have impact on competitors. After a full weekend of high-performance surfing, the 16 lucky finalists locked in their spots to compete in the GromSearch National Final at the BSR Surf Resort in Waco, Texas. The winners of the National Final will go on to meet the international field at the GromSearch International Final at an undisclosed location along The Search in Spring 2020.
Finals day saw overcast, smooth conditions and consistent 2-3 foot surf offering up the reliable Pier Bowl left and occasional middle sandbar right. Out of the water, competitors were able to help clean the beach with the Surfrider Foundation on International Surfing Day and enjoy the activities with our other series sponsors. Stop #1 in Surf City USA brought phenomenal talent and their families from all over the United States to its shores! At the end of the day, we saw some new faces step onto the podium, as well as a few familiar GromSearch vets.
The Boy's 16/Under pinned four familiar Californian's together with a consistent flow of waves and scoring opportunities. Final winner Levi Slawson stayed under the pier and snuck into a few high scoring lefts, granting him an 8.00 and 7.27. "I noticed the tide was dropping and there were a few lefts coming through next to the pier. I stayed there and just had a fun heat. This contest was so fun and I'm excited to head to Waco" said Levi. The Boys final was rounded out with Hagan Johnson (12.93), Banzai Bowls Maneuver of the Event winner Nolan Rodgers (7.97) and Jabe Swierkocki (6.93).
The key to claiming the Girl's 16/Under title came down to picking off the longer walls and finishing waves with a bang. Finals winner Alyssa Spencer (CA) seemed to be a natural wave magnet, supplying two 7's and allowing her to combo the rest of the field. "It feels really good to win. The waves were challenging and I was nervous only having that one early score. Another one ended up coming to me and I'm just really happy" said Alyssa. The rest of this talent stacked final included 2018 International Final winner and this stops Lost Surfboard High Heat Total winner Caity Simmers (CA – 8.10), Makena Burke (CA – 8.17) and sole Canadian, Sanoa Dempfle-Olin (6.07). We'll see these girls compete again at the National Final in Waco!
Possibly the most action-packed heat of the day, the Boy's 14/Under Final had its fair share of fireworks during its 25 total waves. Kai Martin took on fellow Hawaiian's Levi Young and Diego Ferri along with Florida's own William Hedleston. Kai Martin got busy with seven total waves and an explosive backhand attack putting up the events highest scoring wave (9.73) before rounding out with a solid backup (5.47). Levi's momentum built a little too late as he came up 1.26 short while scoring a 7.77 and 5.87 towards the back half of the heat. Surfing great all event, William Hedleston (10.80) and Diego Ferri (9.20) wrapped up the final.
The Boy's 12/Under Final saw some of the groups biggest names go head to head while battling it out in a wave rich heat. Jackson Dorian (HI), Diesel Butts (HI) and Cannon Carr (CA) started their heat while Jak Zietz (CA) remained a scratch with an injury. The heat started off slow, but soon sets started pouring into the gloomy HB lineup. With 15 minutes left and fresh out of a stingray bucket, Jak Zietz raced to the lineup and grabbed two mid-range scores to end up in 3rd place. Dorian stayed busy during his heat and used a few pier bowl lefts to get an 8.83 and 7.17. After his heat, Jackson said "this was so much fun, there are so many good kids and I really didn't expect to win. On Waco - it's going to be hard with these guys in the contest, but I'm just excited cause I know it'll be fun." The final ended with Diesel coming in 2nd with an 11.77 and Carr in 4th with a 7.40.
2019 International Final winner Caity Simmers won a custom Lost Surfboard by winning the Lost Surfboards High Heat Total with a 16.84 in her Round 1 performance. Nolan Rodgers picked up $300 cash, a custom hand painted bowl and a spot in our National Final Waco Air Show at the BSR Surf Resort by winning the Banzai Bowls Maneuver of the Event with a huge frontside air on a left into the pier.
The Rip Curl GromSearch series would not be possible without the incredible support from its partners: Banzai Bowls, BSR Surf Resort, Perfect Swell, Surfrider Foundation, Lost Surfboards, Wahoos, Flexfit, Sector 9, Oakley, FCS, Surface and Surfline.
Find event photo and video highlights on Surfline and the Rip Curl GromSearch Site. We'll see you at Stop 2 in Kewalos, Oahu, HI on July 13-14th! Head to Rip Curl GromSearch Site for sign ups!
---
Boys 16/Under - $250.00
1
Levi Slawson - Encinitas, CA
2
Hagan Johnson
3
Nolan Rodgers
4
Jabe Swierkocki
Girls 16/Under - $250.00
1
Alyssa Spencer - Carlsbad, CA
2
Makena Burke
3
Caitlin Simmers
4
Sanoa Dempfle-Olin
Boys 14/Under - $250.00
1
Kai Martin – Honolulu, HI
2
Levi Young
3
William Hedleston
4
Diego Ferri
Boys 12/Under - $250.00
1
Jackson Dorian – Maui, HI
2
Diesel Storm Butts
3
Jak Ziets
4
Cannon Carr
Banzai Bowls Maneuver of the Event - $300.00 + Spot in Waco Air Show
1
Nolan Rodgers
…LOST Surfboards High Heat Total
1
Caitlin Simmers - 16.84 points