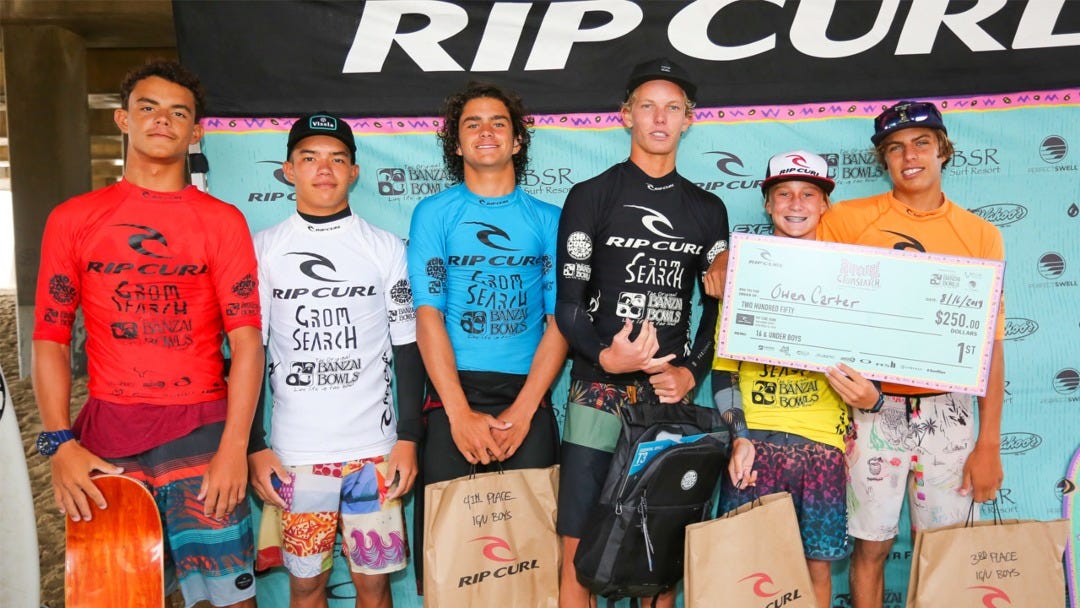 08/20/2019
Jennette's Pier, OBX Skies Clear for the Final Regional Stop of the 2019 GromSearch Season
The 2019 GromSearch Season Wraps up its Nationwide Tour in OBX
After a day of torrential downpours, howling winds, and thunderstorms, Jennette's Pier quieted for the morning of the final regional stop on the 2019 GromSearch tour. While a nearby contest the day before saw damaging weather conditions, this seasons GromSearch luck rolled into the final stop and allowed for a beautiful day of competition. The Rip Curl GromSearch presented by Banzai Bowls has officially wrapped up the qualifying stops after Friday's small wave showdown on the banks of OBX. Conditions were small, but familiar and contestable for the East Coasts best 96 junior surfers.
This stop saw one of the most diverse heat draws the series has ever seen, with competitors from up and down the East Coast seaboard, Barbados, Costa Rica, Panama, Hawaii and California all competing for the last 16 spots on the National Final roster, held at BSR Surf Resort. When the final buzzer of the day sounded, we had completed the list of the 64 lucky competitors heading to Waco in October.
There are few things better in surfing than a grinding win on your home breaks soil in front of your friends and family. William Deane, a Nags Head local, put his Jennette's experience to the test when he took the win in the Boys 12/U division. In his 15-minute final, William managed a 7.3 and a 4.3 showing dominance in the small, lapping shore break. The heat rounded out with Cruz Dinofa (NJ), Reef Coote (FL), Miles McCall (NC), Rafe Gooding (Barbados) and Evan Oblinger (NC), finishing in that order.
A battle of the US Coasts pinned 6 finalists from all different states against each other in the Boys 14/U Final. An on-fire Owen Carter (NC) took on Sterling Makish (FL), Cole McCaffray (CA), CJ Mangio (NY), Kanoa Wong (VA) and Kaiden Cameron (NJ). Carter, known for his small wave prowess, combo'd his field by finishing with a 17.8 made up of a 9.0 and 8.8. Owen didn't stop there as he went on to have a remarkable finish in the Boys 16/U final. We're excited to see this 14/U pack take on the rippable perfection of BSR Surf Resort.
The Girls 16/U Final was also an all USA affair as California's Ella McCaffray took on Kailey Bogart (HI), Mia Gallagher (NJ), Abbie Yates (FL), Katelyn Sewell (NC) and Carly Coble (NJ). Ella got to work early, quickly earning a 12.5 heat total that was enough to hold off her competitors. "I'm super excited to take the win today. We had to travel across the country for this event but it's worth it to get invited to the final in Waco! So happy the surf picked up. Good job everyone in the final! Thank you, Matt Myers and Rip Curl, for such an awesome event! I literally had to run out of the water from my final and get in the car on the way to the airport. I didn't even know the results. So stoked to win!" exclaimed McCaffray.
The Boys 16/U Final saw Owen Carter continue his GromSearch hot streak by taking the win in his second division title of the event. With what was considered a slow heat by the Jennette's Pier standards, Owen found the 2 best waves on offer granting him a 7.5 and 8.5 for a 16 point heat total. "Winning back to back feels like I won the lottery! It gives me motivation for my first Pro Jr event coming up next week. The GromSearch is special to me because it's great event every time and I get a chance to hang out with the Rip Curl family at these events. I have been dreaming about going to Waco for a while now. And being able to go and compete there is awesome!"
Brodi Sale (HI) took home the Banzai Bowls Manuever of the Event with a devastating small-wave frontside hack. Brodi walked with cash and an invite to the GromSearch National Final at the BSR Surf Resort in Waco, Texas. Sterling Makish (FL) racked up an impressive 9.2 single wave score, with a critical backside fin-drift, earning him the …Lost Surfboards High Wave Score and winning a custom …Lost Surfboard.
GromSearch wouldn't be possible without our 2019 event partners, Banzai Bowls, BSR Surf Resort, PerfectSwell, Flexfit, FCS, Sector 9, Surface, Surfline, …LOST Surfboards, Oakley, Wahoo's Fish Tacos, and our Official Surf Shop Sponsor of Event #4 GromSearch OBX, Outer Banks Boarding Company.
Be sure to head to Surfline.com to check out post event coverage as well as ripcurl.com and our @ripcurl_usa social channels for live action and updates.