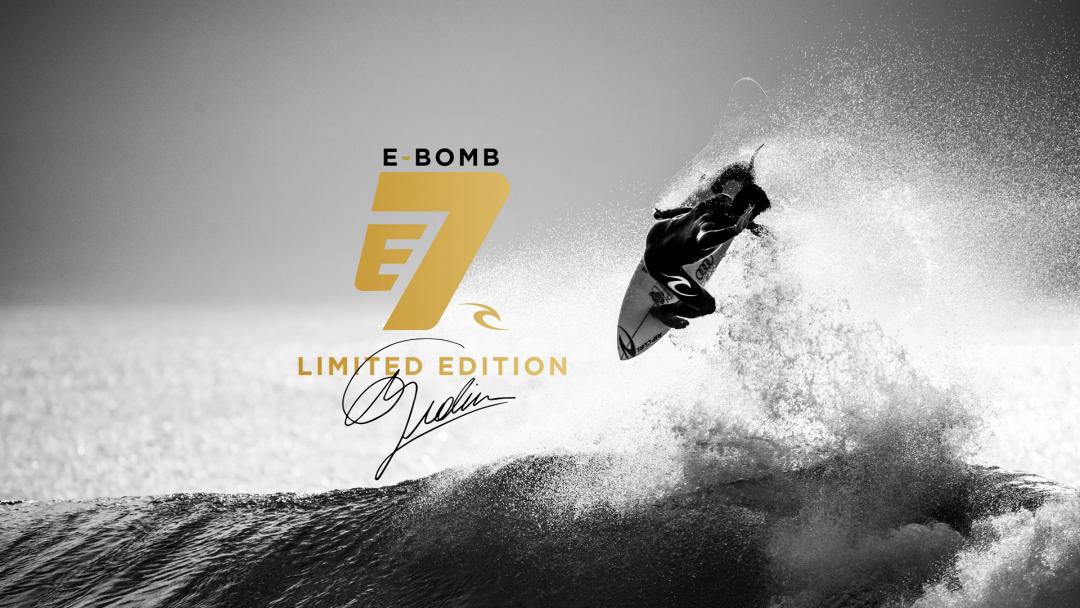 06/01/2020
Limited Edition Rip Curl E-Bomb E7. Made By Rip Curl World Champions Mick Fanning, Tyler Wright And Gabriel Medina
The Limited Edition E-Bomb E7 is latest in a long line of world's first in wetsuit technology by Rip Curl...
Designed and tested by our stable of WSL world champions Mick Fanning, Tyler Wright and Gabriel Medina the E-Bomb E7 promises ultimate stretch, performance, warmth and comfort by combining all of Rip Curl's best technology – making it the number one performance wetsuit in the world.
"I like that there's less rubber around the shoulders," said 3X world champion Mick Fanning. "If you want to surf for two, three, four hours – it's all about paddling. Your arms are the first to go. So if we can keep those shoulders nice and loose then we're golden."
The all new E7 neoprene has 25% more stretch and is 10% lighter than E6, and is built into an unrestricted, seamless, one-piece upper body panel. The new body block offers unparalleled stretch from wrist-to-wrist making paddling easier.
Under the arms the strategically designed Torpedo Gusset increases both fit and comfort during and makes paddling easier than ever before. It's also light as a feather and like butter getting in and out of the zip free entry construction.
"It feels great to get into, I love it" said 2X world champion Tyler Wright. "As soon as it's on you can feel the difference. Everyone wants to surf higher, faster, longer and this is the next progression in wetsuits to do that."
The body of the suit below the chest features E6 super stretch neoprene and is thermo lined internally for warmth where it counts.
But you'll need to be quick, the Limited Edition suit is available throughout the world while stocks last. The neoprene requires a specialist production technique and is only available in small quantities at present so there are no guarantees on when the next batch will drop.
"It's sick to have it as Limited Edition. It's unique. It's special. It's world class."
- 2X world champion Gabriel Medina.
Available in 3/2mm or 4/3mm the E7 E-Bomb is our lightest, stretchiest wetsuit ever.
Get it at ripcurl.com and selected Rip Curl and Independent core surf shops worldwide.