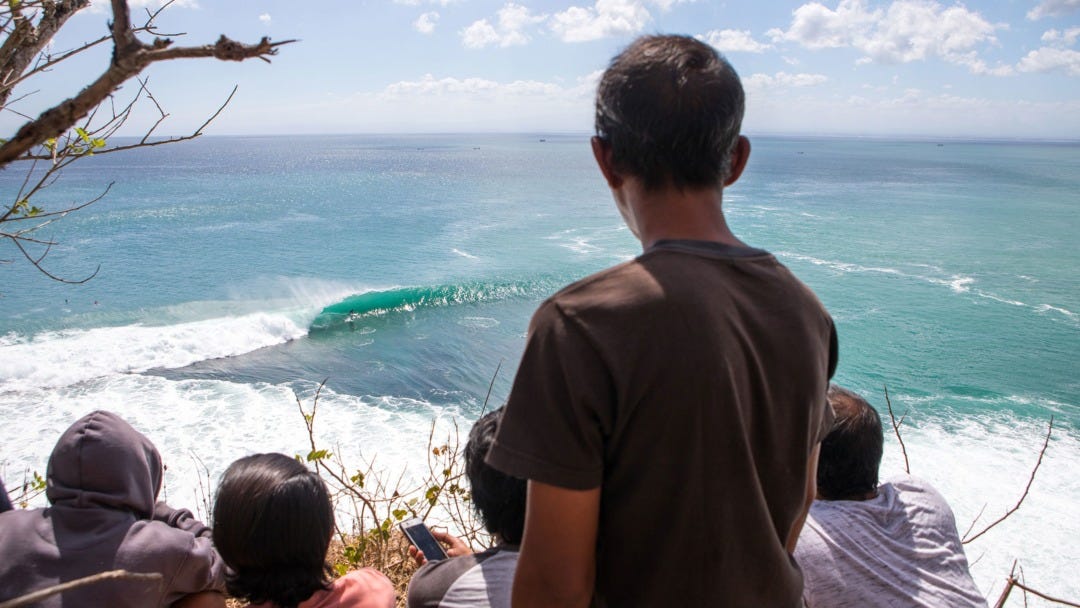 07/19/2019
Rip Curl Cup on High Alert for Monday, July 22nd Start at Padang Padang
With an impressive SW swell currently tracking towards Bali, event directors have changed the official event status from Red (Standby) to Yellow (High Alert), and surfers are now on call for a potential Monday, 6:30 AM (local Bali time) start to run the WSL specialty event.
Official event surf forecaster Surfline is calling for a powerful long-period SW swell to build and peak through the afternoon on Monday, July 22nd. With peak energy coming from a good southwesterly angle (211°) to catch the second bowl at Padang Padang, this swell appears capable of producing all-day fireworks for the world's best tuberiders.
Local winds at Padang Padang on Monday should be good to excellent with moderate to breezy SE/ESE trades expected.
The majority of the 16 invited surfers – eight of Indonesia's best and eight of the world's top tube riders – are currently standing by on Bali's Bukit Peninsula, preparing to catch this swell. The remaining invitees are already on their way to Bali or preparing to board flights. Event directors will be ready to run early Monday morning if the barrels at Padang Padang reach the world-class caliber required to hold the Rip Curl Cup.
The 2019 Rip Curl Cup Padang Padang will be webcast live to the world here. Fans can also visit the site to check the latest Padang Padang swell forecast from official event forecaster Surfline, real-time contest status, and video updates from Bali.
Following is the official heat draw for the first two rounds of competition at Padang Padang:
ROUND 1
Heat 1

LEE WILSON
AUS
GARUT WIDIARTA
IND
KEITO MATSUOKA
JPN
RADITYA RONDI
IND

Heat 2

MASON HO
HAW
MEGA SEMADHI
IND
BENJI BRAND
SAF
AGUS SUMERTAYASA
IND

Heat 3

MATT WILKINSON
AUS
MADE ADI PUTRA
IND
CLAY MARZO
HAW
KOKI HENDRAWAN
IND

Heat 4

NATHAN FLORENCE
HAW
AGUS SETIAWAN
IND
SHELDON PAISHON
HAW
MUSTOFA JEKSEN
IND
ROUND 2
Heat 1

LEE WILSON
AUS
AGUS SETIAWAN
IND
CLAY MARZO
HAW
MUSTOFA JEKSEN
IND

Heat 2

MASON HO
HAW
MADE ADI PUTRA
IND
SHELDON PAISHON
HAW
RADITYA RONDI
IND

Heat 3

MATT WILKINSON
AUS
MEGA SEMADHI
IND
KEITO MATSUOKA
JPN
MUSTOFA JEKSEN
IND

Heat 4

NATHAN FLORENCE
HAW
GARUT WIDIARTA
IND
BENJI BRAND
SAF
KOKI HENDRAWAN
IND