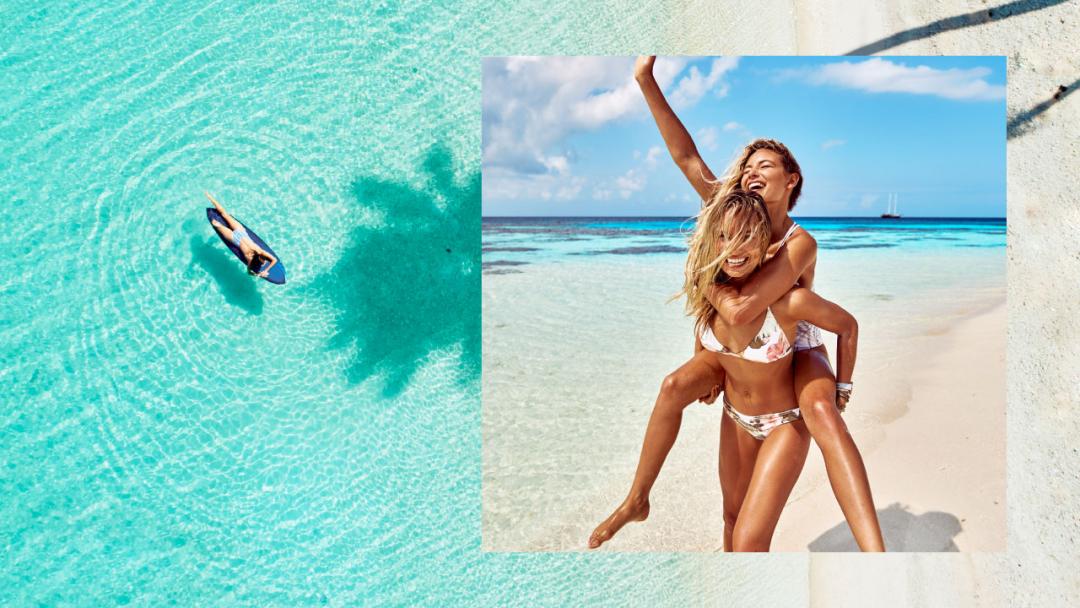 05/26/2020
Rip Curl Presents: My Bikini Week
Over the past month we have brought you Mick Week, Tyler Week and Search week... daily doses of content celebrating all things World Titles, surging swells and crystal blue barrels.
This week? Welcome to the land of My Bikini. Where chasing barrels in bikinis is a common occurrence.
Prepare to be transported to some of the most powerful yet elegant and widely entertaining My Bikini moments in the vault. From the next generation of Rip Curl Women charging the North Shore as grommets in 2017... to taking on Backdoor as young women in 2020. Plus, a host of tantalising imagery that will have you craving a white sand, blue water escape in #MyBikini. All this and more, followed by the exclusive premier of the short film, Sublime. A display of some of the most mesmerising barrel riding we've seen from a 17-year-old in quite a while.
But wait, there's more. We won't just be reminiscing past My Bikini moments... we will also be bringing it LIVE to your Instagram feed. Make sure you're following @ripcurl_women next week because much-loved sportscaster and Rip Curl surfer, Rosy Hodge, will be dialling in with some of our favourite women in surfing...
The lineup?
- Rosy & Mathea: Sun 24th - 7am AEST
- Rosy & Brisa: Mon 25th - 7am AEST
- Rosy & Tyler: Tues 26th - 7am AEST
- Rosy & Bethany: Wed 27th - 8am AEST
So, while we have this extra time on our hands, and no competitive surfing to watch, let's make the most of it! Tune in over the week for your daily dose of all things #MyBikini, in Rip Curl Presents: My Bikini Week!
---
MyBikini Week!
---
21st May 2020
Rip Curl Women Take Over The North Shore, Hawaii 2017
Six girls, three countries and a whole lot of future World Tour talent – we're taking it back to 2017. Where a group of our, then, next generation touched down on the North Shore of Oahu for the first time for a week of waves hunting in #MyBikini.
The crew...
- Leilani McGonagle (18 years old, CR)
- Kobie Enright (18 years old, AUS)
- Leah Thompson (16 years old, USA)
- Alyssa Spencer (14 years old, USA)
- Kirra-Belle Olsson (16 years old AUS)
- Brisa Hennessy (18 years old HI)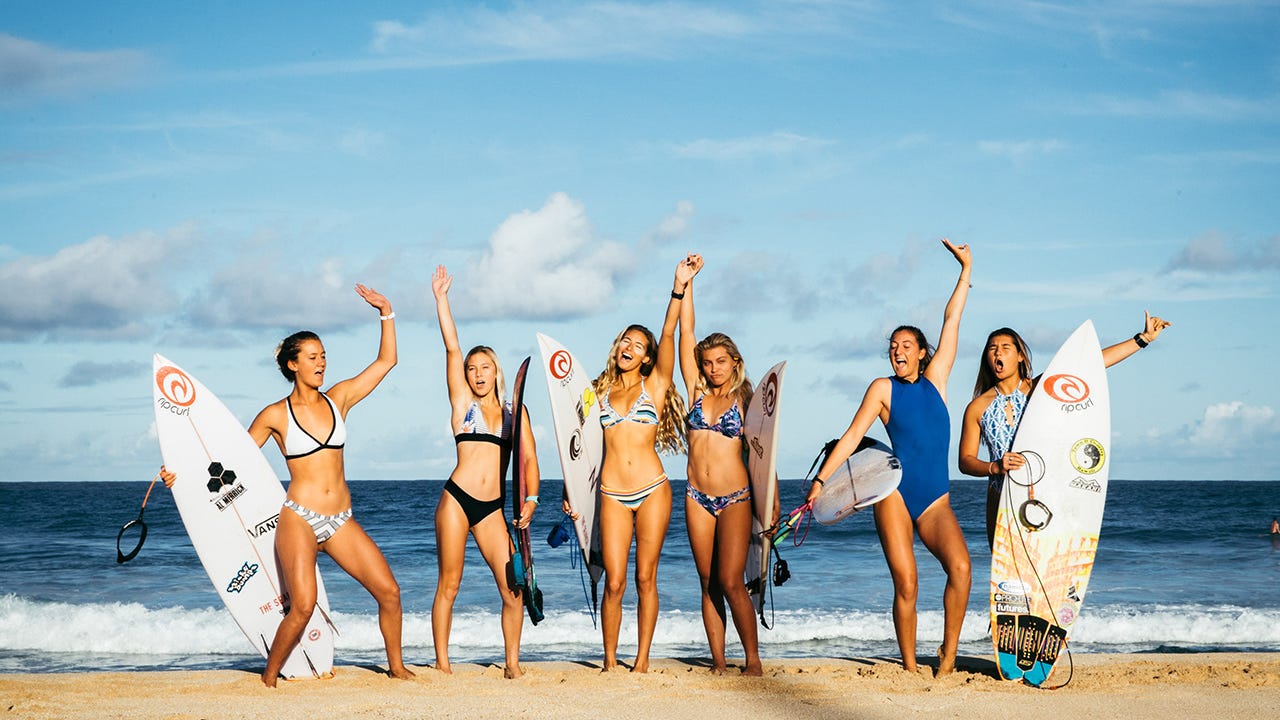 Home-base was the Rip Curl house, overlooking Off The Wall, surrounded by swaying palms... And for this week, completely taken over by bikinis on every railing, chair and cornerstone of the house.
For seven days the Rip Curl Women chased waves (successfully), and chickens (unsuccessfully), from dawn until dusk. Whether they were 14 years old and just starting the Junior Series grind, or 18 years old and on the edge of qualifying for the World Tour… the girls brought the heat to the North Shore. From barrel riding to boogie boarding intertwined with epic wipe-outs... we knew we could expect great things from this group of powerful, confident women. And well, three years on… we weren't wrong.
From Lani's to Turtle Bay, heads turned, and whispers spread – nothing stopped these fearless girls from paddling straight out into the chaotic Pacific Ocean barrelling into the northern shoreline of Oahu.
We said it back then, and we'll say it again now… these women are going places. Check back tomorrow as we look back on earlier this year, when almost the same group of girls headed back to the North Shore, three years on.
---
22nd May 2020
The Women Return to The North Shore In My Bikini
January 2020, the Rip Curl Women touched down in Hawaii ready to search hard and surf harder than ever before. With special guests Bethany Hamilton, Tyler Wright and Rosy Hodge leading the way, it's clear that three years on, the future of female surfing is in very good hands.
Yesterday we looked back at the Rip Curl Women's team in 2017. Today, we're bringing it forward to January 2020. Where the very best of the Rip Curl women unpacked their bags of bikinis, ready to take on all that the North Shore of Ohau had to offer. From Off The Wall through to Pipeline, Sunset and Rocky Point… there's no denying that this pack of fearless surfers made their mark on Hawaii's Seven Mile Miracle.
The crew on board...
- Bethany Hamilton (30 years old, HI)
- Tyler Wright (26 years old, AUS)
- Rosy Hodge (33 years old, SA)
- Leilani McGonagle (20 years old, CR)
- Molly Picklum (17 years old, AUS)
- Leah Thompson (19 years old, USA)
- Alyssa Spencer (17 years old, USA)
- Brisa Hennessy (20 years old, HI)
- Melania Suarez (16 years old, FR)
- Ewe Wong (15 years old, HI)
- House grom, Erin Brooks (11 years old, HI)
Whether it was paddling out into a solid six foot Off The Wall training ground, or snapping boards whilst following Mason Ho to a local secret spot… the Rip Curl women were out there in #MyBikini every, single, day. Over the week the Rip Curl house was a concoction of excitement, nerves, competitive spirit, salty bikinis and sunset shack smoothie bowls. As the forecasted building swell did exactly that… got bigger and stronger, the Rip Curl Women charged harder and longer.
This video says it all.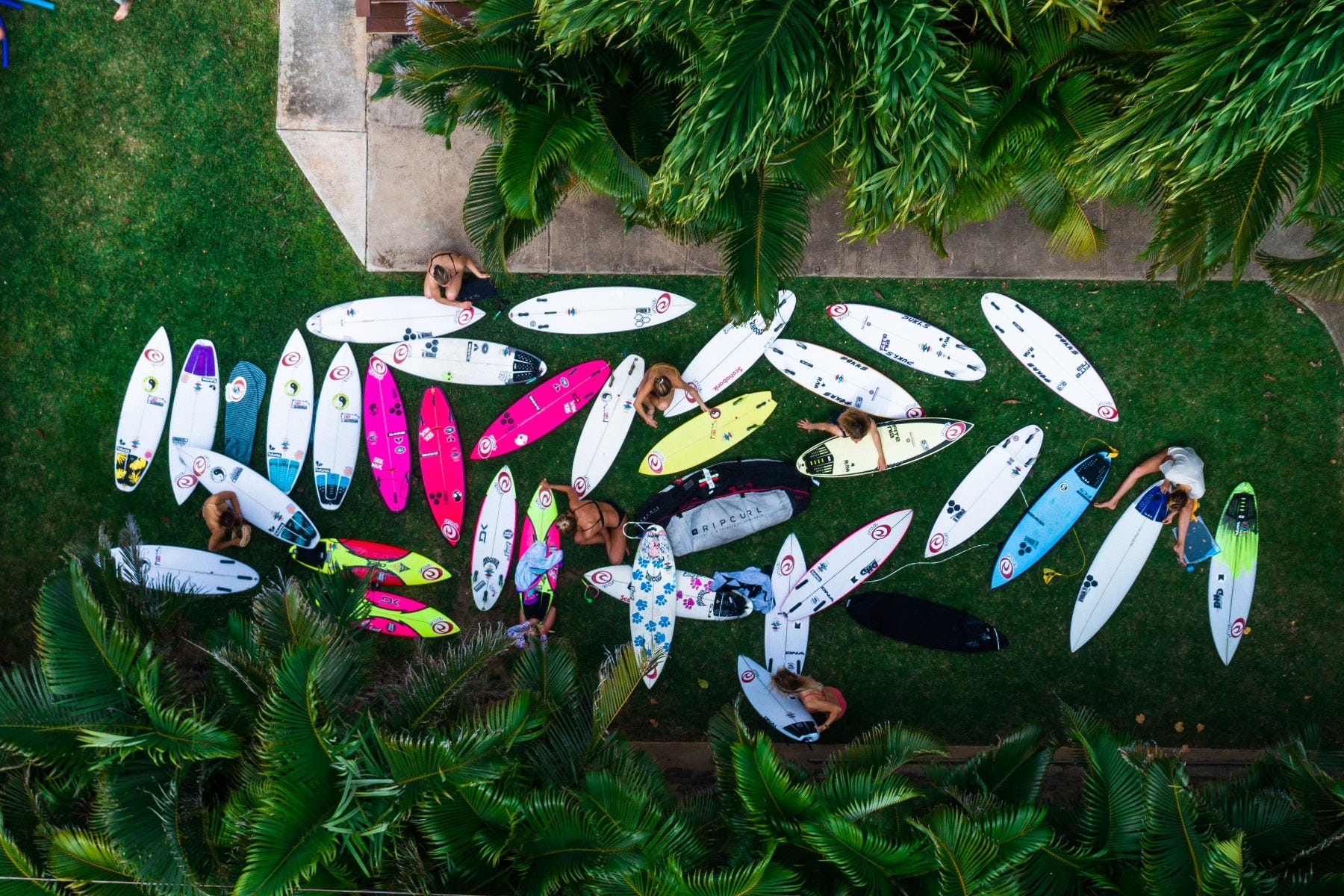 ---
24th May 2020
The Search For Sublime with Mathea Olin | My Bikini Week
Welcome to Mathea Olin's My Bikini paradise. Featuring some of the most mesmerising, tropical barrel riding we've seen from a 17-year-old in quite some time.
Meet Mathea Olin, Thea for short. Hailing from Canada's quiet, coastal town of Tofino, Thea has been turning heads on Canada's West Coast since she was a grommet. This time, she has swapped the steamer, hood and booties for a bikini. In March this year Thea, alongside Filmer Nate Laverty, found themselves scoring in Fiji.
Tune in on Sunday to hear from Mathea and indulge in watching four minutes of sublime, tropical, barrel rich entertainment.
---
25th May 2020
Meet Mirage - The Surfers Bikini
Searching for the ultimate surf bikini? A reliable, comfortable and flattering swim option that stays on even when you fall off? We hear you. Meet Mirage - The Surfers Bikini.
Mirage is not like any other bikini. Our design team, together with the @ripcurl_women's pro surf team, created Mirage so that you can feel confident every time you paddle out. It's the ultimate surfers' bikini, the one that holds everything in - no questions asked.
With a focus on performance, style and comfort, Mirage offers a range of active swimwear you can trust. Using Xtra Life Lycra™ Italian material, compression and eco fabrics, Mirage aims to provide you with solid support in functional and flattering cuts. Plus, with minimal seams and reliable zips, hooks and seals, you can trust that Mirage will give you the confidence you deserve, every time you hit the line-up.
Less wipe-outs, more waves in Mirage – The Surfers Bikini
---
26th May 2020
The Makings of a 2x World Champion: Tyler Wright
In late 2017 Tyler Wright paddled out in a solid North Shore swell, powering through tube after tube, all whilst wearing a knee brace to support a ruptured ligament. This was her training ground, or rehab, just days before the event that would decide the 2017 Women's World Title. The event that would make Tyler a 2x World Surfing Champion.
Take a little trip down memory lane with us...
During the European leg of the 2017 Championship Tour, Tyler blew her knee out, free surfing in Portugal. With a tear in her MCL three quarters of the way through, this was an injury that could potentially cost her second World Title. However, sitting head-to-head with the other World Title contenders: Steph, Carissa, Courtney and Sally... Tyler wasn't going down without a fight.
Which brings us to Hawaii for the Maui Women's Pro and the final stop on the WSL Championship Tour. This event would decide the 2017 Women's World Champion. Naturally, instead of staying home and resting the knee injury, Tyler flew to Oahu to surf concrete tubes on the North Shore. Hawaiian rehab, you could say. If the knee didn't collapse entirely then she'd be ready for anything Honolua was to serve up the following week.
This particular day, Tyler flicked us a quick, cheeky grin before focus filled her face and she paddled out. With the knee brace secured and her game face on, it was clear in this particular training session that Tyler was ready to go. Ready to win, and that she did. The very next week Tyler Wright became the 2x World Surfing Champion. #GoTyler.
To hear more from Tyler, tune into @ripcurl_women this Tuesday, 26th May at 7am AEST, as Rosy Hodge and Tyler Wright chat LIVE on Instagram.
---
27th May 2020
The Best Of My Bikini
It's bright, it's bold, it's subtle, it's simple, and it's everything you want it to be. This is #MyBikini.
A bikini isn't just a piece of fabric. It's freedom. It's fun. It's the feeling of being salt washed and sun bleached, of dancing on waves embracing the golden days. It's not just any bikini, it's #MyBikini.
From the flattering, performance-based compression fabrics in our Mirage "The Surfer's Bikini" collection, to the nostalgic, retro vibes of Re-Issue 99. Embrace the earthy, boho florals throughout Spice Temple and the vintage, Hawaiian-esk palms of the Tropic Coast collection. Combine these summer feels with the latest environmentally responsible Salt Water Culture Collection, made of Econyl Regenerated Nylon, and your bikini collection is complete.
Or, are you looking for timeless block colours in premium fabrics and cuts perfect to mix and match? The Surf Essentials range is your answer. Whether you're after a one piece, crop top, bandeau, tri, high waisted, cheeky, full coverage or skimpy, the Surf Essential options are endless.
For a little bit more coverage? Try one of our flattering, easy-to-wear UV Surf Suits. With a range of colours and patterns to choose from – the Surf Suit is a guaranteed winner and warm weather staple.
Whatever you choose, prepare to transport to white sand and clear blue waters every time you out your new bikini on.
Welcome to the land of #MyBikini.